Running Down a Dream
This story profiles three of Collierville's running athletes and their achievements. With each step, they work hard, move forward, and inspire. Together, they show that, whether you run for fun or go for gold, you should chase your dreams.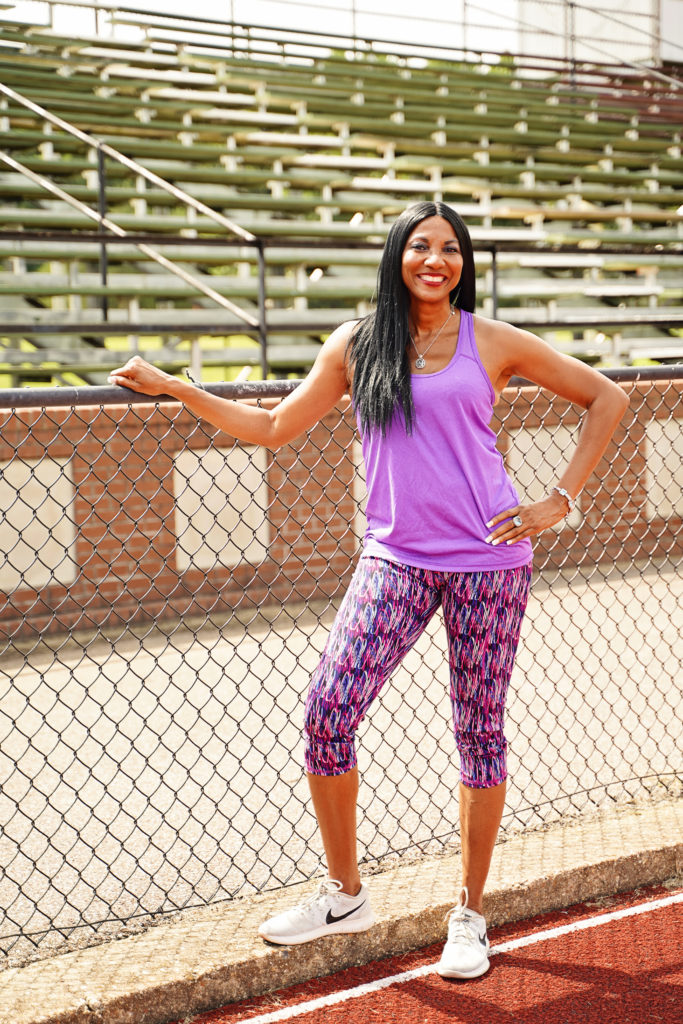 "When they say live, work and play in Collierville, I really believe that concept."   -Rochelle Stevens
"I'm going to the Olympics," exclaimed Rochelle Stevens. That night, she sat beneath her family's television set. Upright and tall, her eyes fixated on the screen before her, she tucked and tightly crossed her legs into her chest. There, she witnessed history as she watched Wilma Rudolph break away.
The next morning, she rushed to her neighbors' homes, skipping steps as she climbed the stairs to meet them at their doors. "I'm going to the Olympics!" she said, to which they responded, "Uh… Okay, little girl." They witnessed history then, too.
Twenty years later, Stevens' dream came true. "There's Stevens of the United States," said the announcer. "The United States' Stevens is starting to tie right up! Graham will make a move now! Look at her come up! This will set up a fantastic last leg!"
On the final lap, her teammate, Jearl Miles, rounds the corner with a strong lead and outruns the others. The United States of America had just won the gold medal in the 1996 Summer Olympics' Women's 4×400 Meter Relay Race in Atlanta, Georgia. Upon their victory, the four Americans huddle around one another. As they break, Stevens raises her arms high above her head and exclaims, "Yes!"
"We were so excited that we won the gold medal in front of 65,000 people on USA soil. That was a big honor," said Stevens.
"The motivation came from watching The Wilma Rudolph Story on television," said Stevens. A fellow Tennessean, Wilma Rudolph was an African-American super-star who won three gold medals in the 1960 Olympics and inspired a generation of American athletes. Stevens said, "I didn't know that I had talent or anything. I was just so inspired. I said, 'Wow! I want to be like Wilma!'"
Today, one of America's best athletes lives in Collierville, Tennessee. Stevens is a motivational speaker, philanthropist and a participating member of several Collierville-based organizations, including the Chamber of Commerce and Leadership Collierville.
"My invitational is at St. George's [Independent School]. My two-day camp is at H.W. Cox Park. I do Outwalk Obesity, and that's normally at W.C. Johnson Park in the fall," said Stevens. "When they say live, work and play in Collierville, I really believe that concept."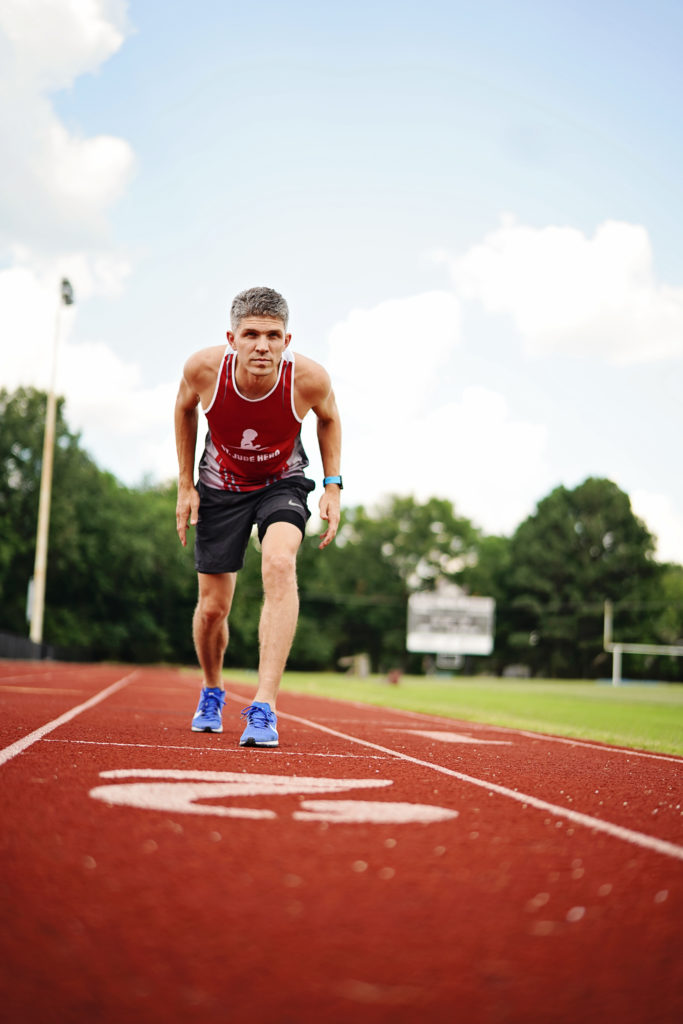 "I wasn't competitive at that point, but I thought I should still be. Most people are like, 'You finished a marathon! Congrats!' I was like, 'I'm going to win this race. I will win the St. Jude Marathon.'"   -Adam Higham
By 5:00 a.m., Adam Higham is gone. Beneath the morning sky's blue and purple hues, he runs "twelve." Miles, that is. By 6:30 a.m., Higham returns home. "From my house, I can tell you the mileage [to and] from anywhere in Collierville," he said.
In two hours, twenty-nine minutes and seventeen seconds (2:29:17), Adam Higham won the 2019 St. Jude Marathon, an accomplishment he had been chasing for six years. "I had a buddy who ran marathons and he challenged me to do it," said Higham. "I went for it, hopped back in when I was twenty-eight and I've spent the last six years trying to get better and better."
After running his first marathon in 2013, Higham was disappointed in his results. "I wasn't competitive at that point, but I thought I should still be," explained Higham. "Most people are like, 'You finished a marathon! Congrats!' I was like, 'I'm going to win this race. I will win the St. Jude Marathon.'"
Motivated by his family, Higham works hard and trains often. "[My wife] is a big motivator for me because I don't want to disappoint her," he said. Higham's kids apply some pressure as well. "I took second place in the St. Jude Marathon in 2016 and 2017, and my kids actually came to me, and were like, 'Dad, how come you never get first place?' and I was like, 'Oh, my God! I'm trying!'"
Higham is the youngest of eight sisters and four brothers, and he credits all of them and his parents with his competitive spirit. 
"I feel like running makes me a better person," he explained. "I love that, in running, while you race against other people, I can race against myself. It helps me see that my work, time and effort is productive. If I'm succeeding in running, I'm also motivated in other aspects of my life."
Not only did Higham win the St. Jude Marathon, he did so as a St. Jude Hero, which he regards as a special honor. "I feel a huge connection to St. Jude, and it's the reason why I've run as a St. Jude Hero for the last three years," he said.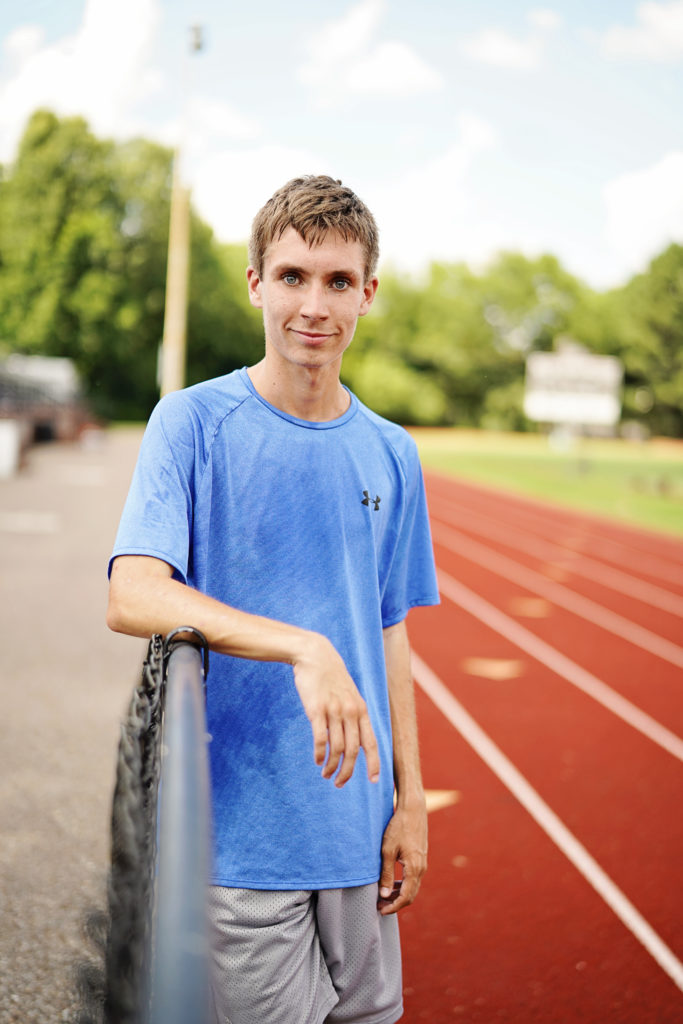 Like most places in Collierville, Justin ran to and from our interview, and when asked about his skills, he said, "Everyone asks me if I'm training or something… but I just run for fun." As he unsealed a bag of barbeque-flavored chips and cracked open an ice-cold soda, Justin said, "My metabolism is infinite."
Justin began running in middle school and has since competed in a number of high school cross country meets and other events. However, more importantly to Justin, running is just good exercise. He explained, "It's something that gets me moving, gets my heart going. Staying active, staying fit makes me feel like I'm improving myself."
Justin enjoys running to restaurants, naming Chick-fil-A® as one of his favorites. He explained, "I always have an appetite. I am always hungry. Ask anyone at Chick-fil-A®. I'm there all the time, and I'm eating these big meals. I eat three dinners."
"When you run as much as I do, people don't really know who you are, but they know your face," said Justin. "Random people who I've never seen before come up [and talk to me]… It's the best part of my day."
Justin graduated from Collierville High School in May and will be attending the University of Alabama this fall. He plans to study Mechanical Engineering and has already called "dibs" on one of the university's running paths. It's a gray, winding trail that bends alongside a lake.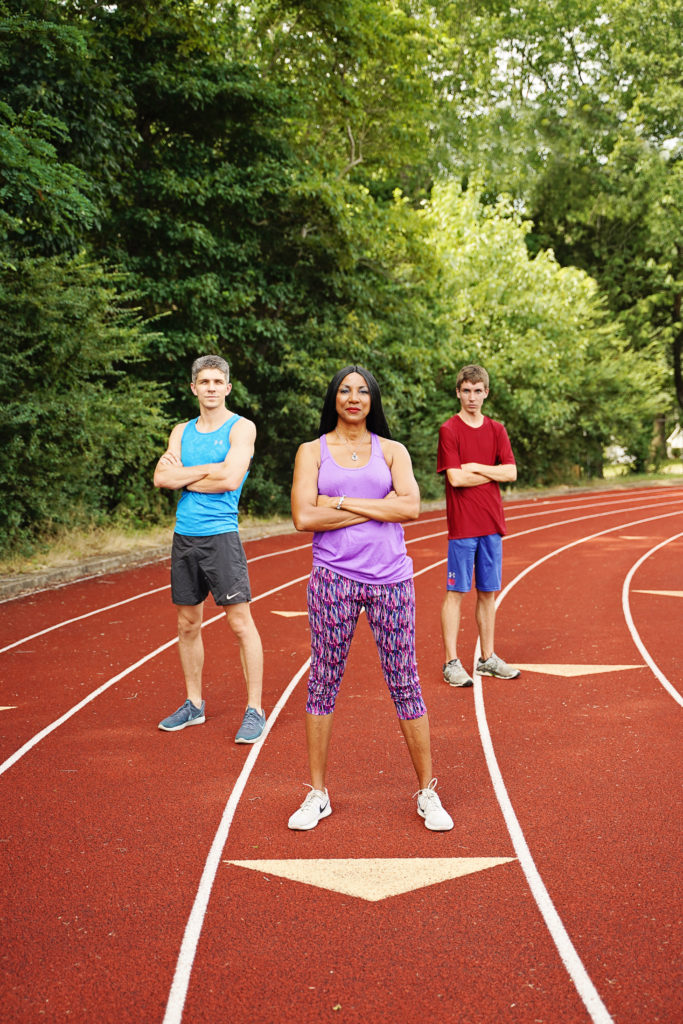 Inspiration is everywhere. We're confident that Justin motivates local fans as he runs his "strides" around Collierville. Just maybe, there was someone atop their parents shoulders in downtown Memphis on race day, looking on as Higham broke the finish line's tape. And perhaps there's a young boy or girl out there somewhere watching reruns of Stevens' big race. As they witness the four Americans holding onto one another, celebrating their victory, they say to themselves, "I'm going to chase my dreams, too."
"When you dream, dream big, because no one knows your dream but you, and if you don't succeed in your dream, no one will ever know what that dream was all about."    -Rochelle Stevens
story | Nicholas Cotros
photos | Cindy B. Thymius Photography