Restaurants Reimagined
Every day of 2020 seemed to bring a new set of adjustments and another set of problems that we had to face. Businesses and restaurants were constantly changing hours, capacities and day-to-day operations. This past year required a lot of willpower, flexibility and adaptability from everyone. However, the people of Collierville never seem to disappoint.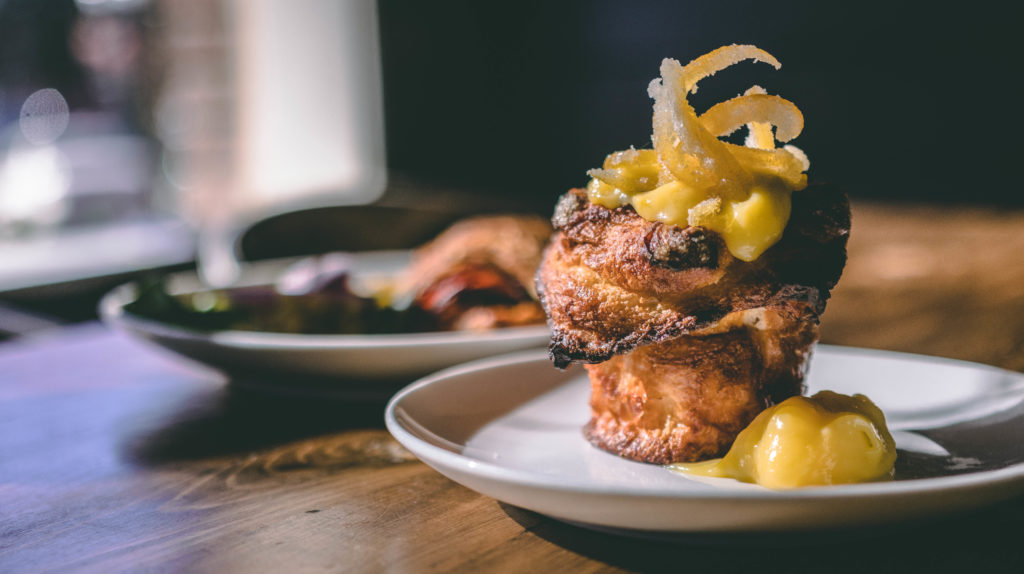 While maintaining social distancing and other guidelines set by the Centers for Disease Control and Prevention (CDC), Collierville's businesses were able to stay open for the majority of the year. Restaurants in particular were tasked with balancing CDC guidelines and the demands of customers. BusinessInsider™ conducted a study in 2019 that stated that the average American eats out at least 5 times a week. With shutdowns, we saw panic buying at the grocery stores, a baking craze that swept social media and the rise of charcuterie boards. 
Fortunately, for us novice chefs, we were able to safely return to our favorite eating establishments, just in a new way. Online ordering via apps and websites, curbside pickup, delivery and outdoor eating offered alternative ways of being able to eat out while still staying safe. Some owners even took a great leap of faith and opened their new restaurants with only the hope and prayer that Colliervillians would come together to support them  — and of course, they did. 
There's An App For That 
In recent years, restaurants and fast-food chains have started developing apps and websites to reward regular customers and  simplify ordering. Chick-fil-A® announced an app back in 2018 and, for the most part, it was up to the individual restaurant owners to decide which features they would allow at their store. Collierville's Chick-fil-A® owner, Grant Gibbs, said that with over 20 years of working with Chick-fil-A®, he has seen things like this fall into place so perfectly that they can't just be by chance. 
"It's kinda God's timing," said Gibbs. "We had about a year to get used to it and be able to utilize it for our customers." They initially used the app for the drive-thru, since parking at their store is so limited, and even with the limited features, Chick-fil-A® still saw a double digit increase in app users and transactions.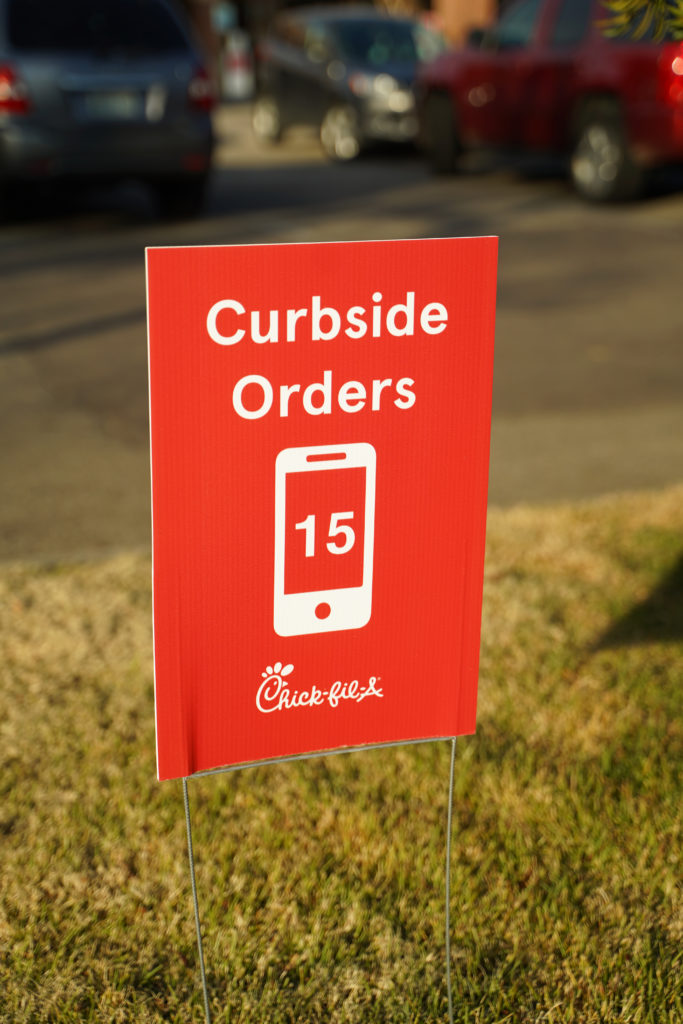 Customers and the Chick-fil-A® team had a few months to become familiar with the app before the pandemic first hit. However, even with the app, there were still a lot of questions about how they would proceed in serving their customers. "We were not going to sacrifice safety for anything else," said Gibbs. 
When Chick-fil-A® decided to shut down their dining rooms, the team decided to open the curbside feature with just a few spots to see how customers would respond. By the end of 2020, the entire parking lot had been numbered and marked off for curbside pickup parking. "The first day our dining room shut down, we turned on that function of the app and started allowing curbside. We kinda did some makeshift signs and put it by 4 or 5 parking spots and the reaction to it was so insane. I can't tell you how successful it was just right off the bat and we were still trying to figure out that function," said Gibbs. 
"We were not going to sacrifice safety for anything else."  -Grant Gibbs
Gibbs gives the credit of the quick adaptability and the success of the change to his team, stating, "My leadership team and the rest of my team at the restaurant have the ability to adapt much better than I do." The success of the app and help of his team is not all for which Gibbs is grateful. 
"The great thing about our guests is that they have a lot of faith in us, it's so refreshing every day for the team. It seems like no matter what happens [the customers] have this faith in us that we're going to do it right and try to get it done as fast as humanly possible and try to be as efficient as possible. It's really energizing for our team," said Gibbs.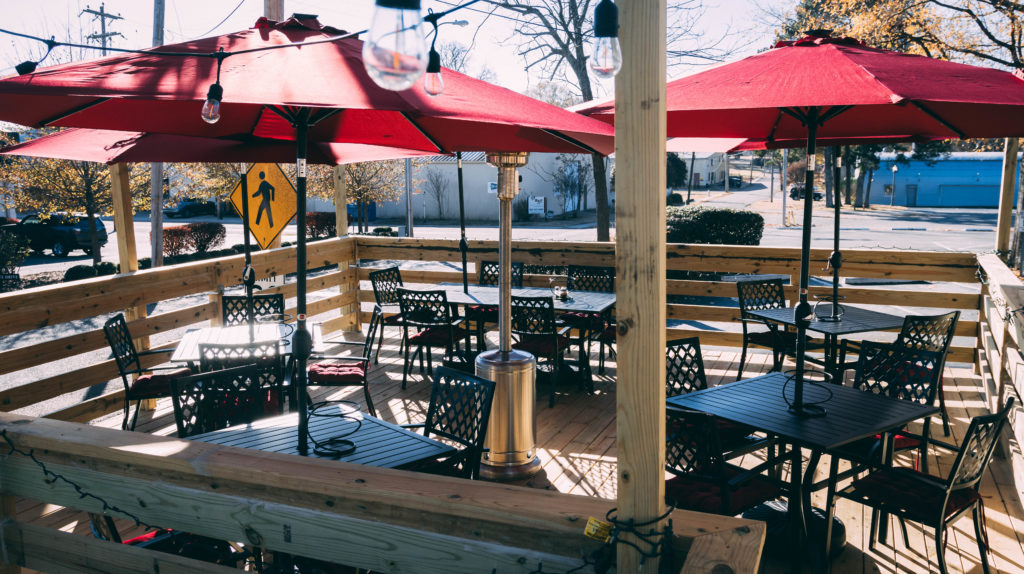 Progressing To Patios 
Across Collierville, other restaurants have gotten creative with how they intend to keep team members and customers safe. The CDC has stated that outdoor eating, while still social distancing, is one of the safer ways to eat out and enjoy your favorite restaurants. So several restaurants opened up and improved their patio space, including Bangkok Alley, Huey's® and Pimento's Deli + Market® . 
The new owners of Cafe Piazza, Chaima and Khalid Koubaiti, purchased the restaurant in February 2020. While adjusting and learning the ins-and-outs of the restaurant business, the Koubaitis decided to add a patio space for customers. "We're so excited about this patio," said Chaima Koubaiti. "It'll fit 6 tables with four chairs each, and we will still practice social distancing." Despite taking on the restaurant right before the pandemic, Koubaiti says that it was a blessing in disguise. "We were able to learn everything from scratch," said Koubaiti. With the excitement of the new patio, customers can also try out the new brunch menu that Cafe Piazza now offers. 
"We were fortunate in that we had a sidewalk and Collierville as a community, who was willing to adjust with us."  -Justin Young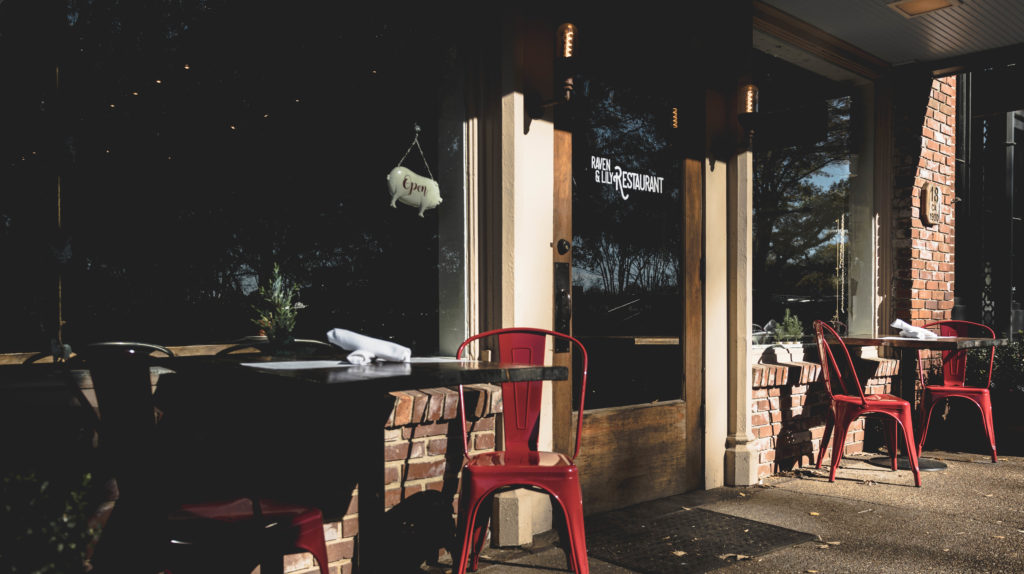 Raven and Lily Restaurant owners, Justin and Amy Young, also added outdoor seating for customers to enjoy the beautiful Collierville Town Square while eating. "We added tables and chairs outside in order to maintain social distancing and stay under the 50% capacity," said Justin Young. However, this is not the only way Raven and Lily has gotten creative during this pandemic. "We opened the bakery [Baked in Collierville], catered for Thanksgiving and Christmas and offered takeout. We had to adapt in any way that we could to be able to serve our customers," said Young. Being able to make these adjustments at such a fast pace, and to add Baked in Collierville and catering options to the restaurant was challenging for the owners. However, Young remarked that, "We were fortunate in that we had a sidewalk and Collierville as a community, who was willing to adjust with us." 
Improvising An Opening 
Opening a business, even without a pandemic, can be difficult. So to try to achieve this already daunting feat, while the entire country is shutting down, can just seem crazy. 
Priscilla Williams, the owner of Collierville Nutrition Spot, a healthy smoothie and tea drink shop, opened her doors in March, just a few days after lockdown started. Williams wanted to bring something new to Collierville, in hopes that she would also bring better awareness to people's health. However, when the business was opening its doors right after the initial March lockdown began, Williams realized that they had to make quick adjustments.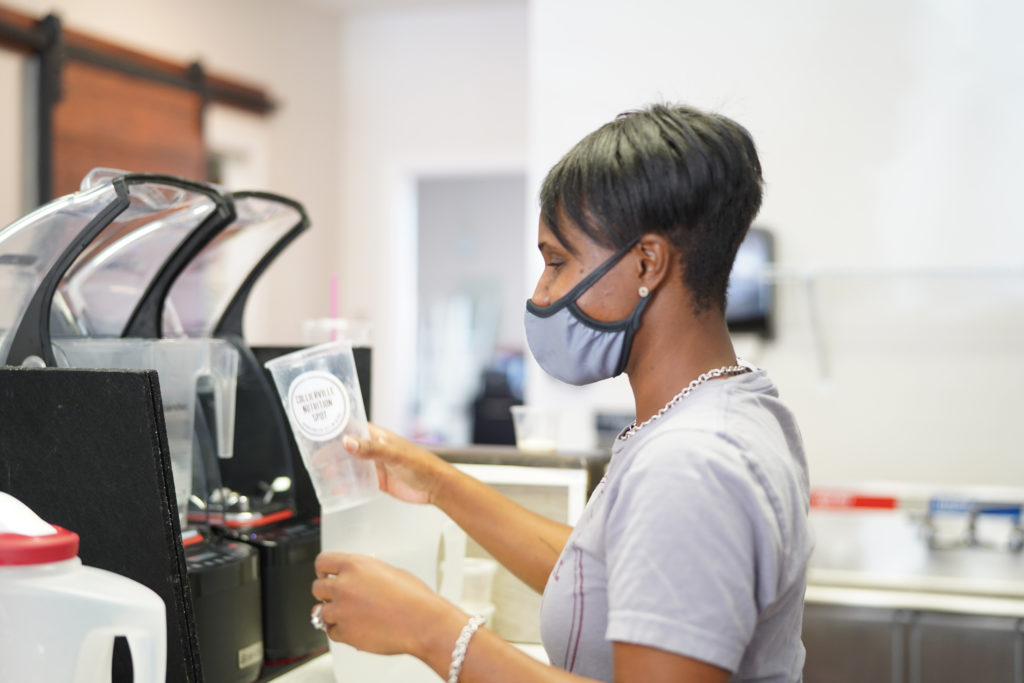 "We had to improvise and go to plan B without having a plan B," said Williams. "We were able to quickly adjust and move entirely to curbside with the help of my employees." With the lockdown, her first concern was if people were going to even try out her new business and what was going to happen next. 
The fear of not knowing seemed to consume Williams on her opening day. "The morning we were supposed to open, I sat in the parking lot and said, 'I'm just going to put one foot in front of the other' and leave the rest up to God," said Williams. This courage and faith helped her get through the first few months of constant change and new CDC guidelines. 
"The community has been above and beyond, it's almost like a dream, like the way the community has gotten behind it. They support us 100%. Without the community, this place would not exist." -William Bryce
The Social Cup Coffee House & Co.'s founder William Bryce shared a similar experience to Williams: opening right when the initial lockdown started. "So we opened on a Saturday that was right in the middle of the pandemic, just like in the very early stages of it," said Bryce. "When you had to curbside only and couldn't let anybody in, and then the following Monday, we were allowed to let 25% in." 
The Social Cup Coffee House & Co. offers more than just a good cup of coffee, with full breakfast, lunch and dinner menus that are different from what you might see at other coffee shops. Bryce also owns the coffee company that produces the coffee sold in his restaurant, giving a unique experience to coffee lovers since it's the only place to get it.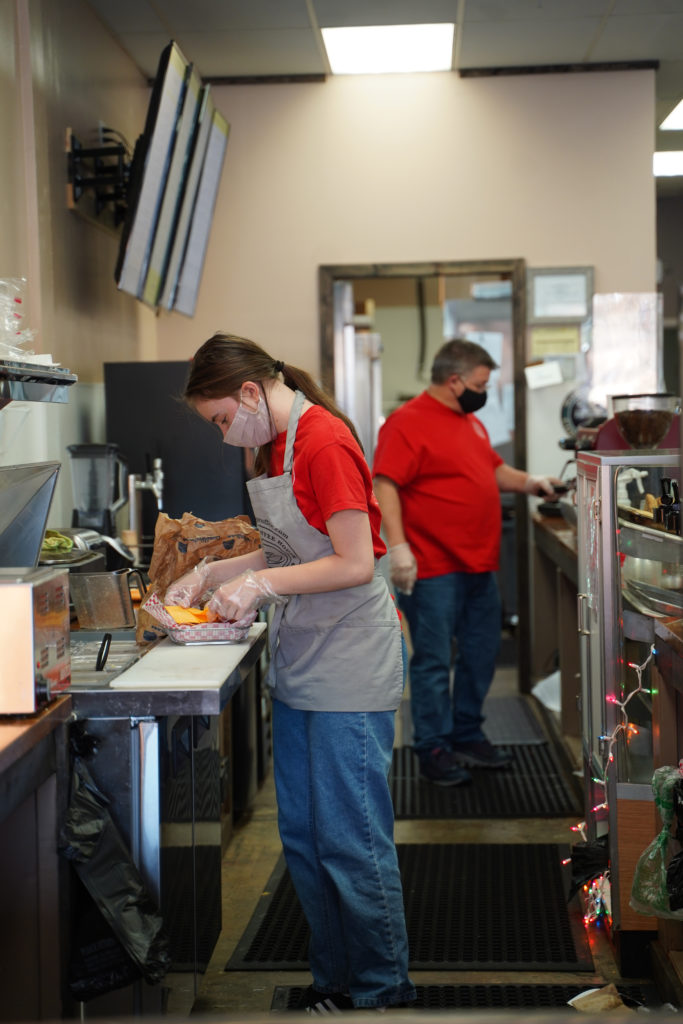 "They don't expect a coffee shop to have this much stuff, but my thing was, I started my coffee company six years ago and it's our own coffee, so that's one of the things that makes us unique," said Bryce. A year of planning and developing ideas and products that had to be halted for the time being didn't ruin their spirit — they made the necessary changes to accommodate COVID-19 guidelines and kept innovating. 
Bryce says that without the support of the community, his coffee shop wouldn't have made it. "The community has been above and beyond, it's almost like a dream, like the way the community has gotten behind it," said Bryce. "They support us 100%. Without the community, this place would not exist."
Collierville gained another coffee shop around the same time. Hoping to bring back a cafe for people in the area to be able to to relax and enjoy a good cup of coffee, Carrington Oaks Coffeehouse opened its doors.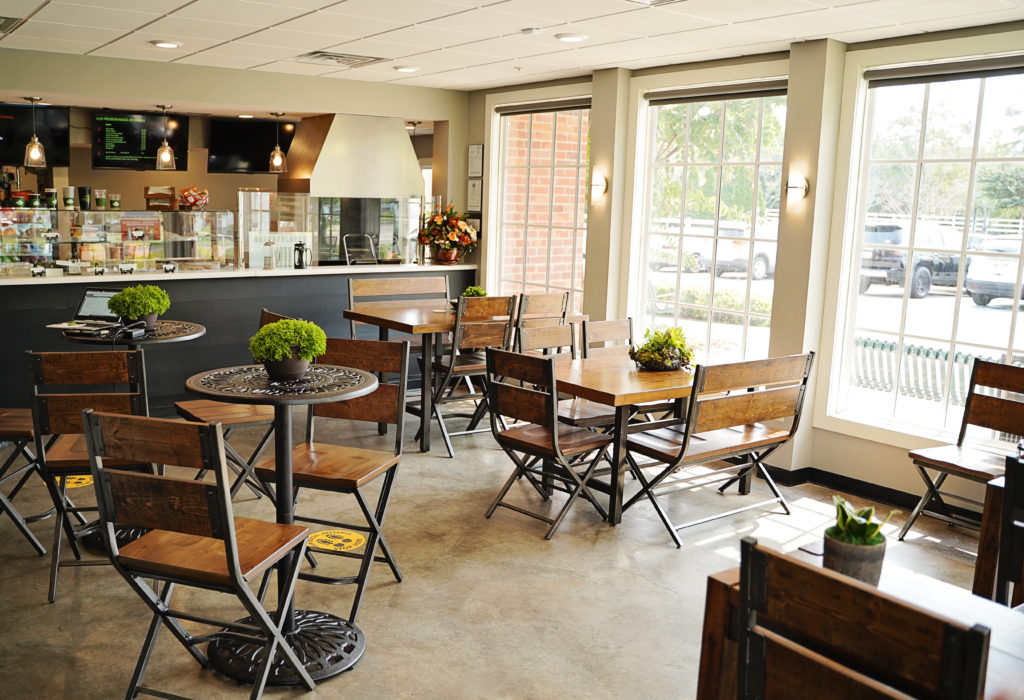 After walking over to his favorite cafe and seeing the building vacant, Rick Frembgen knew he had to bring something to the quaint little store. In August, when people were able to get out again but COVID-19 restrictions and guidelines were still in place, Frembgen opened Carrington Oaks Coffeehouse. Even while knowing that things could still get bad, that there would be shipping delays for equipment and the fear that they would only be able to open for curbside pickup, he and his wife still pushed on to open. 
Leading up to opening day, everything seemed to fall into place for Carrington Oaks Coffeehouse, and they were able to do a full opening with inside seating available. "We thought we would open for weeks or months and only be able to do curbside and pickup," said Frembgen. "On the day we opened, the county had relaxed the restrictions and we were able to welcome everyone inside as long as they had a mask and followed social distancing. The timing was perfect." Despite the world coming to a halt as we all coped with COVID-19, people in Collierville managed to keep moving forward and succeeding. 
While this past year was filled with constant changes and adjustments, it has provided the people of Collierville – those who own businesses and restaurants, those who teach and those who have stayed at home throughout 2020 – with time to reflect and get creative. Business owners were able to make adjustments and try new things, and they didn't stop just because the odds were against them. Collierville remained resilient and continued to grow during a time that could have stopped the town in its tracks. Here's to the new year and the steadfast, supportive community we have in Collierville!
story | AK Lewellen
photos | Cindy B. Thymius & Nicholas Cotros