Kindness is Key
On a chalkboard in my kitchen is a simple message: "Do small things with great love." It reminds our family that even the smallest drop in the bucket can make a lasting ripple. At the young age of four, my daughter is old enough to feel the inherent call to 'do unto others' as we make our meager attempts to 'pay it forward'. Kindness is teachable. Children are told not to take but rather to give, and as we age, the lesson remains just as relevant as the first time we heard it. Our thoughtfulness toward one another can do more than ripple; it can make waves into the new year. 
Collierville is no stranger to witnessing servanthood. Throughout the year, there are stories of young and old stepping up to the plate, bettering our community. Someone hears the call of need and they react. Be inspired by these local individuals doing good works. Listen, and you too may hear the call to 'do small things with great love' for a neighbor, colleague, classmate, stranger, senior or friend. 
Students' Kindness Challenge
The Student Government Association [SGA] at Collierville High School stepped up to promote kindness among students and faculty by participating in an initiative to  put others first. The '30 Days of Kindness Journal' was created through a curriculum called Character Strong, used in CHS' Student Success classes. 
The goal of this kindness initiative was for students to spend thirty days focused on one individual per day, for ten minutes or less. SGA Advisor Meagan Spangler shared that especially with the challenges brought on by the pandemic, it was important to keep kindness at the forefront of students' thoughts. "With everything going on this year, and the increase in stress and anxiety, SGA decided to partner with [Character Strong] on the 30 Days of Kindness Journal in hopes of increasing kindness and empathy," shared Spangler. "This is a low-burden way to help put a focus on positivity, gratitude and hope."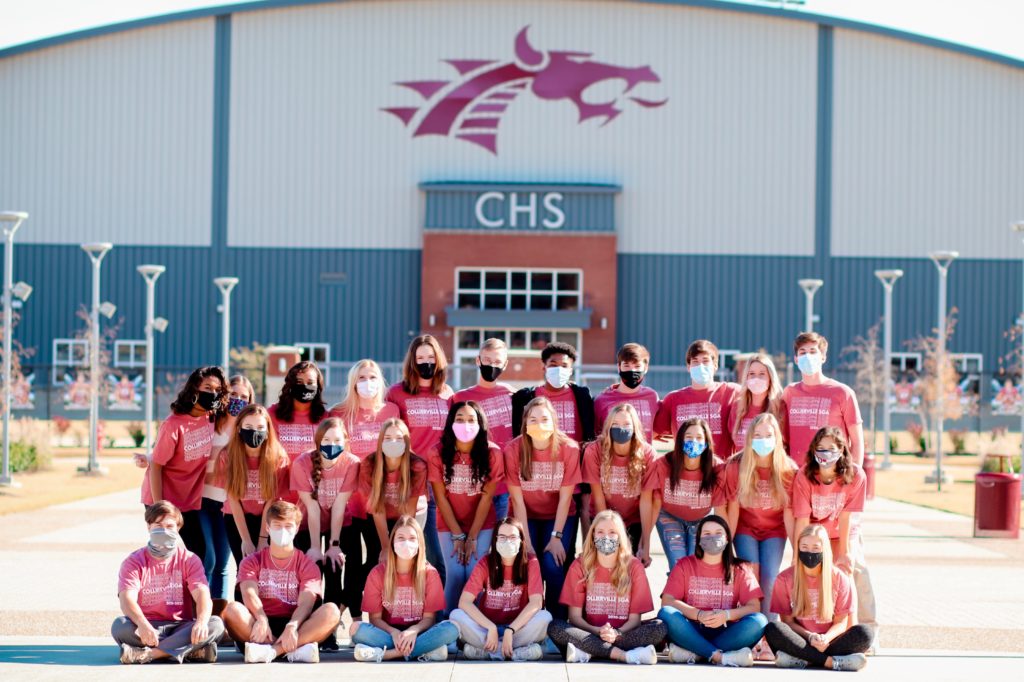 SGA members were assigned a day to be the 'spokesperson' for that day's challenge. One challenge might read, "Write a short, loving note to one family member and hide it for them to discover." Students were encouraged to share on their social media accounts, while daily challenges were  read during announcements. 
"I think the Kindness Challenge is extremely important, especially given the current climate," shared Julia Cavanaugh, 2020-21 SGA President. "We really need support and love from those around us while we're all facing our own unique battles. I hope we are encouraging people throughout our community in Collierville to practice kindness, and as Houston Kraft [the co-founder of Character Strong] would say, to 'make kindness normal'." Efforts did in fact ripple into the community with SGA's canned food drive that took place during the Kindness Challenge.
"The 30 Days of Kindness challenge has really given me a broader perspective on how effortless it can be to make someone's day more positive."  -Brian Bortz, CHS SGA Vice-President
CHS students are well on their way to making some positive habits according to SGA Vice-President Brian Bortz. "The 30 Days of Kindness challenge has really given me a broader perspective on how effortless it can be to make someone's day more positive," shared Bortz. "As each new kindness day comes up, I genuinely want to participate, so I think it's normalizing kind actions by implementing them into my daily routine." Let's take a lesson from the kids and incorporate our own Kindness Challenge into our daily routine. 30 Days – 1 person – 10 minutes or less per day. Go!
Kindness Is Like Music ToThe Ears
Senior citizens are one of the age groups most affected by the COVID-19 pandemic, and not only because of the virus itself. Keeping spirits high has been vital and Page Robbins Adult Day Center made sure their clients were 'Singin' [despite] the Rain'! 
Development and Communications Director Katie Kirkpatrick shared the willingness of local volunteers to get "COVID-19 creative" and virtually assist — often by sharing  their musical talents from afar. "We have volunteers giving their time to provide us with a virtual music hour," explained Kirkpatrick, "where [volunteers] will play background music from the piano in their home during our activities. We also have a virtual Gospel Hour every Wednesday, where we sing hymns that are very familiar to [clients]. And even though the virtual meetings are not ideal, we are so thankful for our volunteers and their talents, because the neat thing about music is that music is one of the last [memories] to go [for some seniors]. Some people who can no longer speak can still sing sometimes, or they may not remember how old they are, but some of these songs are hidden away in their hearts and they can still sing the words. Our clients love to sing, love listening to music, and our volunteers are taking the time regularly to play and giving us all so much joy."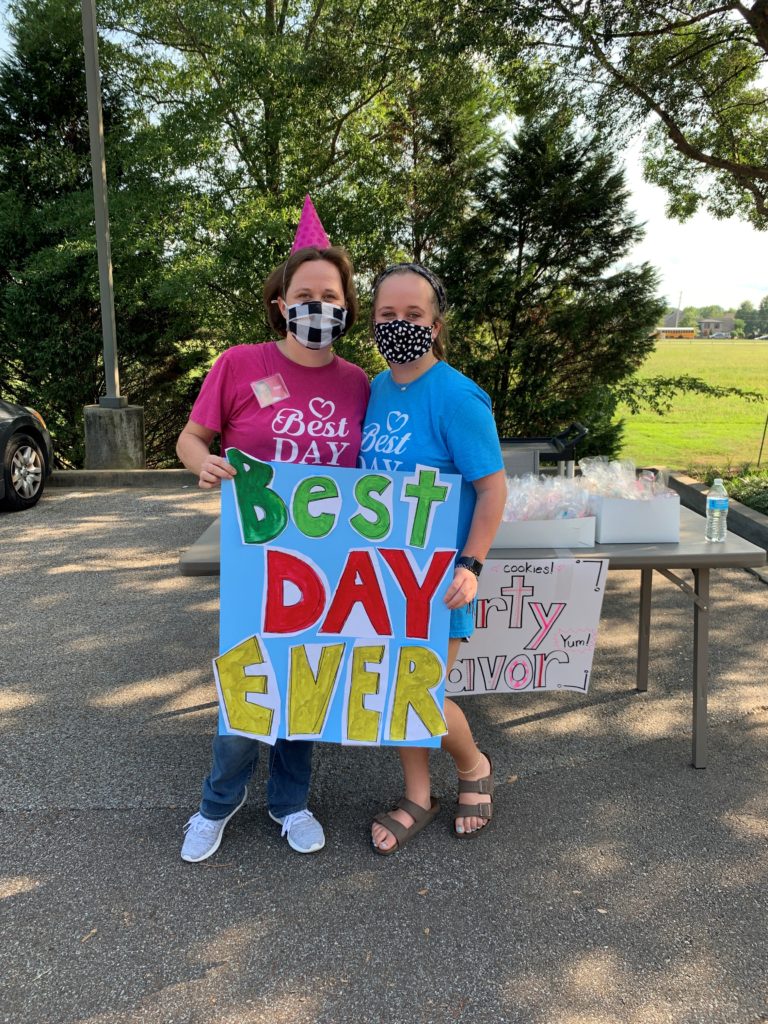 The Page Robbins staff were also honored for their 25 years of service to Collierville's seniors with a drive-by parade. Community Engagement Coordinator Chloe Alexander was touched by the sincere appreciation from families and the tightly-knit senior healthcare community at the parade. "Seeing so many people show their support for the work we do each and every day, especially in this challenging time," remarked Alexander, "gave me a new appreciation for Page Robbins and the community we serve." Past volunteers, client families, senior care organizations, the Mid-South Therapy Dogs and more decorated their vehicles to show their appreciation. 
"Our clients love to sing, love listening to music, and our volunteers are taking the time regularly to play and giving us all so much joy." -Katie Kirkpatrick
"It can be challenging caring for a population that is so vulnerable right now," shared Kirkpatrick, "but it was really encouraging seeing our friends in the community show us support. It was exactly what I needed, and what I know the other staff members needed. So much of what we do is a community effort, and it's been really hard not to physically be with everyone. So to have that moment that we could see one another from afar, and wave to them and say to one another, 'We miss you', 'We love you', 'Thank you', all of the kind words and thoughtful donations, put wind in our sails."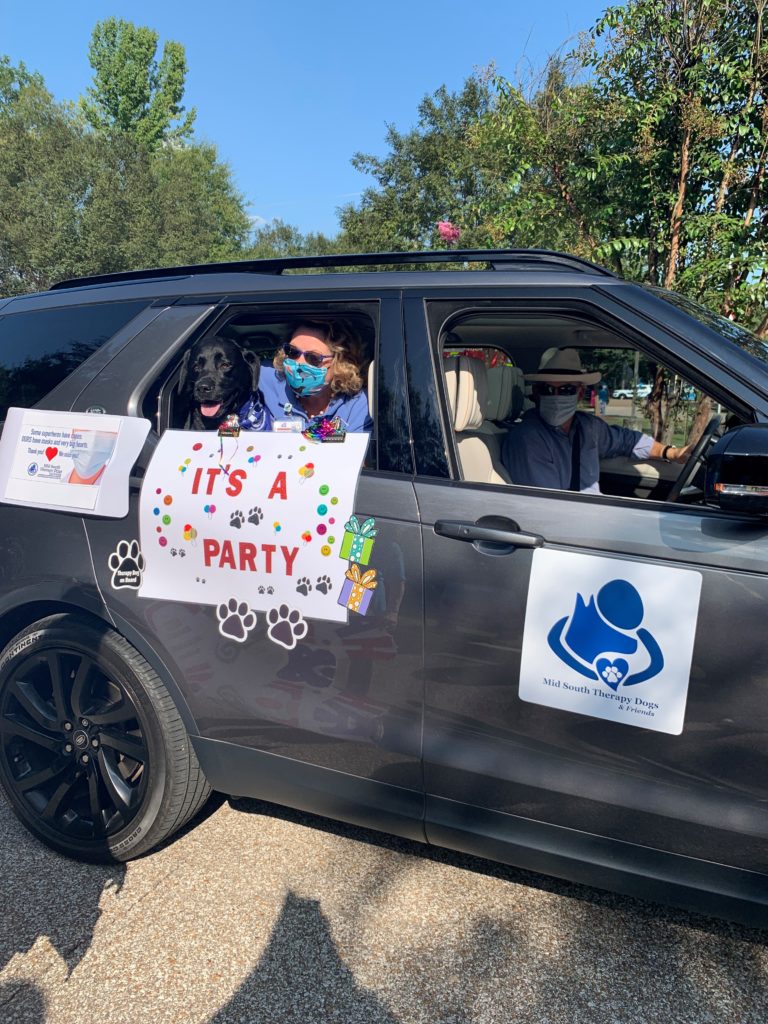 Let your small acts of kindness ripple throughout the streets of Collierville. Maybe you have some gently used toys that deserve a good home — check out Collierville's Pass It On Facebook group. Maybe this year's garden yields pounds of extra produce that can feed a local family — consider connecting with the Epiphany Lutheran Community Garden. Or perhaps challenge yourself to write a handwritten note once a day for a month, thanking someone for investing time in you. Each of us, no matter our age, can 'Do small things with great love' this new year!
story | Anna Bell
photos | Katie Kirkpatrick & Meagan Spangler