Because you're never too old to fall in love!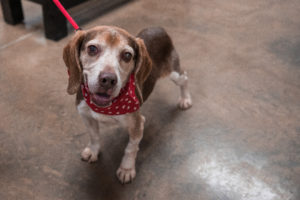 Is there someone you've had a crush on? Where just seeing them makes your heart race? For me, that's Lucy. My name is Stanley and I live at the Collierville Animal Shelter. The object of my affection, Lucy, lives here too. I still remember the day I spotted her through the play yard fence – a beautiful, purebred beagle with the cutest little waddle I'd ever seen. A little snooping around the shelter revealed that she was close to ten-years-old and arrived as an owner surrender, after her humans could no longer care for her. After that, I kept my ears open and heard the humans talking about how she was laid back, had the funniest little bark, and that she was a little bit plump and working on her figure. So, how's a guy supposed to stand out? I bided my time until the day the humans put us in the play yard together. I made my move by playing it cool, being a gent, and letting her have first stab at the toys. The rest is history!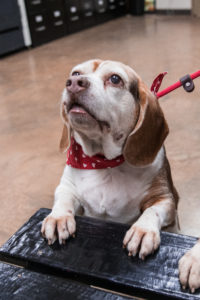 Stanley – is that how you remember it? Playing it cool? OK, I'll let you have that. And to be fair, I'll admit I noticed you too. You were also a purebred beagle, and a real sweetheart. I loved how you were so social, you loved all dogs and humans, that you were vocal, and funny, and I'll admit, a girl always likes a man who can sit on command, haha! But I really fell for you when I learned we had something in common: a mutual love of food!
Hey humans, Stanley and I are here at the Collierville Animal Shelter, so please stop by and meet us. We would love to find our forever homes! And as much as we enjoy each other, it does not have to be together. There are so many beautiful and affectionate cats and dogs up here, and even though we make friends in the shelter, nothing comes close to the joy of finding our humans and going to our forever home. We are vaccinated and our adoption fee is only $50, which includes our micro-chipping, licenses, and our spay/neuter expense. 
XOXO, Lucy & Stanley
Because all you need is love… and a Lucy and Stanley!
P.S. If you are interested in adopting both, A-Team Roofing is sharing the love and will COVER THE ADOPTION COSTS!!
By: Julie Weaver
Collierville Animal Services is located at 559 E. South Street, Collierville. Call 901-457-2670 or come by to find your perfect companion!