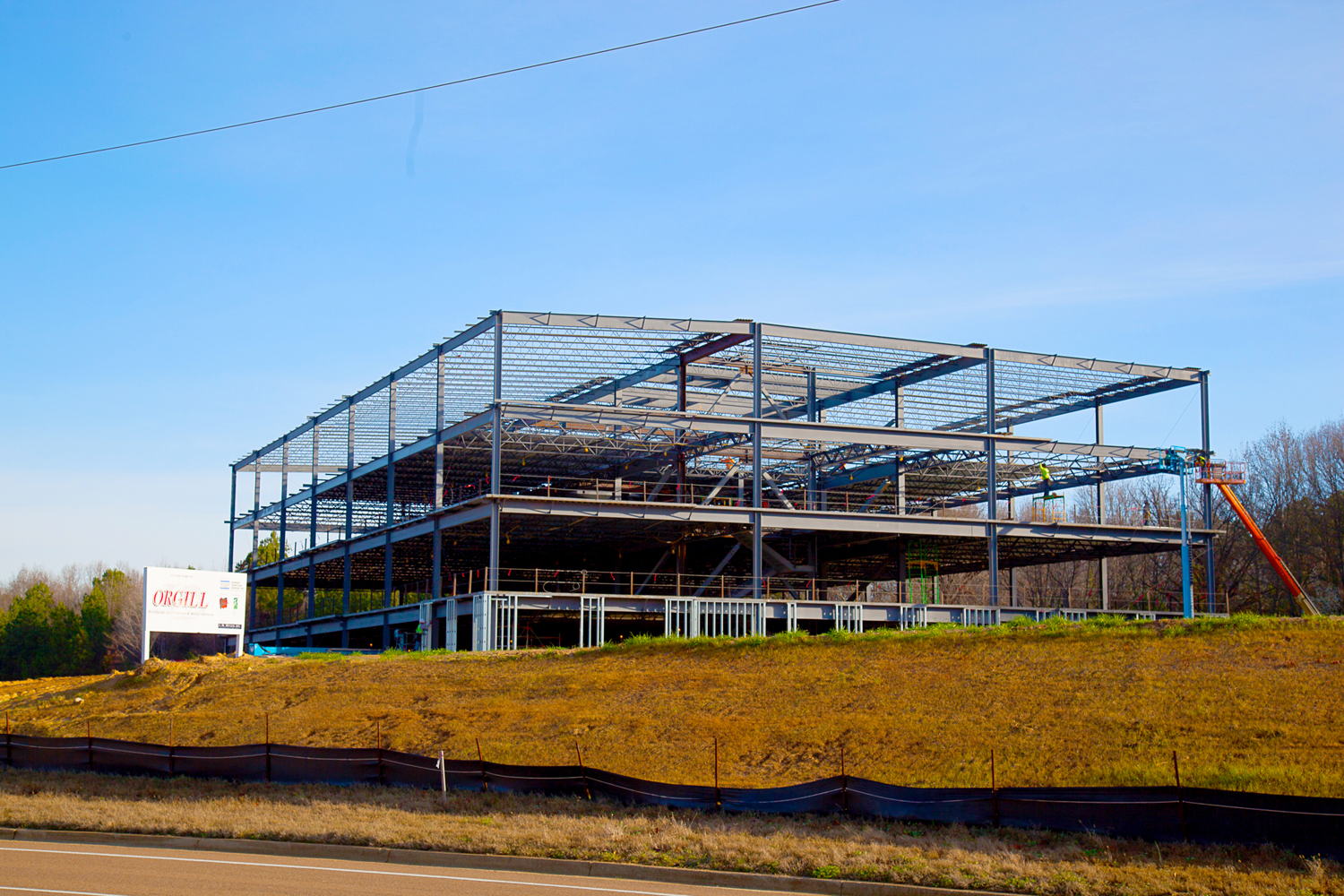 Proximity to Economic Network
We often talk about Collierville's economic diversity as being one of our many strengths. With close to 2,500 new residents since 2012 and over 785 residential building permits issued in the last five years, the residential component of Collierville, our foundation, is robust. Orgill's new 92,000 square foot world headquarters (opening late 2017) along the Houston Levee corridor, will bring 380 professionals to our community. Orgill joins FedEx World Technology Center, Helena Chemical, MCR Safety and JuicePLUS as part of our burgeoning corporate campus destination. Commercial activity is solid as well as new restaurants, shops, hotels and services are being constructed with new business announcements occurring almost weekly. On the industrial side of the ledger, CCL, in partnership with Korsini, is in the process of developing an 85,000 square foot in mold label manufacturing facility on the southeast side of Town. CCL's $25,000,000 investment in our community will ultimately bring 130 new jobs to the area. This array of activity in all market segments will continue to be one of the reasons why Collierville will strategically grow for years to come.
With over 325 acres of developable land zoned industrial, with a large percentage located at the strategic I-269/ SR-385 / US 72 crossroads, Collierville is uniquely positioned to fully participate in the coming industrial development wave in the Southeast. Proximity to the economic network, in other words, timely access to the airport, river, highway system and rail lines, is what drives investment in manufacturing and distribution. Let's explore a few of the key economic network assets.
AIRPORT
Located approximately 30 minutes west of Collierville, sits the Memphis International Airport. Within the airport property is one of the most important assets in the region, nation and world, the FedEx World Hub. Sorting over 1 million packages every night, the 12,000 FedEx World Hub employees work hard to ensure that "…it absolutely, positively gets there overnight." With some of the latest "drop off" times in the nation, the FedEx World Hub serves a diverse client base that depends on critical freight services. Additionally, United Parcel Service (UPS) has a 1 million square foot facility at Memphis International, further cementing the dynamics of this distribution and supply chain center.
RIVER
45 minutes west of Collierville is the mighty Mississippi River. The International Port of Memphis is the second largest inland port on the shallow draft portion of the Mississippi River and the fifth largest inland port in the United States. The port serves a critical function in feeding freight to the area's large rail network, as well as intermodal capabilities. The port has been in existence since the early 1900's.
HIGHWAY SYSTEMS
Not only is Collierville strategically located at the geographic center of the United States, it also sits at the crossroads of I-269 / SR-385 / US 72.
I-269: Part of the I-69 highway network, which runs from Port Huron, Michigan to Brownsville, Texas, the I-269 section runs directly through Collierville's southeast or, industrial side of Town. Once finished (late 2018), I-269 will technically run from I-40 all the way south and west to I-55. The $270 million dollar "international trade corridor" will be an economic development engine for the region, including Collierville.
SR-385: State Route 385, also know as Bill Morris Parkway, is a state highway that connects to I-240 and I-269. A significant portion of 385 runs through Collierville, making it a key commuter and industrial thoroughfare.
US 72: US 72 is an east-west United States highway that travels for 337 miles from southwestern Tennessee, North Mississippi, North Alabama, and southeastern Tennessee. The highway's western terminus is in Memphis and its eastern terminus is in Chattanooga. In 2015, as part of a $20 million grant from TDOT (Tennessee Department of Transportation), US 72 was widened and updated from Poplar Avenue to SR-385.
Additionally, because of I-269, SR-385 and US 72, Collierville provides timely and uncongested access to I-40 and I-55.
RAIL
Did you know that Memphis is the third largest rail center in the U.S., behind only Chicago and St. Louis? That's pretty good company! Five class one rail lines have operations in Memphis (UP, BNSF, CSX, NS and CN) generating over 2 million container lifts per year. A "stone's throw" from Collierville, in Rossville, TN (Fayette County), is the Norfolk Southern Memphis Regional Intermodal Facility. This $105 million dollar infrastructure investment is located on 570 acres of land in Fayette County, just off of US 72, 15 minutes southeast from Collierville. The Norfolk Southern Intermodal railyard has the capacity to handle 200,000 truck trailers and shipping containers annually. Norfolk Southern's intermodal facility is part of the Crescent Corridor railroad system, which travels from New Jersey to Memphis, and beyond to New Orleans.
The State of Tennessee, through their Tennessee Economic and Community Development (TNECD) division, has invested over $100 million dollars in the Memphis Regional Megasite. Located at exit 42 off of I-40 in Haywood and Fayette Counties, this 4,100 acre site, with appropriate infrastructure in place, is being marketed and positioned for auto assembly, advanced manufacturing and large scale production. It is approximately 45 minutes to the megasite from Collierville. Our Town stands to benefit directly and indirectly when TNECD lands a client(s).
15 minutes southeast of Collierville, in Fayette and Marshall Counties, is the Gateway Global Logistics Center. 1,500 acres of industrial zoning that is located across US 72 from the Norfolk Southern Intermodal Yard. Gateway Global is home to Volvo, Post, Roxul and TBC International. Collierville is the ideal location for organizations needing to service the Gateway Global business community.
An abundance of developable land, zoned industrial, with the majority located at Collierville's strategic southeast side, positions our Town to be the solution for organizations needing timely and uncongested access to the region's vast economic network.
John Duncan
Director of Economic Development
Town of Collierville