It's the summer of 1984, and Collierville is happy. The birds are singing, and the flowers are in bloom. On the Town Square, two brothers sit, crouched in the alley of 110 North Main Street. They confide in one another, sharing stories of adventure, and discussing the latest movie trailers. One says to the other, "I guess it's time for lunch, huh?" The other responds with a simple nod, before they stand up and walk next door to the local hamburger joint – Mensi's.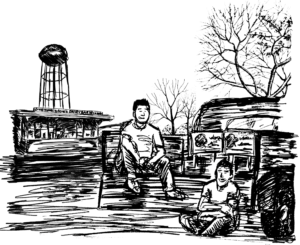 In the mornings, their dad, John, would drop them off behind his office building, where he housed his real estate company's yard signs. His sons, Allen and Michael, were responsible for seeing to and maintaining the company's signs. After a few hours of work, when it was time for lunch, they would order a couple of cheeseburgers and milkshakes and bask in the freedom of summer. What would become a Collierville landmark was a young Allen and Michael Green's favorite summertime spot. Little did they know that, thirty-five years later, they would be the ones leading the development of such a nostalgic piece of property, where they shared so many memories. It's almost poetic that these young men are the two to introduce Collierville to its newest district – Washington Square.
Collierville's Director of Economic Development, John Duncan, writes about the future of this property in great detail on pages 32-33. However, this year is John Green & Company Realtors'® 40th year anniversary, and they're doing a lot to reinforce the phrase: Building Neighbors for 40 Years. I was fortunate enough to sit down with Allen, Michael, and their father, John, to discuss forty years of history, and after speaking with them, it's easy to see how these words embody the work that they have performed in and around Collierville since 1979.
It began in 1978, when John Green decided to visit one of Collierville's local car dealerships to purchase a maroon 1978 Chevrolet Caprice Classic. Green was working in Memphis at the time, but fell in love with the town and moved here soon after: "It [Collierville] reminded me of where I come from, and I wanted to open up a real estate office." In the spring of 1979, John Green went on to found John Green & Company Realtors® out of a one-man office on the Collierville Town Square.
John Green and Company's humble beginnings eventually led to great success, as a full-service residential and commercial real estate company. Green began building relationships with his employees, agents, and the community. A handful of John's first employees and agents remain with the company today, including Allen and Michael who, nearly five years ago, succeeded their father as owners. Michael, John's youngest son, notes how important these people are to their family and company: "… They're all like family. Our employees are like family, and our agents are as well." The company has now sold an estimated 10,500 homes throughout Collierville, Germantown, Memphis, and parts of Mississippi.
We've had a lot of longevity with our agents, and most of our agents are experienced and have been with us for a long time. They're all like family. Our employees are like family, and our agents are as well.    

 – Michael Green, John Green & Co. Realtors®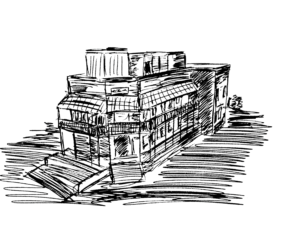 If you've visited the Town Square recently, you may have noticed the construction of John Green & Company's 6,000 square foot office building that will become the company's headquarters of operations. Allen and Michael hope that this building will serve as a "thank you" to their thirty or so agents, old and new, as it provides them with a special opportunity to connect with the Collierville community in a unique way. Additionally, the building will feature a rooftop venue that overlooks the Town Square. They're calling it Rooftop on the Green, and it will serve the community as a space available for events and other social gatherings.
Besides constructing the Town Square's newest building in nearly fifteen years, they're also developing its newest neighbor, Washington Square. Allen and Michael are confident that this area will become a destination for the community, and that Collierville's residents will enjoy simply visiting the Square before deciding where to eat or hang out.
Collierville is its families. We think that Washington Square will become a destination area, and hope that, 'hey, where should we go eat?' becomes 'let's just go to the Square and Washington Square and see what's going on,' as more things start happening.     

– Allen Green, John Green & Co. Realtors®
Allen and Michael are also upholding their father's tradition of supporting the local community. John Green founded the Teacher Appreciation Luncheon in 1988 and the Collierville Education Foundation in 1996. Since then, Allen and Michael have continued to support the local school system. Michael currently sits on the board of the CEF, and the company continues to support Collierville's youth through various sponsorships and programs. Just recently, the company signed a $1,500 check in support of Collierville Elementary School's robotics team and its trip to a world championship competition. They're also happy to be sponsoring this year's Summer Concert Series presented by Main Street Collierville, as they have done in the past.
John Green concluded our interview by thanking Collierville: "Everything we've got is because of Collierville, so we're building a nice building, and we're trying to invest in Collierville because it's been so good to us. A lot of people just pick up and leave, but we're here to stay."
Allen and Michael said that their dad would always recite the saying, "luck is preparation meeting opportunity." John Green & Company Realtors® has spent the last forty years preparing for today's opportunities, and now, they are poised to capitalize on them in a way that is sure to positively impact Collierville's community for years to come.
By: Nicholas Cotros
Illustrations by: Michael Stires