Picturing Collierville
How do you see Collierville?
Let the simple phrase inspire you to participate in 'Picturing Collierville'; a juried photography contest and exhibition sponsored by the Lucius E. & Elsie C. Burch Jr. Library and The Morton Museum of Collierville History.
Contestants must be 15 years or older to participate in 'Picturing Collierville'. Online photo/caption submissions are being accepted now until June 25th for the preservation of local contemporary history and storytelling through what Burch's Digital Services Librarian, Emily Baker, describes as "snapshots of history in and around Collierville". The contest is a classic show-and-tell that tastefully illustrates the story of our town.
The committee will review photos of objects, people, architecture, events, art, landscape and aerial views, streets, wild plant or animal life, or stills of life in Collierville just to name a few. Your photo can and will be disqualified if it is not in accordance with contest guidelines.
"We really want everyone in the community to get involved," Baker reiterated. "To go out and take pictures."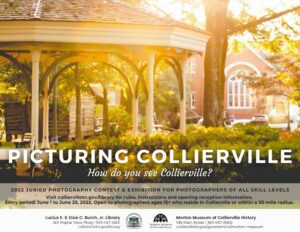 Friends and staff will host an evening reception August 11th, 2022 from 5 to 7PM at the Morton Museum. 
Selected winners and runners up will have their photos printed and matted for display at either the Morton Museum or Burch Library during the months of August and September, until September 24th. 
The four submission categories are as follows:
"On the Town" – public spaces and events
"Picturing Collierville History" – historic landmarks, memorabilia
"Collierville Community" – neighborhoods, groups, community
"The Beauty of Collierville" – outdoors, architecture, nature, parks
Show us how you see Collierville through the special lens of the heart. For more information, dates, and contest guidelines for 'Picturing Collierville', visit https://www.colliervilletn.gov/residents/library/events/picturing-collierville-photo-contest
Good luck!
Written By: Morgan Lester