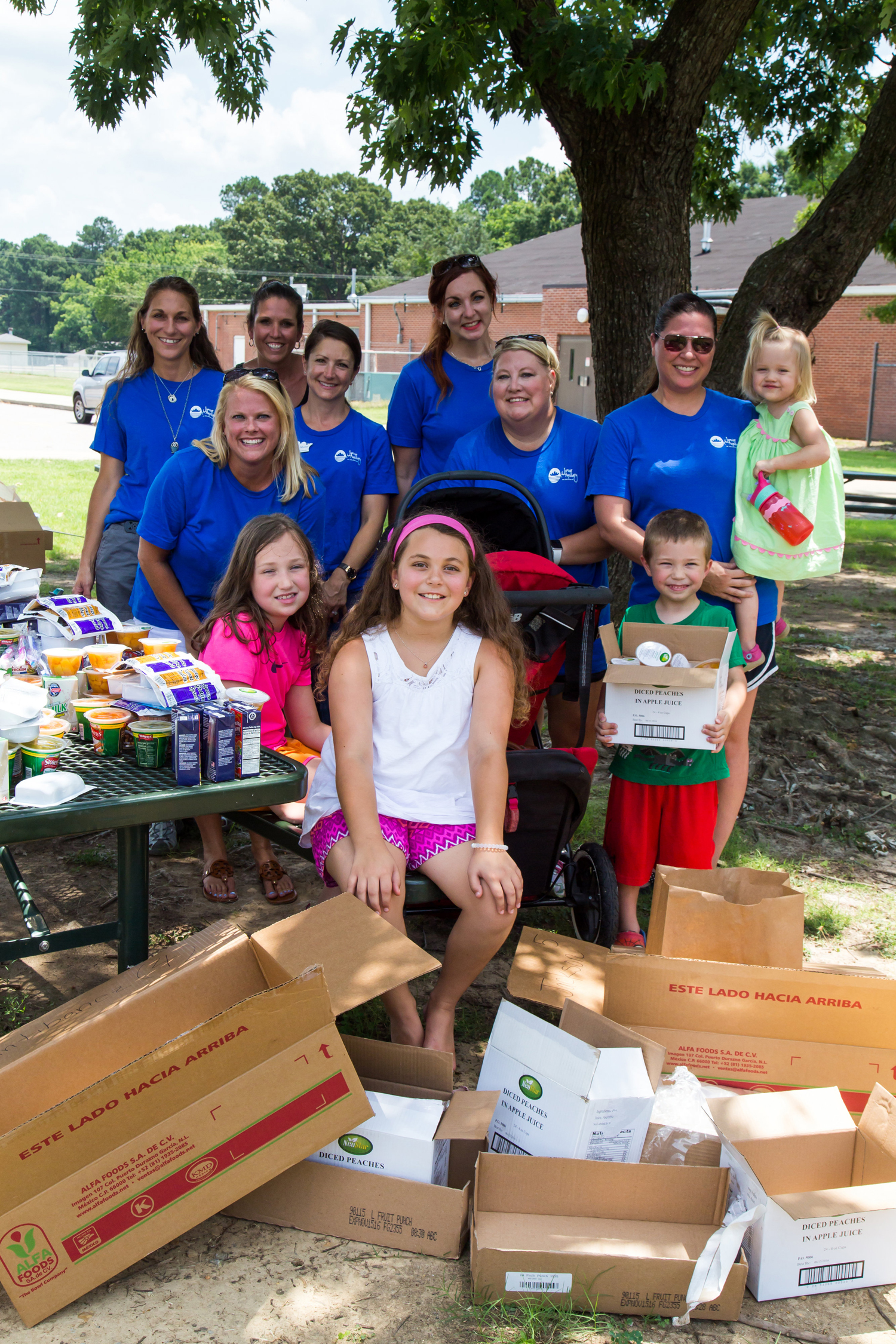 Philanthropic Spirit in Collierville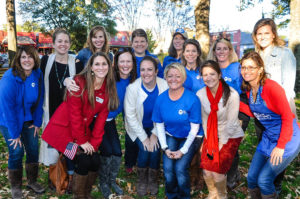 Junior Auxiliary of Collierville is a 501(c)(3) nonprofit organization that encourages members to render charitable services, with particular emphasis on children, which are beneficial to the general public.  We are an organization of caring, enthusiastic women determined to make a difference in our community.  PROGRAMS: •  summer Backpack food Program – Collect and distribute food donated by the Memphis Food Bank to children currently eligible for the backpack program thru Collierville Schools. •  summer concert series – JAC provides support and assistance to Main Street Collierville and the Town of Collierville during the concert series. •  Page Robbins activity day – JAC coordinates activities and crafts as well as appropriate snacks for the clients of Page Robbins several times during the year. •  Cinderella's closet – JAC Life and Associate members coordinate with the Collierville High School to identify prom candidates in need of a dress or tuxedo.  These items are provided along with dinner, flowers, hair and make-up. •  middle school Boys Program – Still in the development stages, JAC hopes to provide a monthly speaker role model program. •  scare on The square – JAC coordinates a winter coat drive benefiting Collierville Schools. •  Easter Bunny hop – JAC coordinates a can food drive. •  unique Boutique – Empowerment and education for young ladies in grades 5-8 •  veteran's day celebration – Support local Forever Young Veteran's Day by recognizing and thanking local veterans. •  child welfare – Meeting physical and emotional needs to help individuals gain independence in a loving, confidential and supportive way including summer food drive initiatives. •  ladies luncheon & fashion show – Annual fundraiser to fund the projects of Junior Auxiliary.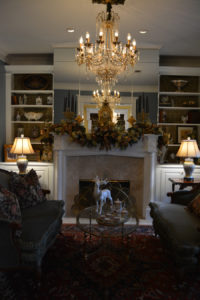 Founded in 1936, the Contemporary Club is a women's community service organization dedicated to the support of charitable and civic causes in Collierville. PROGRAMS: •  first Collierville Public library – Organized in 1957 •  "Collierville – a Place called home" – Book published in 1999 •  Christmas home Tour – Each December the Collierville Contemporary Club features five local homes decorated in unique and extravagant ways for the holiday season.  •  GifT Gazebo – Held in conjunction with the Home Tour, the Gift Gazebo is held in the Morton Museum of History and features locally crafted gifts, entertainment and refreshments. •  Beneficiaries – The organization raises proceeds to benefit: Books from Birth, the Burch Library, the Collierville Animal Shelter, the Collierville Arts Council, the Collierville Education Foundation, the CHS Drama Department, the Collierville Literacy Council, the Family Violence Council, the Morton Museum of History, the Museum of Biblical History, New Day Children's Theater and Page Robbins Adult Day Care Center.                           
FOR MORE INFORMATION: www.colliervillecontemporaryclub.org Mrs. Rick Toms (Nancy) or Mrs. George Lofton (Sissy)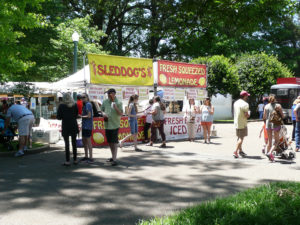 The Twentieth Century Club, a nonprofit organization, is a women's civic club started on January 25, 1950.   PROGRAMS: •  fair on The square – Held in Collierville's historic Town Square on the first full weekend in May, the Fair has been a major project since it began in 1976 as a part of the nation's Bicentennial Celebration.   •   GranTs – Proceeds from the Fair are distributed through a grant program. In 2015 the program contributed over $20,000 to Collierville non-profits.                          
FOR MORE INFORMATION: www.colliervillefaironthesquare1950.org Facebook: Fair on the Square – Collierville, TN Regular meetings are held the 3rd Thursday, August – May, in the Halle Room of the Collierville Burch Library. Visitors and potential members are welcomed at the "Social" time from 4:00-4:30pm, with the program and business meeting following until 5:30.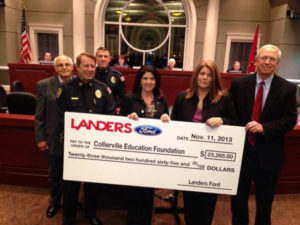 The Collierville Education Foundation (CEF) was founded in June 1996 with the primary purpose of championing educational excellence in the Collierville public schools through fundraising which would provide grants to teachers for educational enrichment. Through the efforts of John Green, CEF received its 501(c)(3) status as a non-profit in December 1997.
Prior to the formation of CEF, there were two ongoing projects to support the Collierville public school teachers.  The first was a small grants program supported by Carrier Corporation.  The second was an annual Teacher's Appreciation Luncheon that began in 1988 through the leadership of John Green.  CEF combined these efforts with additional fundraising activities, expanding the efforts year after year. PROGRAMS: •  Teacher's GranT – We are fortunate in Collierville to have wonderful schools with top-ranked teachers. However, there are times when teachers find out about special programs, projects, and materials that would be a great asset to their students but are not funded through traditional means and that is where the Collierville Education Foundation can help.
FOR MORE INFORMATION: www.colliervilleeducationfoundation.org Diane Douglas at didouglas@bellsouth.net 108 E Mulberry St. • 901-213-8233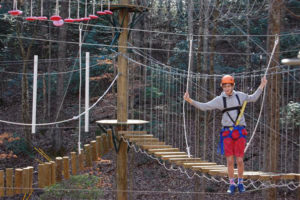 For over 18 years, Collierville Young Life Leaders have been cheering for kids.  Teenagers mean the world to Young Life leaders, who are excited for kids to know how loved, important and valuable they are.  Through these relationships, Young Life clubs, campaigners and contact work, teenagers learn that life can be fulfilling, and that the tough choices of adolescence don't have to be faced alone.  Leaders also have opportunities to tell kids who their biggest fan of all is- a loving Creator who desires for kids to know He cares for them! Kids have lots of choices to make.  They choose friends, lab partners, sports to play and prom dates.  They also face other choices that are harder for teenagers to make- like deciding to live with mom or dad, if they are going to drink alcohol with their friends, and how their life can have purpose and direction. As they face these choices, Young Life is rooting for teenagers.  Young Life leaders are caring adults who know that adolescence is an unpredictable time.  No matter which way life goes for teenagers, leaders are always ready to congratulate or console, encourage or offer advice.  They are also experts at having fun and showing teenagers how to enjoy life.  Leaders know kids well and enjoy being involved in their lives; whether that means attending every soccer game of the season or being there when life seems too heavy to carry alone. Currently we have Young Life Clubs at Collierville High School and St. George's High School.  We have an area-wide Wyldlife Club for all middle school students.  High school Clubs meet on Monday nights.
FOR MORE INFORMATION: www.collierville.younglife.org 340 New Byhalia  •  901-481-7191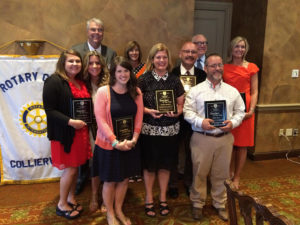 The more than 1.2 million worldwide members of Rotary International committed to humanitarian service, high ethical standards in all vocations, and goodwill and peace in the world. Like their fellow Rotarians in the 31,000 clubs in 167 countries, Collierville Rotarians represent a diverse group of professional leaders – both currently employed and retired – working to address local and international service needs.  Our club is proud to be one of the largest in the area with members from all ages and walks of life. Rotarians abide by The Four-Way Test: Of the things we think, say or do, is it the truth? Is it fair to all concerned? Will it build goodwill and better friendships? Will it be beneficial to all concerned? PROGRAMS: •  Golf TournamenT – Held annually in April •  Proceeds BenefiT – Rotary Youth Leadership Conference, Rochelle Stevens Foundation, Student Volunteers in Optometric Service to Humanity, Collierville Teachers of the Year, New Day Childrens Theatre, Teachers Award Banquet, Student Rotary Scholarship and the Museum of Biblical History •  sTudenT essay scholarshiP ProGram – Seven students each receive $1000 after review of applications, essays, and GPAs. •  GifT of life – Provides lifesaving surgery to children from third world countries who suffer from congenital heart defects.  •  rinG The Bell for salvaTion army – Members volunteer for this annual holiday fundraising campaign.
FOR MORE INFORMATION: www.colliervillerotary.org info@colliervillerotary.org Meetings are every Tuesday at noon at Ridgeway Country Club.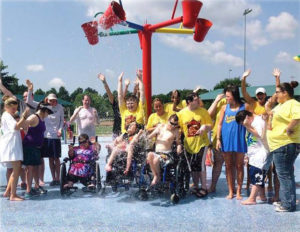 Kiwanis International is a global organization of volunteers dedicated to improving the world one child and one community at a time. Working together, members achieve what one person cannot accomplish alone. The local branch has been part of the community for over 21 years. PROGRAMS: •  anGel Tree chrisTmas GifT collecTion – For over two decades, the program has provided over 75,000 gifts for more than 15,000 angels. Each year, Kiwanis Club of Collierville assists approximately 250 families. •  Key cluB – The Collierville Kiwanis sponsors the oldest and largest service program for high school students at Collierville High School. •  Terrific Kids –  a student recognition program that promotes character development, self-esteem and perseverance. Kiwanis of Collierville provides Terrific Kids to children, 4K to 3rd grade, at Rossville Christian Academy. •  camP smile advenTure – Kiwanis sponsors a unique Collierville camp experience designed to meet the needs of exceptional children, ages 6 and older, with mild to moderate physical, developmental, or learning disabilities. •  K-Kids cluB – provides elementary students with opportunities to work together in service for school and community. Kiwanis chartered the Collierville Elementary School K-Kids Club in 2012.
FOR MORE INFORMATION: Meetings are the first Thursdays at 12:30 at the Collierville United Methodist Church, Room MC 105, and the third Thursday of the month for dinner at various restaurants. Contact Terry Dean at tdean9195@aol.com and Jill Engelken at jlecpa@bellsouth.net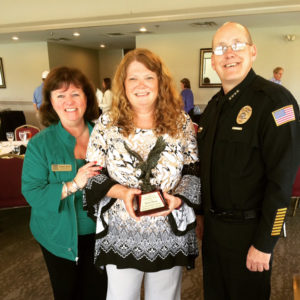 Celebrating 30 years, The Collierville Arts Council is a 501c(3) non-profit organization that was founded in 1987. The Arts Council is dedicated to the pursuit of excellence in performing, visual and musical arts. Our mission is to develop, promote and coordinate the arts to all citizens in the Town of Collierville and surrounding area by advancing and strengthening community bonds through interest in the arts.  PROGRAMS: •  TheaTer Performances – The Arts Council is the official Town of Collierville theatre service provider in the Harrell Theater.  Shows and auditions occur throughout the year.  The 2016-17 season includes (with opening dates): –  Spamalot (September 23, 2016) –  A Christmas Story (December 3, 2016) –  A Streetcar Named Desire (February 17, 2017) –  A Funny Thing Happened on the Way     to the Forum (July 14, 2017) •  children's choir – Children ages 5-12 rehearse and perform at venues in the region •  symPhony in The rose Garden – Annual fundraiser on the grounds of the home of Bob and Mary Jean Smith. •  arTs in The alley – Celebrating the Arts Council's 30 years, food, drink, music and more will be hosted in the alley along the North side of the Square in October 2016. •  youTh TalenT conTesT – A preliminary to the Mid-South Fair's Youth Talent Contest. •  arT exhiBiTs – In conjunction with the Morton Museum, the Arts Council hosts openings for art exhibits at the Harrell Theatre. •  miss collierville scholarshiP PaGeanT – A preliminary to the Miss America Competition •  Kids arT – Board member Jane Hester leads Dr. Seuss-themed art projects in public schools.
FOR MORE INFORMATION: www.colliervilleartscouncil.org Facebook: Collierville Arts Council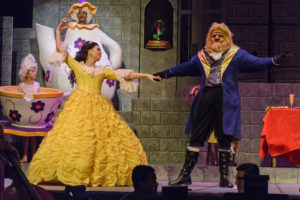 In 2006, the seed was planted to start a children's theatre in Collierville. The founders were convinced that our town needed and could support a theatre just for kids. Using donated rehearsal space from Collierville United Methodist Church and renting The Harrell Theatre, New Day Children's Theatre was born. Within six months of opening, we had produced two main stage productions and been established as a 501c(3) non-profit. Through both programming and audiences, New Day has served over 5000 children in the past 10 years, producing more than 33 shows as well as numerous camps and workshops. New Day Children's Theatre provides theatrical exposure to children and youth of all experience levels in a nurturing environment where children develop character through mutual respect and teamwork. It is a safe place to express their creativity. At New Day ,the kids participate in all aspects of the production, from acting to lights, to taking tickets at the door. PROGRAMS: •  TheaTre – Upcoming performances include: –  Best of Both Worlds (free admission) –  Peter and The Starcatcher –  Pinkalicious •  summer camP – Kids learn about theatre while making lasting friendships. •  classes – Dance classes tailored for stage performance and skills enhancement. •  PaGe roBBins Players – Students ages 5-18 perform at Page Robbins Adult Day Care Center. •  siP & shine cocKTail ParTy – Annual Golf Tournament
FOR MORE INFORMATION: www.newdaytheatre.org info@newdaytheatre.org 901-853-9669 "After all… what's childhood without a little drama?"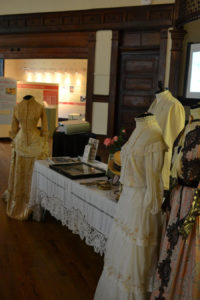 The Morton Museum invites visitors to explore Collierville's rich heritage. Permanent and changing exhibitions engage friends, families, and children in interactive learning opportunities. The Visitor Center off ers resources to help enhance your Collierville Experience.  The Museum off ers a permanent exhibition space, temporary exhibitions, a community art gallery, reading room, and event rentals. PROGRAMS: •  collecTions – The Morton Research Library includes newspaper/magazine collections, maps, books on Civil War topics, Tennessee history, American Indians, etc.  Permanent (object) collections include Civil War objects, antique tools, etc. •  education – Various programs for all ages including Spotlight Saturdays, Pre-School Story Time, Lunch n' Learn Series, Painting Classes with Sue Foell, Group Field Trips, and more. •  art exhibits – The Collierville Community Art Galleries select artists to display in the Morton Museum, Town Hall, and Harrell Performing Arts Theatre.  All artists in a 30-mile radius are welcome to contact the Museum about showing an 8-week solo exhibit. •  Gallery exhibits – The Museum rotates engaging exhibits.  Previous topics include "Collierville's Soil Soldiers;" Baseball! Celebrating a Community Pastime;" and "Collierville, The Dairy Town." •  Train heritage day – August 13, 2016, join the museum to view model trains and make train-related crafts.  Take a tour of the trains on the town square.
FOR MORE INFORMATION: www.colliervillemuseum.org 196 Main Street  •  901-457-2650 Free and open to the public. Tuesday – Saturday  •  10am-4pm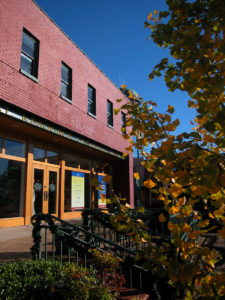 The mission of the Museum of Biblical History is to present to the public, especially young people, the historical and cultural backgrounds of the Bible.  Travels to Bible lands and negotiations with institutions like the Louvre in Paris and the British Museum in London led to the acquisition of a fi ne collection of archaeological artifacts and exact full-sized replicas of major archaeological discoveries from Bible lands. Today, visitors come from around the globe to this museum in order to see this museum's testimony to the Bible's accuracy and historical reliability. PROGRAMS: •  archeoloGy camP – Kids get a summer introduction including a simulated dig. •  PermanenT collecTion – "Ancient Worlds Uncovered" showcases ancient Near Easter and Classical artifacts and replicas as well as maps, images and interpretive texts.  •  exhiBiTs – The museum hosts traveling exhibits throughout the year.  Topics include "Nativity" (featuring 100 Nativity scenes from 46 nations), "The Enduring World" (the Bible before 1611 featuring the Gutenberg Press), "Discovering Ancient Egypt", and more. •  GrouP Tours – Presentations about biblical lands, history, and culture along with a guided tour of the museum gallery are available to schools, home school groups, churches, civic clubs, scout groups and other organizations. •  ProGrams – Including archaeological digs, lectures, workshops, story time, Boy Scout Archaeology Merit Badge and more. •  Travel sTudy Tours – The museum sponsors tours of Bible Lands including Israel, Jordan, Egypt, Turkey, Greece, Italy and the islands of the Mediterranean.
FOR MORE INFORMATION: www.biblical-museum.org 140 E. Mulberry Street  •  901-854-9578 Free and open to the public. Tuesday – Saturday  •  10am-5pm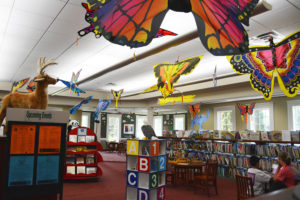 The Collierville Library RESOURCES: In addition to traditional resources (such as books, videos, audio recordings, computers, internet access, etc.) the library provides: •  downloadable resources – eBooks, eAudiobooks, and digital magazines. •  digital resources for Kids – Early World of Learning, Storyline Online, Storyplace, International Children's Digital Library, and Barnes and Noble Online Storytime. •  ProGrams for Teens – Teen HUB, Tutor.com, and Homework Alert PROGRAMS: •  friends of The liBrary – a nonprofit group that supports the library through volunteerism, fundraising activities and sponsorships. •  friends again BooKsTore – New and gently used books are available for sale as a means to raise money to support library needs. •  arTisT of The monTh – Exhibits rotate through the library including paintings, photography, sculpture, and more. •  writing and coffee – A teen program that helps develop writing skills by practicing and discussing in a relaxed environment. •  special Programming – Museum passes for the Dixon Museum and the Pink Palace, Book Club in a Bag, Gardening Series, Guided Meditation, Yoga, Coloring for Adults, Hike Collierville's Trails, Ted Talks Video Night and more. •  Kids – Story Time, Kits for Kids (STEM related, Kits for Kids in the Parks, etc., and perfect for visiting grandchildren) and more.  Books from Birth (an affiliate of Dolly Parton's Imagination Library) provides free books to kids until age 5. •  summer readinG ProGram – Program kicks off with a magic show, demos and free ice cream. •  Burch liBrary Teens – Includes a book of the month club, snacks, games and more. FOR MORE INFORMATION: www.colliervillelibrary.org 501 Poplar View Parkway •  901-457-2600 Monday – Thursday •  10am-8pm Friday and Saturday •  10am-6pm Sunday •  1pm-5pm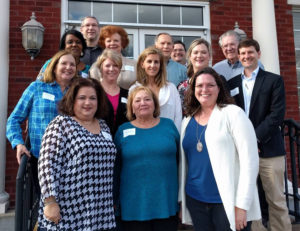 The CLC is a non-profit organization dedicated to providing opportunities for adults to attain educational goals that enhance individual growth and benefit families, the workplace and community.   We provide services in three programs, including Basic Adult Literacy, High School Equivalency and English Language Learning. PROGRAMS: •  Basic adulT liTeracy   •  hiGh school equivalency  •  enGlish lanGuaGe learninG  – One-onone or small group tutoring to help students learn English. •  scraBBle fundraiser TournamenT – Held each year in November to benefit the projects of the Literacy Council. •  collierville reads – A community-wide program designed to engage residents with reading and increase the awareness of the Collierville Literacy Council. •  recycled, uPcycle & rePurPose conTesT – Entries included robots from spare parts, art from recycled or found materials, and upcycled products from trash to treasure. Contest entries were judged by Collierville Reads 2015 and the Collierville Environmental Commission with an awards ceremony at the Morton Museum.
FOR MORE INFORMATION: www.colliervilleliteracy.org 167 Washington Street  •  901-854-0288 Monday, Tuesday, Thursday  •  9am-5pm Wednesday  •  9am-7pm TUTORS NEEDED.  Our dependable, dedicated volunteer tutors are the backbone of our services. They include both active and retired business people, among them pilots, teachers and homemakers. All have completed a free training provided by instructors who are nationally certified through ProLiteracy America.  The commitment is as little as one hour per week.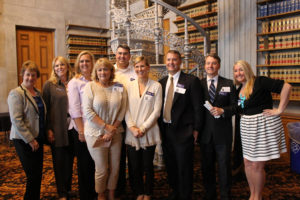 Since 1994, Leadership Collierville has graduated over 400 participants in their adult leadership program and over 300 high school students from their Youth Leadership Program.  The H.R. Houston Community Leadership Award is presented annually to a Leadership Collierville alumnus to recognize his or her leadership eff orts in service to the community. This prestigious award is based on the individual's record of service within the Town of Collierville and leadership demonstrated in the community.  The 2016 Award recipient was truly surprised at the presentation of the award at a Chamber of Commerce luncheon on June 8, 2016. She had facilitated meetings with the selection committee, not realizing they were plotting to award her without her knowledge.  As Jeff  Abeln, Assistant Chief of Police, read his script, she began to realize who the recipient was for this year's award. Terry Dean, the retiring Director of Leadership Collierville, was stunned as her family appeared in the back of the room and she was named the 2016 recipient. "Through the years, there has been one thing for certain; whether it's volunteering for a non-profit, helping out at a charitable drive or fundraiser, our recipient believes in the importance of getting involved and staying engaged in our community," said Jeff  .  "Our recipient is an alumnus of Leadership Collierville and is a Collierville Chamber Ambassador, member of Collierville Rotary, the Collierville Kiwanis Club for more than 14 years, including serving as the club's President, past President and Treasurer, service on the Collierville Arts Council, PTA Board member at Collierville Elementary, Collierville Middle School and was PTSA. President at Collierville High School, Our recipient is a regular volunteer with the Harrell Theater, Relay for Life steering committee, Spirit of Longaberger Award winner for 2003—a national award recognizing superior business acumen and active volunteerism in the community… and most recently serving on the Frisco 1351 train restoration committee. There are too many more to name."  "If we were to fi nd a defi nition in a dictionary that included, good citizenship and leadership through action, not words or position, service to others then you would see a picture of the 2016 recipient of the HR Houston award – Mrs. Terry Dean."
Established in 1994, Leadership Collierville is an outgrowth of the State of Tennessee ThreeStar Community Economic Preparedness Program. It is a non-profi t, non-partisan community-based organization which provides participants insights into how Collierville functions by hosting educational training sessions to assist members in developing leadership skills to become better informed citizens. We also off er a youth program – Youth Leadership Collierville – which is a sevenmonth program for sophomore and junior high school students living in Collierville. PROJECTS: •  mural on main – The 2009 class partnered with Main Street Collierville to manage the creation of a mural in the Historic District. •  '72 – collierville Time To PrePare – Class members developed and implemented a campaign to urge all Collierville citizens to be prepared for 72 hours in the event of an emergency.  •  collierville liTeracy council media PresenTaTion – Created a 15-minute media presentation that eff ectively described the impact the Literacy Council has on the lives of its adult students.   •  The Wesley school media Presentation & Brochure – Team members created a media presentation and brochure to increase community awareness of the special needs of the students attending their school. •  main street Collierville Photo heritage Book – Assisted in the production of a regional interest picture book to reserve and maintain Collierville's heritage.
FOR MORE INFORMATION: director@leadershipcollierville.org Facebook: Leadership Collierville 901-233-9024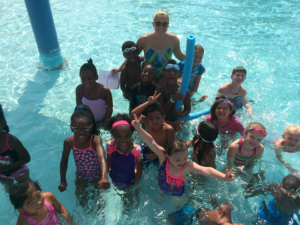 The YMCA's mission is to put Christian principles into practice through programs that build healthy spirit, mind and body for all. We focus our work in three key areas, because nurturing the potential of kids, helping people live healthier, and supporting our neighbors are fundamental to strengthening communities.
COMMUNITY OUTREACH: •  livesTronG aT The y – FREE 12 week program for cancer survivors where there is no cost to the individual or their family.  The program focuses on regaining physical and emotional strength and helps survivors get back what they lost. •  water safety and water smart -we are committed to teaching a Water Safety and Water Smart Program to all of our Before and After School Programs and our summer camps.  We want to make sure that all children in our care can be safe around the water. •  summer learning loss – Young students experience summer learning loss (accounts for 2 months of reading achievement). YMCA at Schilling Farms provided care and helped more than 300 students hop the achievement gap by beginning a literacy program at our summer camps.  We also do a STEM program (science, technology, engineering & math) with them. •  open doors Program – The Y continues to provide fee assistance for memberships for those who qualify. The Y also gives out $90,000 in fee assistance for our summer camp, before and after school care each year. FOR MORE INFORMATION: www.ymcamemphis.org 1185 Schilling Blvd East •  901-850-9622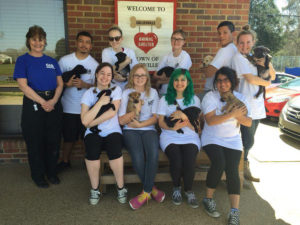 Collierville Animal Services is an animal care and control agency that assumes a unique role in the community by promoting, motivating, and enforcing responsible pet ownership. Animal Services takes in about 1600 stray, abandoned, displaced and unwanted animals each year. It spays/ neuters every animal adopted. It investigates animal cruelty and abuse, and enforces animal control laws in Collierville. It provides a comprehensive pet adoption service and has an approximately 80% adoption/release rate. VOLUNTEER PROGRAMS: •  doG walKers – We need people willing to take our dogs out to the play yard or for a walk. Puppies especially need the extra exercise and playtime! •  cat cuddlers – Whether you let them out and play with them, or just sit with them in your lap and pet them, it's greatly appreciated by both staff and lonely cats alike. •  Groomers – Our animals are always in need of a brush or bath or their nails clipped. •  Greeters – We need someone to stay up front and greet people that come in and answer the phone when people have basic questions. •  off-site workers – We need volunteers to coordinate offsite adoption events, to transport animals to events and set up, to help with the animals during the events and to assist customers. •  camp counselors – Our shelter is very privileged to be one of only a few animal shelters that runs a kids camp during school breaks. Camp counselors are Jr. Volunteers that are able to work at the camp. These are just a few of many ways you can help us help the animals. If you don't see a position that interests you, contact us.
FOR MORE INFORMATION: Facebook: Collierville Animal Shelter 559 E. South St.  •  901-457-2670 Wednesday – Sunday  •  1pm-4pm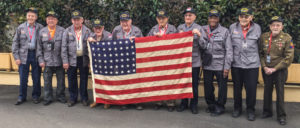 Forever Young Senior Veterans provides honor, healing, and hope to military veterans 65 years and older by granting their unfulfilled dreams, returning them to the places where they fought, and sharing their stories of sacrifice with others.
PROGRAMS: •  TriPs of honor – What started as one man's wish to visit the National World War II Memorial, turned into the main mission for Forever Young. Many of the WWII veterans had not witnessed the monument that stands in their honor. The memorial wasn't complete until 2004. By then, the trip to Washington D.C. was too diffi  cult for these elderly veterans to take on their own. Forever Young is taking several trips per year, that also include Normandy, Belgium, Italy, and Pearl Harbor. •  individual wishes – Every one of us has a dream. It's something that calls to us from deep within. Something, that if we can achieve, it will add years to our life and life to our years. What better way to honor our veterans than to give them a priceless gift. The wishes we've granted range from throwing out the fi rst pitch of a MLB game or going on a Wild Hog Hunt, to fi nding a buddy from the war. What is your dream?
FOR MORE INFORMATION: www.foreveryoungvets.org 185 S. Center St, Suite 110 901-299-7516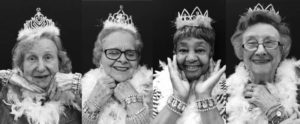 Page Robbins Adult Day Center is an independent, nonprofit agency that provides exceptional daytime care for those with Alzheimer's and other forms of memory loss while offering much needed respite for caregivers.  Our mission is to make every day count, providing dignifi ed care and embracing hope-fi lled and happy moments.  We "seize the day – because life doesn't end with memory loss." GET INVOLVED: •  volunTeer – Share your talents, treasures, and awesomeness.  There are ample opportunities for you to get involved through client activities, offi  ce assistance, and fundraising events.  Our Volunteer Orientation Training is every third Tuesday of the month.  Call to reserve your spot, and check out the full list of volunteer opportunities on our website. •  attend or sponsor a fundraising event – Page Robbins has three major fundraising events throughout the year.  The Winter Gala is our largest fundraising event of the year.  Join us downtown at The Peabody for this black tie optional dinner, dance, and auction, usually held the first Saturday in February.  Art from the Heart, a silent and live art auction held in the late spring or early summer, features client artwork.  Also, the Page Robbins Golf Classic, coming up on Thursday, October 6 at Windyke Country Club, is a double shotgun golf tournament with both morning and afternoon rounds. •  make a donation – You can make an online donation, a contribution via check, or a contribution over the phone.  Your gifts can also be made in honor or memory of a person or special day.  We are always grateful for your generosity. Your financial support is vital to our ability to provide quality care to our clients and their caregivers.  
FOR MORE INFORMATION: www.pagerobbins.org 1961 South Houston Levee Rd  •  901-854-1200 Monday – Friday  •  6am-6pm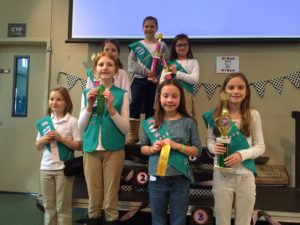 GIRL SCOUTS: Today, as yesterday, the Girl Scout mission of building girls of courage, confidence, and character who make the world a better place continues. We're the preeminent leadership development organization for girls. And with programs for girls from coast to coast and across the globe, Girl Scouts off ers every girl a chance to do something amazing. Collierville Girl Scouts participate in personal growth through community service, badge earning and leadership opportunities. Our service activities impact our community through volunteering at the veteran's hospital, Collierville Animal Shelter, local senior facilities, Collierville food pantry and many more. Collierville Girl Scouts currently has 32 troops ages K – 12. Being a troop leader is a wonderful way to spend time with your daughter!
FOR MORE INFORMATION: www.girlscoutshs.org or Contact Kathy Harper at harpertroop13656@gmail.com or 214-906-9263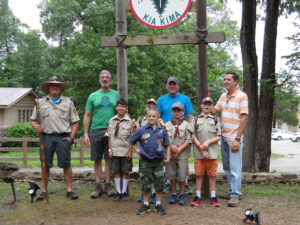 BOY SCOUTS: The Boy Scouts of America is one of the nation's largest and most prominent values-based youth development organizations. The BSA provides a program for young people that builds character, trains them in the responsibilities of participating citizenship, and develops personal fi tness. For more than a century, the BSA has helped build the future leaders of this country by combining educational activities and lifelong values with fun. The Boy Scouts of America believes — and, through over a century of experience, knows — that helping youth is a key to building a more conscientious, responsible, and productive society. Scouting promises you the great outdoors. As a Scout, you can learn how to camp and hike without leaving a trace and how to take care of the land. You'll study wildlife up close and learn about nature all around you. There are plenty of skills for you to master, and you can teach others what you have learned.
FOR MORE INFORMATION: www.BeAScout.org or contact the Chickasaw Council at 901-327-4193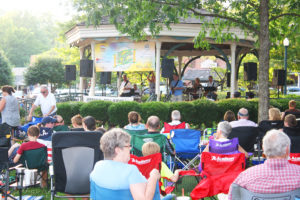 The Mission of Main Street Collierville is to preserve and enhance the Town Square Area as the Heart of Collierville; that communicates a sense of community pride, heritage, and small town wholesomeness; and provides for a successful community. PROGRAMS: •  sunset on The square –  Live music on the Town Square every Thursday night in June and July. •  scare on The square – Crafts, games, food and trick-or-treating on the Town Square. •  Bunny hop – Music, games, crafts and pictures with the Easter Bunny on the Town Square. •  Tinnitus awareness week –  Main Street Collierville works to educate the town about Tinnitus and to provide hope to someone living with this condition. •  chamBer music series – Live performances held at the Sanctuary on the Square. Presented by Collierville United Methodist Church. Concerts take place Nov – April and have free admission. •  Collierville veteran's celebration – Support local Forever Young Veteran's Day by recognizing and thanking local veterans. •  main street holiday Party open house – The shops on the Town Square open to display holiday items.
FOR MORE INFORMATION: www.mainstreetcollierville.org info@mainstreetcollierville.org 125 N. Rowlett St • 901-853-1666
Family Violence Council is a non-profit organization with 501 (C)(3) status. Our mission is to educate members of the community about family violence and direct victims to available resources. PROGRAMS: •  courT/vicTim advocacy – Volunteers with the Family Violence Council have been trained to assist the domestic violence victim in the court room.  The advocates provide information about the court process, legal resources, how to obtain an Order of Protection, accompany a victim to court, etc •  emerGency shelTer – The Family Violence Council provides 1-2 nights of shelter for victims who are fl eeing their abuser and needs immediate shelter • TemPorary shelTer – The Family Violence Council provides up to 60 days of shelter for victims who are attempting to "break free" of their perpetrator. •   suPPorT GrouP – Dr. Jan Dieber, one of the Family Violence Council members, leads a support group on Tuesday evenings at Hope Presbyterian Church.  • court/community education -The Family Violence Council provides educational materials about domestic/family violence for the community as well as speaking to various organizations in the community. •   family violence council & Collierville Police department Partnership –  Detective Mike Fry, domestic violence officer with the Collierville Police Department, is also a member of the Family Violence Council and has proposed a program to the Collierville Police Department in which the Family Violence Council has immediate contact with a victim once a police report is filed.
FOR MORE INFORMATION: www.fvccsafe.com info@fvccsafe.com  •  901-870-299