Never Get Tired of Blue
"Blue is therefore most suitable as the color of interior life." – William H. Gass
Perfectly designing someone's home is no easy feat. Designers need to have key insight into an individual's mind and their heart, and make their ideas mesh with the homeowner's vision. "When you meet a homeowner for the first time, you start by asking a lot of questions, evaluating their home and even looking at what they're wearing, so you can pinpoint what they're drawn to," said Becca Gaines, owner and lead designer of B. Gaines Interior Design. "You want to find their neutral." 
For these homeowners, their neutral was blue. "[The homeowner] loved blue – she was wearing it. It was in the concept photos. She was showing me all these blue accents," Gaines said. Blue can be a dramatic color for a home, but it can also be serene. So, Gaines set about figuring out how best to incorporate blue into their home's refined, rustic design.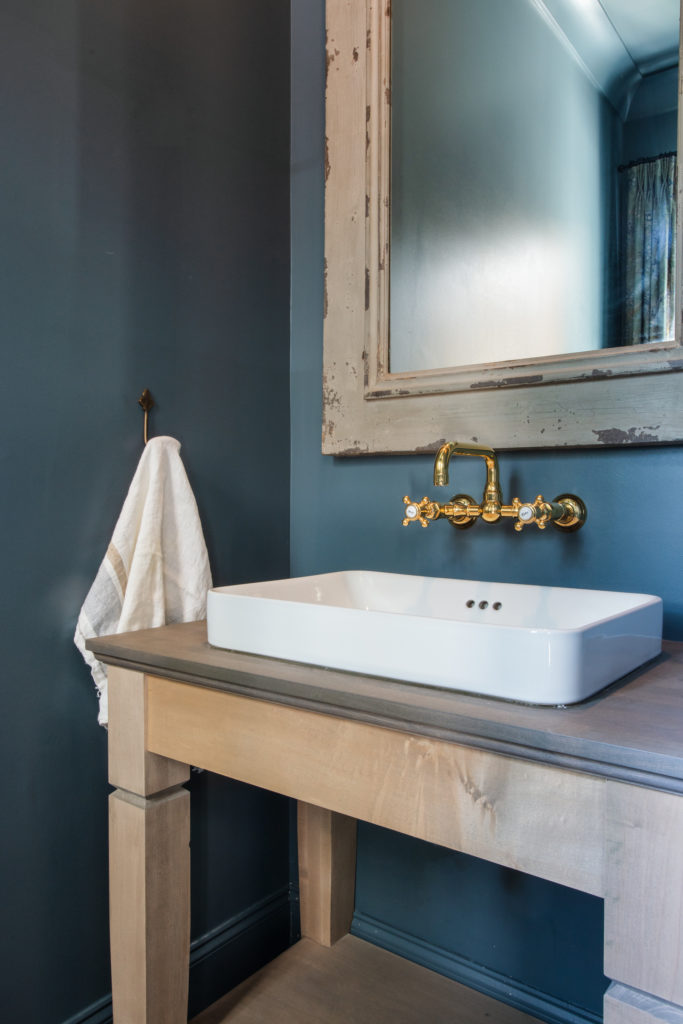 A new home built in north Collierville by Dave Moore Companies, Gaines was involved in this project from the time the foundation was poured. This allowed her plenty of opportunities to get involved with every aspect of the design process. "In any custom build, there are moments where you go, 'This is pretty on paper, but let's see how it can be done.' It requires thoughtful conversations and team members with great attitudes who enjoy custom details," said Gaines. 
For this family, the kitchen remains the focal point of their home. As a result, Gaines was adamant that they have somewhere to entertain and welcome their many guests – so, in her eyes, a huge kitchen island was a must-have item. 
"When you meet a homeowner for the first time, you start by asking a lot of questions, evaluating their home and even looking at what they're wearing, so you can pinpoint what they're drawn to.  You want to find their neutral."  – Becca Gaines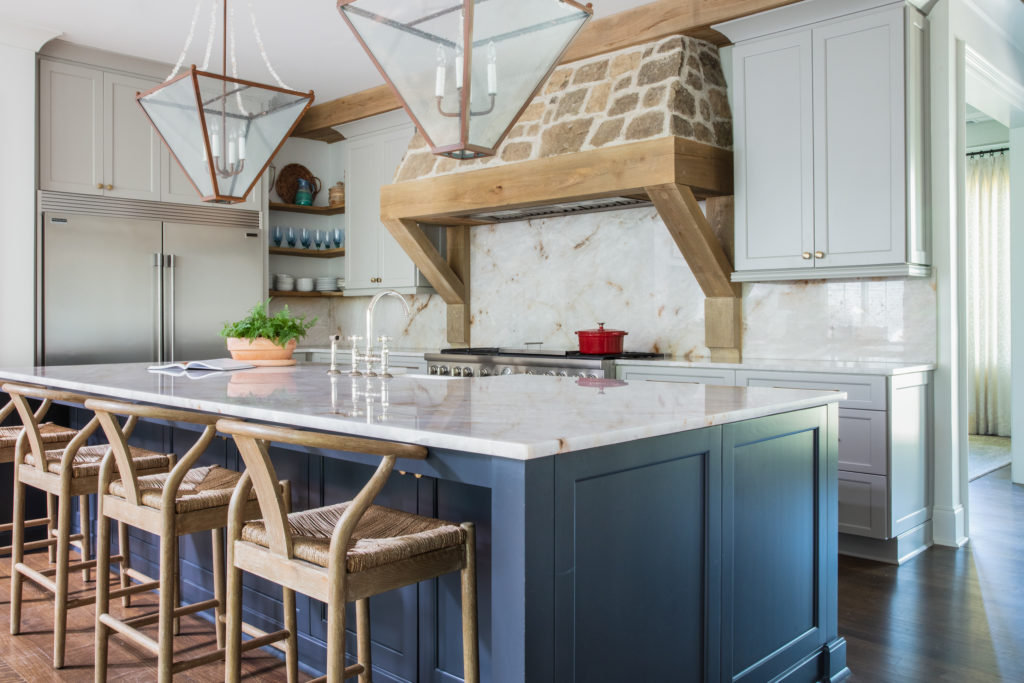 Trust is a huge part of the interior design process. "As we were going through the design process and they were telling me what they wanted, I thought that this was what the size of the island needed to be," said Gaines, "and the island that [the homeowners] thought was going to be too big, they now love every inch of it."  
As luck would have it, Germantown-based The Cabinet Tree had semi-custom cabinetry that already came in the perfect color blue for the kitchen island. "That shade of blue really drove the rest of the palate," said Gaines.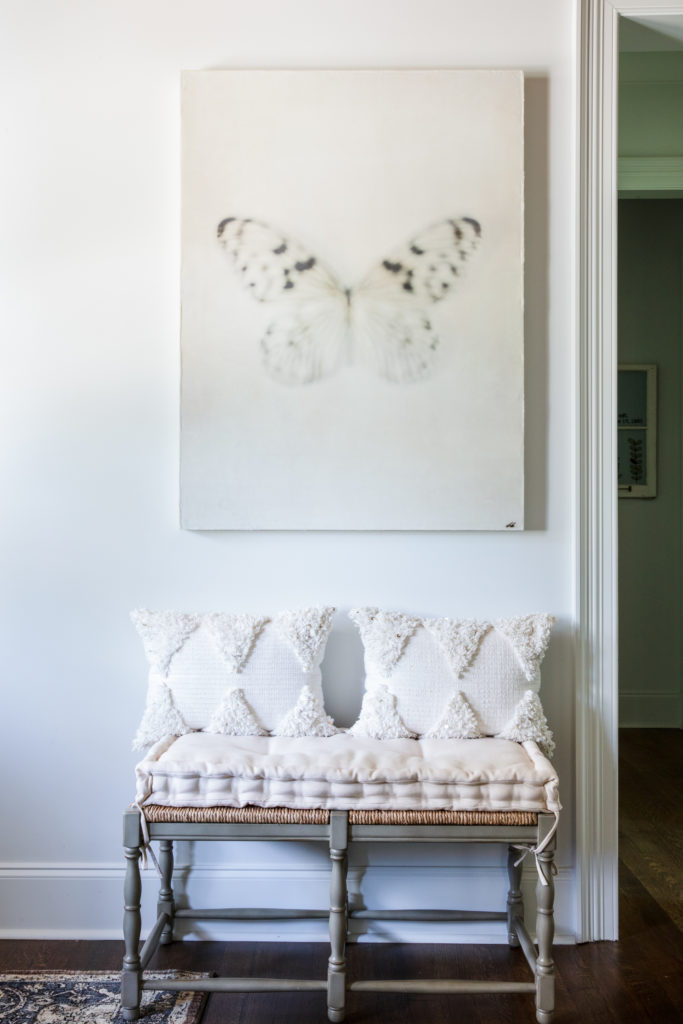 Since the kitchen opens into the living room, other shades of blue can be seen throughout the home, as Gaines used Sherwin-Williams' "Slate Tile" and "Sea Serpent" for accents. The knobs on the Thermador range were switched out for blue ones, and the chandelier over their breakfast table features natural quartz rocks with shades of periwinkle. Even the front doors of the home are painted blue! 
The home also features a romantic back porch where the homeowners can look out on the woods and listen to nearby water, a powder room off the kitchen with walls painted to match the kitchen island, an indoor exercise pool off the master bathroom, and incredible custom-made "sun tunnels" in the ceiling of the living room to allow for plenty of natural light.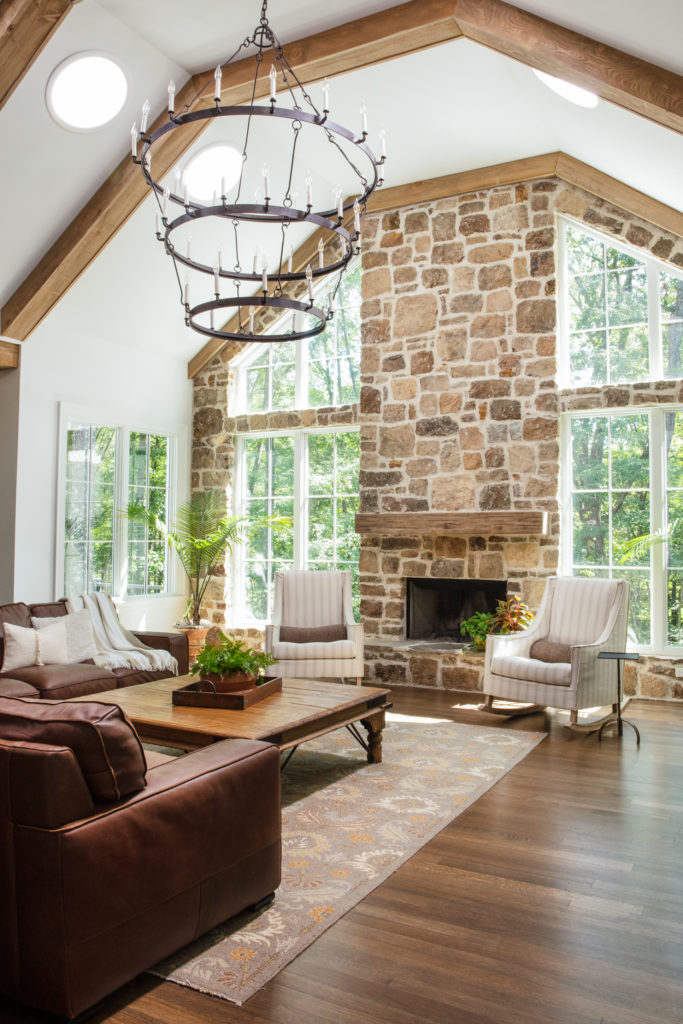 "In any custom build, there are moments where you go, 'This is pretty on paper, but let's see how it can be done.' It requires thoughtful conversations and team members with great attitudes who enjoy custom details."  – Becca Gaines
Their kitchen even has a special custom-made hospitality beverage bar. Unlike a normal butler's pantry, which might be sandwiched between the kitchen and the dining room and has a general foreboding air that only the host can venture into it, Gaines' homeowners wanted something welcoming instead. Off to the side of the kitchen, near the breakfast table, there is a sideboard with an elegant glass dispenser for water, lemonade and tea, an assortment of drinks underneath the counter and plenty of coffee mugs on an open shelf above. 
"The hospitable approach to design is really fun to me. I really related to that desire that they had to create spaces that allow them to serve people and enjoy the space," said Gaines. "They serve people a lot – they have a big family with lots of grandbabies, and often host friends and church groups. There are a lot of special features for them to enjoy but my drive for the family room, kitchen and backyard was that they wanted to be able to host people and love those people in their home."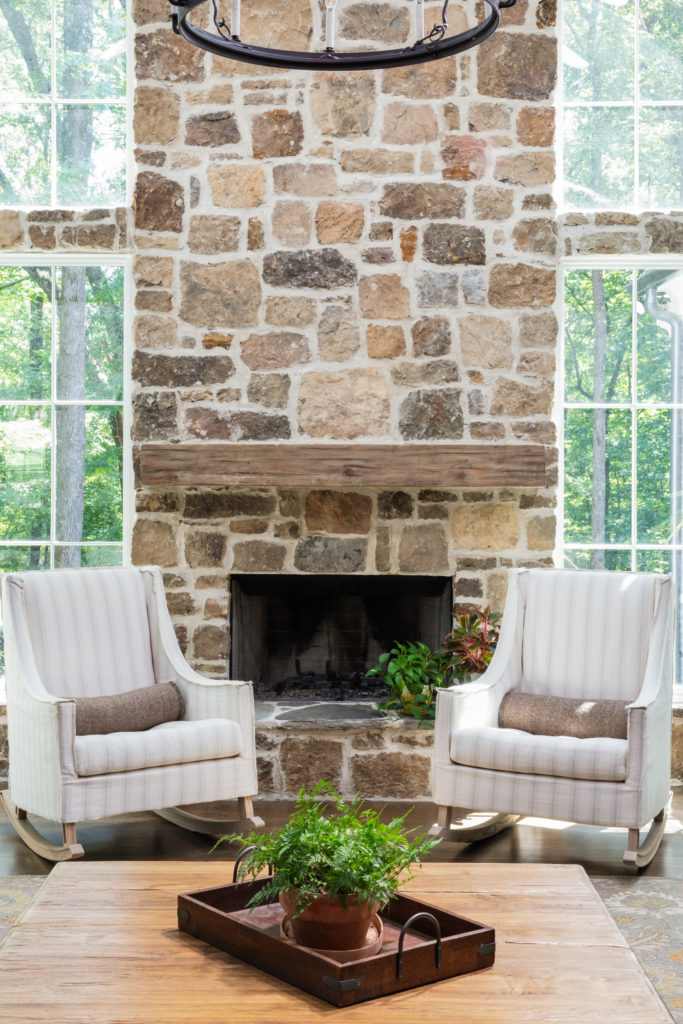 After 10 months of work, the home was ready just in time for Thanksgiving 2019. "We absolutely love our new home! We couldn't have (and wouldn't have) built our house without the teams of Dave Moore Construction and B. Gaines Interior Design. Having Becca work with us to make what seemed like 'millions' of decisions was a blessing and a pleasure. Besides having absolutely exquisite taste, Becca is an incredibly good listener. She somehow designed our home around our vision, making it better than we ever imagined. In the process of making our dream home come true, she also became our trusted friend," said the homeowners. Just another reminder that ultimately this home was built and designed with love, so that the homeowners can enjoy celebrating and spending time with their friends and family.
story | Regan Hewitt
interior design | B. Gaines Interior Design
photos | Sarah Rossi, Selavie Photography Commercial