Mr. Basketball 2019: Kennedy Chandler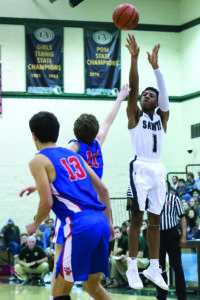 Two years from now, if all goes as planned, Kennedy Chandler will be on your TV, playing for a big-time basketball program like Illinois, Kansas, Duke or the University of Memphis. For now, Chandler will fearlessly lead the Briarcrest Saints offense in his upcoming Junior year as a four-star point guard, currently ranked 28th in the 247 Sports 2021 rankings. 
Chandler grew up a Cordova native, surrounded by basketball influences. His father and older sister, who both respectively played the game, were always eager to shoot a few with him after dinner. From a young age, Chandler showed incredible talent and a high basketball IQ, according to Briarcrest Head Basketball Coach, John Harrington. The two go as far back as Chandler's third grade year when Harrington's son and Chandler played on the same team. In one particularly tight game, with only seconds left on the clock, Chandler ran the ball across half court and immediately stopped, holding the ball until time ran out, knowing that if he maintained possession of the ball – his team would win the game. While most third graders can't comprehend the complexities of the game, Harrington knew then that Chandler showed promise.
Run down the court to Chandler's eighth grade year, showing more promise than ever, he was allowed to dress out with the Saints' Varsity team; the first permitted to do so in Harrington's seventeen year tenure with BCS. "When he came in, he changed the whole complexity of the game," says Harrington. "Every coach knew it. Every player knew it. He was one of the best players in the league from the moment he stepped on the court. Kennedy is gifted and an incredibly hard worker. He's got a killer instinct and if you go back and look at the stats from all the big games, he was either MVP, or one of the most important people on the floor during that game. He rises to those occasions and is dedicated to the game."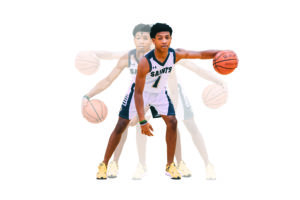 Despite never starting a game his Freshman year due to a strong Senior bench, Chandler was still voted the third best player in the league by the Division II-AA coaches. This past season as a Sophomore, Chandler was listed as 6' 1'', 160 lbs, and ranked number 1 in the 2021 Top Basketball Recruits in Tennessee. He started for the Saints, ultimately leading the team to a Division II-AA State Championship title as the leading scorer in that game with 20 points and 5 rebounds, claiming the tournament MVP award. His efforts also earned him the title of Mr. Basketball 2019 in the state of Tennessee.
"Basketball is something special in my life," remarks Chandler. "God gave me the ability to play this sport, and I'm just very blessed for that ability. I started playing when I was five and I just worked hard every day since then. I just knew I could be something and I'm glad I put in the time."

– Kennedy Chandler, Junior

Briarcrest Christian School
This year has been a busy one for Chandler, now considered one of the fastest rising college basketball recruits in the country. Chandler was a show out with MOKAN Elite playing up a year on Nike's EYBL circuit. Offers have been raining in since he played the Peach Jam and led his team to victory. Rounding out the Summer, Chandler was invited to the USA Basketball Junior National Team's Minicamp in July. "It's been a lot of rippin' and runnin' and I'm tired, but I'm gonna fight through it," says Chandler. 
It's easy to get behind this rising star in our own backyard, making a full court press towards a very bright future. When asked if Chandler could envision himself in Memphis Tiger Blue, a mile-wide grin flashed across his face before maturely answering, "I'm waiting patiently to figure out where I want to go." Chandler will spend the last half of his high school career working on being more vocal with his teammates and a good leader on the court. He made sure to throw in that a few more BCS State Championships wouldn't hurt.
story |  Anna Bell
photos | Michael Stires & Briarcrest Christian School