Main & Mulberry Her Town: Nothing Beats a Failure, but a Try
Main and Mulberry: Her Town is a series that features women in business and leadership positions across the Mid-South. In this episode, Anna Bell spoke to Aryen Moore-Alston, the Director of Operations at Park + Cherry at the Dixon in Memphis, TN.
Aryen Moore-Alston was destined for a life that was anything but cookie-cutter. Raised in Naples, Italy by an American Navy musician father and film actress mother, Aryen is a true example of a woman following her dreams. She has met the Pope, studied in Tokyo (she's fluent in Japanese, Italian, French, and Spanish), worked for NASA and Apple®, and was a finalist on Season 10 of Food Network Star.  
Aryen is the first to tell you her parents are to thank for her diverse upbringing. "I grew up in a dancing act kind of family in the most romantic country in the world," shares Aryen. "I grew up with pizza, pasta, and truffles." It's no surprise she fell in love with food at an early age. So, while her father sang for the ambassadors and heads of state, she was learning how to prepare Southern Italian cuisine. It was with her father's passing that the family's cooking role fell to her. "I mourned his loss through culinary. I taught myself how to cook through the Joy of Cooking cookbook—I cooked every recipe in that cookbook. And that began the journey," shared Aryen.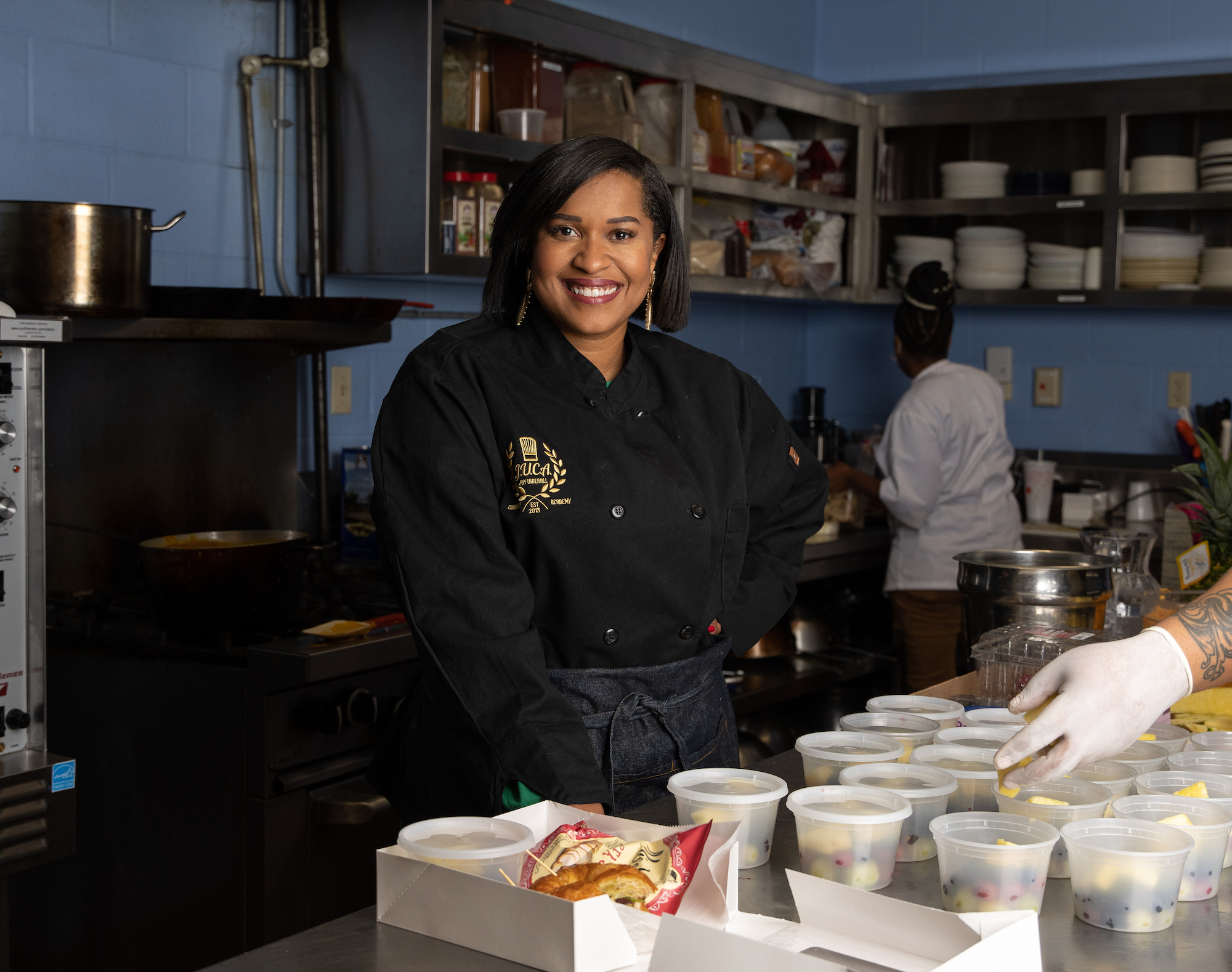 Education brought her to America, specifically Spelman College in Atlanta, GA. Eventually she decided to study abroad for a year in Tokyo, further expanding her knowledge of food culture. That's also where she truly learned her love of cooking. "We didn't have a traditional cafeteria like you do in American colleges and universities. You could only eat lunch, and after that, you're on your own. So, every student cooked, and they had this massive kitchen in our dorm," remembers Aryen. "I started cooking and the girls in the dorm would smell my food. I'd make a smorgasbord of food because I'm going to the store and cooking for the week in my American way." Eventually Aryen would be gifted packages of food from her classmates wanting more of her Italian/American inspired meals.
Through studying Japanese and computer science, the latter led her back to the U.S. to work for NASA and later Apple®. Aryen realized food as her passion while working multiple jobs to keep her culinary dream alive. "I got a phone call from Food Network, and they said, 'Hey, we want you on our show Food Network Star, Season 10.' And that was it; I went on the show and left everything behind." 
Post Food Network, she moved to Memphis to continue following her culinary dream and opened a catering business called Sweet Potato Baby. "That led to a café… and then that led to owning the first female, black-owned fine dining restaurant here in Memphis." Located in Cordova, the restaurant was aptly named after her father and inspiration, G. Alston.
Regarding her journey, she says it goes without saying that you'll make mistakes. "You just make mistakes as you get older. You try to find your way and you don't really have all the answers; you don't even know what you're doing half the time… but you just keep going. And this is what's happened. So [now I've had a] catering business, café, restaurant, and bar." 
"Nothing beats a failure, but a try," states Aryen. 
Aryen Moore-Alston is now the Director of Operations for Park + Cherry Café by Chef Phillip Dewayne at the Dixon Gallery & Gardens and Recover Meal Services and her culinary work has appeared in numerous publications across the United States. 
story | Anna Bell