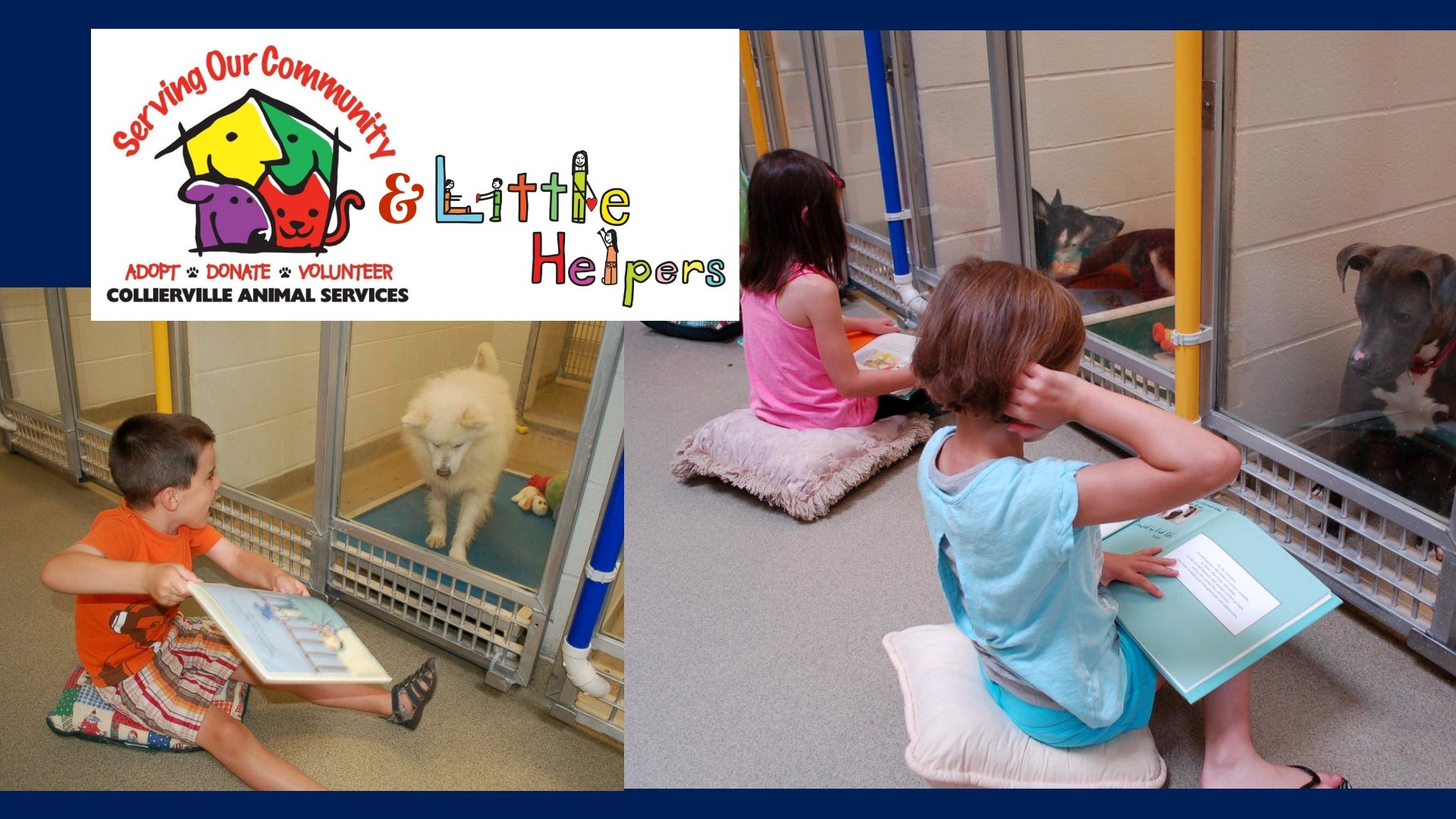 Little Helpers Read to Animal Shelter Adoptees
Families with children are invited to volunteer at the Collierville Animal Shelter this Saturday, June 22nd from 11 am to Noon. Children can participate by reading to shelter dogs and bringing donations! Reading to dogs is enjoyable for the children and helps to socialize the dogs!
Bring a book for your child to read to the dogs (along with a small throw rug, cushion or towel to sit on). DONATIONS ARE WELCOME TOO!
Here's the CAS wish list:
Purina Cat Chow and Kitten Chow
Friskies Pate Canned Cat Food
Purina Canned Dog Food and Puppy Food
Iams Puppy Food
Collars and Leashes
Bleach and/or Dawn Dish Detergent
Arm and Hammer Liquid Laundry Soap
Tractor Supply Gift Cards
Monetary Donations
"This is a great way to introduce families to the Collierville Animal Shelter! Reading to dogs is enjoyable for the children and helps to socialize the dogs! When these children are 16, they'll be old enough to volunteer at the shelter on a regular basis." ~ Melissa Troxler, Little Helpers Board Member
The Little Helpers of Memphis Area Facebook group has teamed up with the CAS staff for this special event! It is geared to include children and young teens since regular volunteers at the shelter must be 16 and older. We encourage children to learn about Friends of the Collierville Animal Shelter from a young age! CAS address: 603 E South St, Collierville, TN 38017
To learn about this "Shelter Buddies" program – click the YouTube link: http://bit.ly/LittleHelpersCAS
Questions? Please contact the June Little Helpers Volunteer Coordinator, Melissa Troxler at 901-550-3552 or email LittleHelpersKindKids@Gmail.com.
By: Selena Silvestro