K-9 Civil Servant: Officer Rosco
Meet four-legged Collierville K-9 unit member, Rosco! He is a 5-year-old, highly trained Belgian Malinois, who has eagerly been patrolling the streets of Collierville for more than 3 years now and shows no sign of slowing down. Rosco and his handler, Officer Justin Weaver, have been inseparable since their partnership began in 2014 while training with the Collierville Police.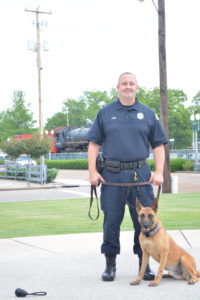 Rosco is known as a dual purpose dog, trained in both narcotics and patrol. Annually, Rosco goes through an extensive training to receive his National Narcotic Detector Dog Association (NNDDA) certification, and also completes a monthly 16 hour training course with other service dogs in surrounding areas. On any given day, Rosco's tasks can include anything from narcotic sniffing around a vehicle, tracking, building searches, and even evidence recovery. The duo's eight hour shifts, five days a week, are nothing short of eventful! "I've always had dogs and I love them to death, but it's a different bond with him (Rosco)," says Officer Weaver. "I expect a lot out of him. I expect him to be his best and I also know that he expects me to be the best. We're constantly building that relationship because I know that when we're searching for a bad guy, we have to work together and that requires a strong bond…Besides my kids and my wife, he is the first thing I see in the morning and the last thing I do is check on him before turning off the lights at night."
During his career, Rosco has been involved in several memorable cases where he performed flawlessly, but one proud moment stands out above the rest to Officer Weaver. "It was the first winter that I had him (Rosco), it wasn't long after we had first gotten out on the streets, and it was sleeting and snowing, and we just started working Rosco on evidence recovery," said Weaver. "We were responding to a 'shots fired' call where a subject had thrown a handgun into the woods. Finding that piece of evidence was a crucial part of charging this person and I told the detective 'he's just getting started on this but we'll give it a shot'. So I took him (Rosco) and gridded everything off and within just a few minutes he gave me a head throw and went through some tall grass and as soon as I cleared the grass, he was laying down and there was the pistol..That was his first evidence recovery and I think I was more proud of him then than I was getting two pounds of marijuana off the streets."
You can find Rosco patrolling highways 72 and 385 on any given day – always staying available for service calls. Thank you Rosco and Officer Weaver for your years of devoted service to our community!