"Home"Made: Art Station & Dwellings
"Home" Made is a series of artistic instructions and creative prompts provided by local artists. The first article, included here, demonstrates some tips for creating and organizing a creative place for young artists to work and imagine. It also includes the first instructional prompt for you and your family to draw inspiration from.
Your Child's Art Station
As a mom and art teacher, I've always thought that kids need an at-home space to work on their homework and create art. When my boys were growing up, I always had them a little table that they could work at, have a space to play on, and create. It helps kids to feel independent, confident, and creative.
We all like our own space to set up and work, and kids want to feel comfortable in their own space, too. They need to have a place to play and create. So, decide where is best for them: their room, the kitchen, wherever – and it doesn't have to be anything fancy. It can just be a simple side-table in the kitchen.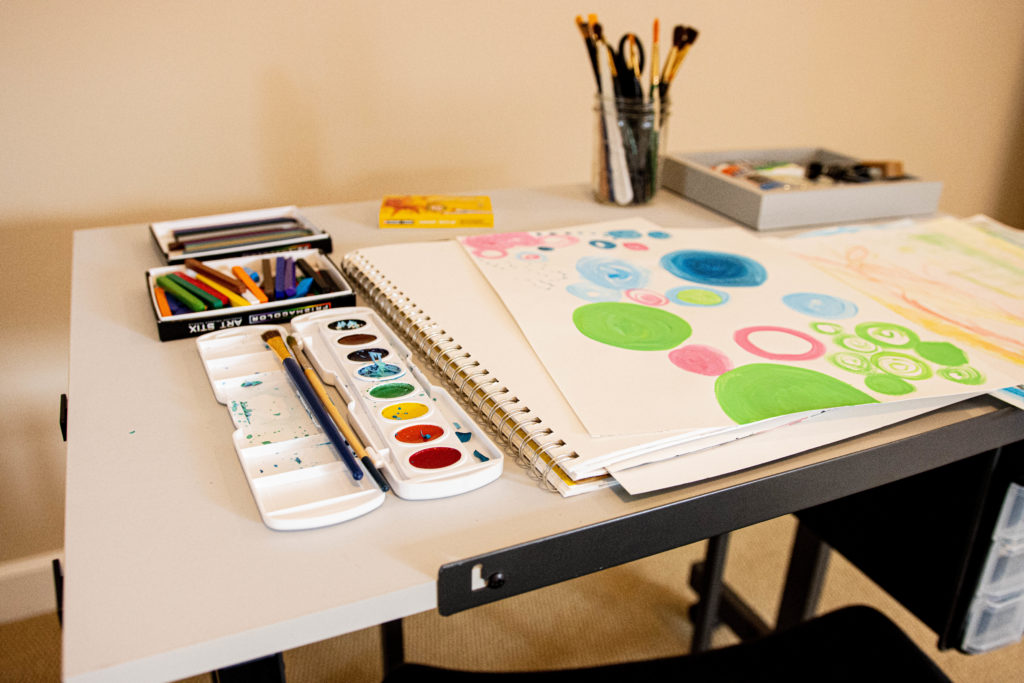 Organize any art materials so that everything is within reach of your child. Use clear containers. It's important that children can see everything in front of them, so they can begin to pull things to use as they start creating. They don't have to be expensive things that are bought at an art store.
For younger students, try to provide them with a collection of things to trace – like shapes, cups, and books, for example – simple things. Besides general art supplies, like pens, pencils, markers, crayons, they will enjoy a little collection of plastic toys or building blocks that they can look at, trace, and draw.
Get your children to be involved in creating their art and work space. Encourage them to help you set it up and organize everything. It's also fun to provide young artists with a place to display their art. A string tacked to the wall with paper clips is an easy, make-shift art display. Your child will feel like their artwork is important and valued if you display it somewhere, even temporarily.
On their table, include a few of their favorite books to draw inspiration from. One of my favorite resources is Brillante, at artfulteachingjoyfullearning.com. I get ideas from her for lessons and how to set up my art room at school all the time. Alana Chernecki is her name, and she was already a homeschool teacher before, so her lessons are even more applicable now – considering today's circumstances.
Dwellings: A Safe Place
Supplies Needed: Paper, Pencils, Pens, Crayons, Markers
Motivation: Inspiration is everywhere, you just need to look with your ARTIST EYES 😉
Local artist Karen Radioff posted an art piece on Instagram titled Dwellings I, II, III. Karen expressed appreciation for her home. She wrote, "Thankful for a home to hunker down in, and neighbors who are there for support, including the virtual ones. And the birds still sing…"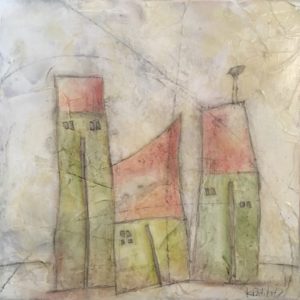 Source: Karen Radioff https://www.instagram.com/p/B94tP1Bg4FZ/
Directions: Using Mrs. Radioff's artwork as a starting point, let's start with our humble dwelling, our home, where our heart is, home sweet home. Use your imagination or step outside your front door and look at your house – but you don't have to draw your actual house! Use your own home for inspiration, but this is an abstract piece. It's not architectural. Just create a simple line drawing of your dwelling.
Draw the front of your house with simple lines and shapes. Close lines into shapes, like squares, rectangles, triangles, and circles. Try to include doors, windows, rooftops, and don't forget to add a happy bird on the roof, too!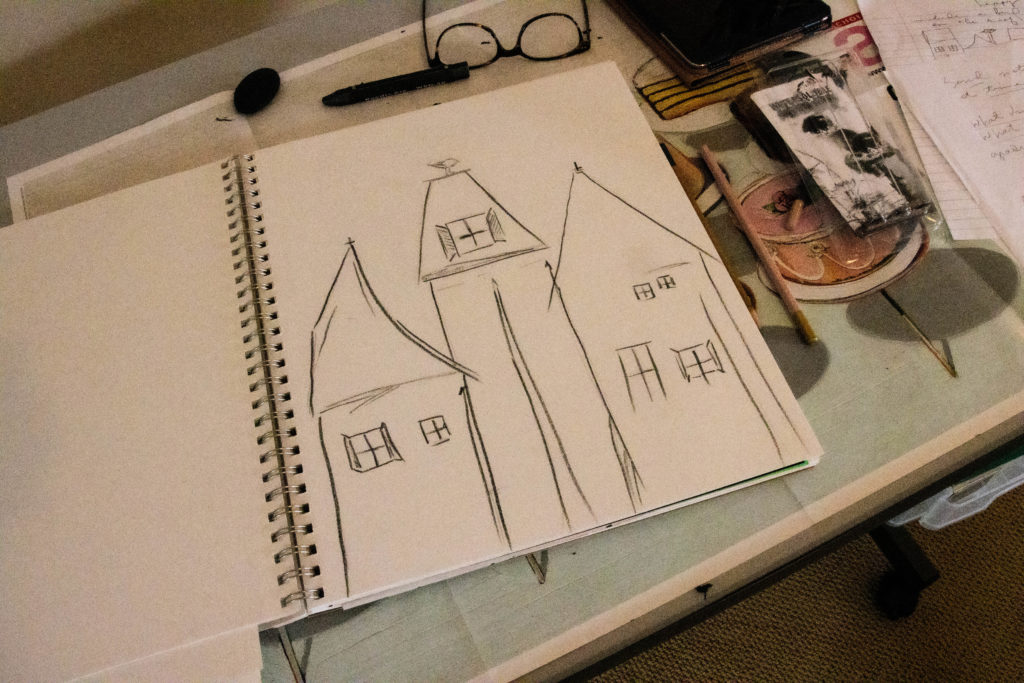 Color your house against a plain muted background.
Trace your lines with a black pencil, pen, or marker to darken your lines so they stand out.
Don't forget to sign your artwork!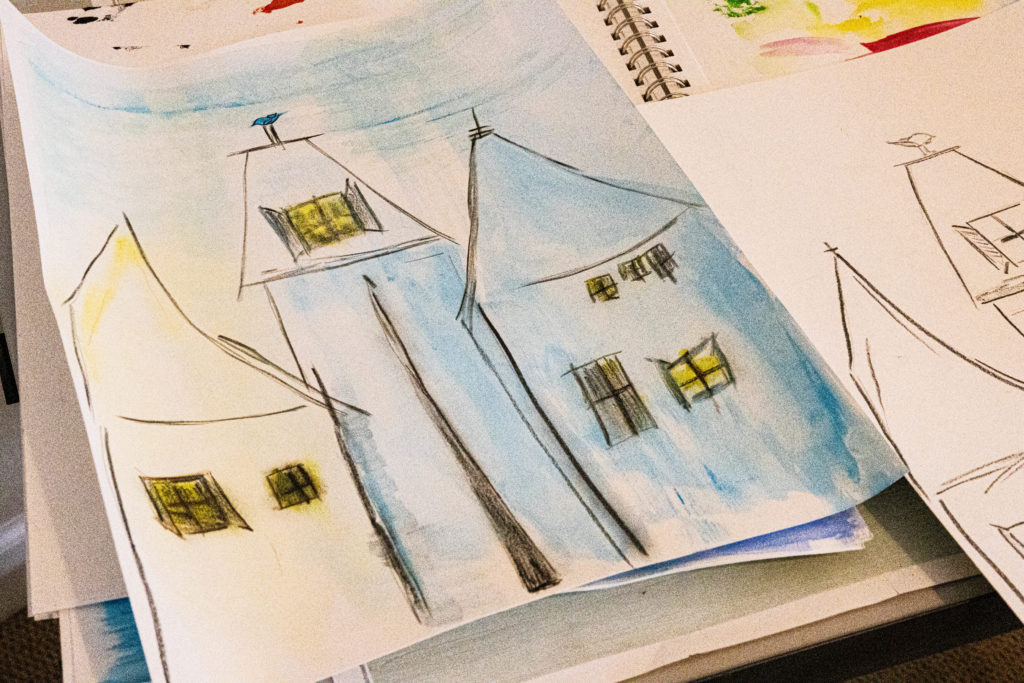 Share your artwork, keep it, and treasure it forever. Remember to have fun, make memories, and create art!
Laurie Cotros has been teaching art for 28 years. She has taught at a number of schools in the Catholic Dioceses of Memphis. She taught art at Incarnation Catholic School in Collierville and currently teaches art and religion at Our Lady of Perpetual Help Catholic School in Germantown.