History Then and Now: Brooks Pharmacy
Walking in and out of storefronts on the Square today, you can hear the same gentle chimes welcoming you as you would have more than fifty years ago. And while the establishments and faces may have changed, the same warm smile is still there to greet you! Watty Brooks Hall, landlord to two of the Square's buildings, has lived in Collierville all her life and has seen first hand the positive growth Collierville has experienced since her late father, Tom Brooks, opened his own drug store back in 1955.
Hall recalls growing up on the Square as 'idyllic'; truly a place where she and her sister, Amy, could enjoy an agrarian lifestyle alongside all the comforts that the Town provided.
"It was just a really neat place to grow up," says Hall. "The Town has always had this sense of community and we felt it even as children growing up around daddy's store."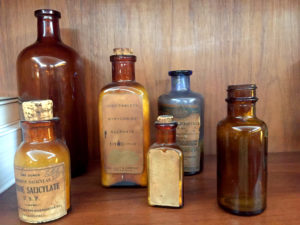 Originally from Los Angeles, Tom Brooks went to the University of Tennessee where he met his soon-to-be wife, Kelsey, and then went to pharmacy school. Not long after graduation, he opened Brooks Pharmacy in what is now Brooks Pharm2Fork. The glass window storefront welcomed customers inside from the dusty streets, to the smell of roasted peanuts as you walked in the door. Brooks kept the peanut machine running throughout the day and "the smell was nostalgic," says Hall. Walls of exposed brick traveled the inside of the building, while architectural tile hung from the ceiling. Hall remembers the beautiful terrazzo floors being something her father was 'so proud of' and something you can still admire today. At the front of the store you could find typical commodities including medicines, necessities, and perfumes, much like in today's drug stores. A small Russell Stover's candies section was also available for those with a sweet tooth. The pharmacy department ran alongside one wall with shelves of cobalt blue and amber glass bottles. Directly across from the pharmacy counter was the store's soda fountain, where flavors like vanilla, chocolate, and butter pecan were served with your choice of limited toppings. Nearby you could find a seat at one of the tables and chairs provided to enjoy your Coke float or milkshake with friends. "The chocolate milkshake was so good," says Hall, a special treat she remembers. The Pharmacy quickly became a family affair. Hall's mother would assist with daily operations within the store, from bookkeeping to scooping ice cream from their soda fountain. Even up to the day before Hall was born, her mother was scooping ice cream, having to lean sideways because she was so pregnant that she couldn't bend over!
"That was always one of momma's favorite stories and I blame her for me liking ice cream so much," says Hall.
Brooks Pharmacy was one of two drug stores on the Square at the time. Harrell Drug Store was only four doors down from Brooks, owned by Martin Newby. Supplying much of the same goods, one would think a rivalry might form between the owners, but Hall remembers something much different. "They were 'friendly competitors' is what daddy called them," says Hall. "Mr. Newby was several years older than daddy and he had a great respect for him. In fact, one time Mr. Newby was sick and unable to work, so anytime there was a prescription to be filled, daddy would run down to Mr. Newby's to fill it."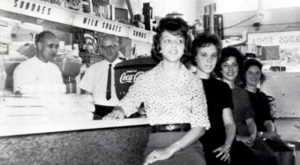 Owning a pharmacy meant calls would come in at all hours, and Hall recalls her father being devoted to his customers. "Daddy loved his customers, and when we would hear the phone ring in the middle of the night, we always knew that somebody had a sick family member. Daddy always got up and went to the drug store to fill the prescription. Back then, people a lot of times would think of their pharmacist as a first cousin to a doctor and they would come to the pharmacist and not necessarily go to the doctor," says Hall. "I remember daddy talking about this little boy that had fallen and so he put him up on the counter and he had to get gravel out of his knees. It was embedded, but daddy said it was something he knew he could handle. He knew it was nothing he really needed to go to the doctor for, so he put the medicine on it and a Bandaid and sent him on his way. Another little boy had gotten a dried pea stuck in his nose, and daddy had to aspirate it to get it out. He just cared so much about his customers. Daddy had a very caring heart. He was just as comfortable behind the counter as he was out front talking to them (customers)." Brooks had to be prepared for more than just calls with humans needing aid. "Back then there was also a real need for veterinary medicine and daddy had a special refrigerator that all the veterinary medicine stayed in. It had a very strong medicinal smell," remembers Hall.
"Because this is a big agricultural area, we had several dairies and cattle farms around here. People would come in and would need medicine for their cow that might have had say mastitis and you had to take care of that. Daddy had to be ready for those calls too."
Hall recalls the years at her father's store being a much simpler time, without the use of modern technology and more customer interaction. "Everything was so simple. Now we all live on our cell phones, but back then we used the rotary dial," says Hall. "I still remember the drug store number. It was 2397. And we had a crank cash register that you literally had to crank! Daddy kept his prescriptions in prescription files. You know the doctor would write it out, and I remember he would have a hole punching machine and he would number it and it went in the file so it would be in numerical order. Back then there was a lot of what they called 'compounding' – meaning that they would make drugs from powders and salves and things like that, and that was always interesting. Daddy had these beautiful scales that he would use to weigh out the ingredients and I always thought that was the neatest thing. I would watch him make ointments and this powdered 'stuff' the doctor had written the prescription for and then put it in a capsule. That's really taking you back to old times! I know there are some compounding drug stores now, but you don't see that really anymore."
Once Brooks made the decision to close the pharmacy and move to a Poplar address, a shoe repair business followed for several years and then a restaurant, Cafe Grille, occupied the space some twenty-five years after that. Today, Brooks Pharm2Fork is the current tenant serving fresh meats and vegetables from local farmers in a very home-style atmosphere. Owner, Mac Edwards, paid homage to Brooks Pharmacy by including it in the restaurant branding and by showcasing memorabilia, such as the peanut machine and pharmacy signs throughout the building. Edwards says adding the Brooks Pharmacy mementos was just "natural". "So many things, all the signage, the nut machine, and popcorn boxes, it was so natural (using them in the store). I never thought in a million years I would have a restaurant in Collierville," says Edwards. "But when this spot was offered to me, which to me is the center cut – filet mignon, I couldn't turn this down. It's been great!" Hall says the sense of community she felt all those years ago in her father's store is very much alive today. "I think our forefathers – Herman Cox was the mayor, daddy was the vice-mayor, Mr. Newby was an aldermen, they had a vision – there is no doubt about that. And I truly believe they are what set the foundation for everything that is out here. And thankfully the Town has been able to continue that and make it this wonderful place to live and work. I tell people that all the time; I just feel like I get a big hug when I'm on the Square," says Hall, "and I really hope it stays that way."
Written By: Anna Bell