Good Sportsmanship is a Learned Skill
Being a part of a team, whether it is a sports team or a debate team, can cause the competitive side of children to surface. There is value in talking to your child about being a good sport both in winning and in losing. Emphasize the old saying, "there is no I in team." Explain to your child that teams work together, win together and sometimes lose together.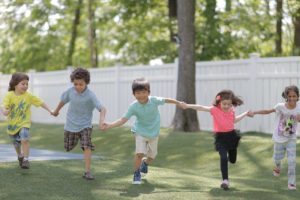 Learning to display good sportsmanship both when winning and when losing is a valuable life lesson. Our natural reaction is to be excited about winning, which sometimes can result in bragging. The act of being happy without bragging to others is an important skill. Our natural reaction to losing is to be upset, and this may cause us to place the blame on a someone. The skill is remembering that it is okay to be upset without blaming yourself, your teammates or members of the opposing team. As parents, we see our children as MVPs (and of course they are), but we should support our children and teach them to be happy for the winning team and be humble when their team wins. A great strategy is to encourage your child to move forward and start preparing for future games.
When your children sign up to be on a team, remind them that winning is not the most important goal. It is more important for them to do their best and to work with the other team members to create a fun environment for all the children, their parents and the community.
By Cathy Jo Mattson, on-site Goddard School Owner
The Goddard School ® located in Collierville gives advice and tips to parents on how to prepare their children for life
The Goddard School located in Collierville offers a year-round program for children from six weeks to six-years-old. Children are encouraged to develop at their own pace in a warm environment supported by a team of dedicated teachers. The Goddard School FLEX Learning Program ™ is based on a unique learning continuum that encompasses developmental guidelines, formative assessments and child-focused lesson plans that are delivered in a creative and fun environment with a child-centered approach to meet each child's individual needs. For more information on why The Goddard School is the place for fun and learning, please contact us at 901-861- 0108.