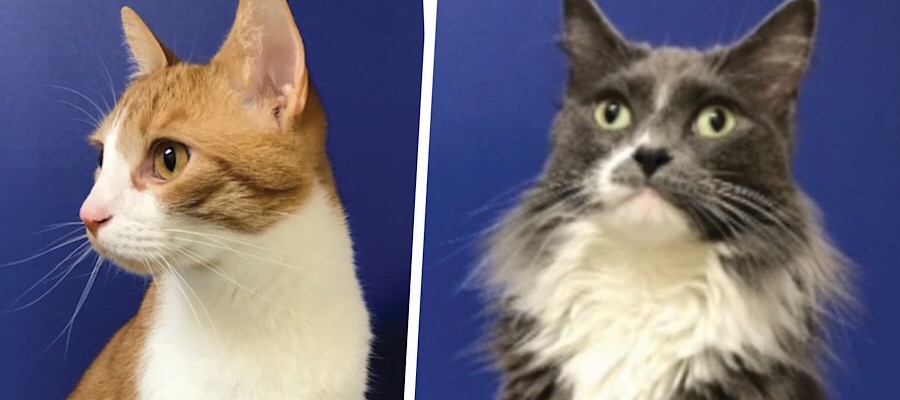 Fur Babies
We're Savannah and Buddy , a sweet bonded pair.
We came to the Collierville Animal Shelter after our owner became ill, and couldn't love on us any more. I'm Savannah, a beautiful, female, gray and white domestic long hair. I'd also like you to meet my brother, Buddy. He's an orange and white short hair, and quite handsome if I do say so myself.
So, have you heard of this thing called bonded pairs? When cats or dogs live together from youth, they can become bonded and emotionally dependent on each other. This is a great thing in cats, because it results in secure, friendly, and all around great cats! Some people think a bonded pair might be more work than one cat, but they're wrong! Because we like to play and keep each other company while our humans are at work, we're easier to have in your home. Having a bonded pair means we adjust easier to change, and we have each other as a constant. Since bonded pairs are very secure, we make a bigger circle of love when we're together with our humans!
I love my brother, Buddy, so much and the feeling is mutual. Because we are so bonded, the shelter is determined to adopt us into the same home because like any good couple, we balance each other. Buddy is the lover. He is sweet, affectionate and loves everyone he meets.  I'm a little more elegant, so some say I appear slightly more reserved. We are both healthy, loving and basically the perfect cats!
Since we've arrived, we've become shelter favorites. Right now, Buddy and I have posted up in the front of the shelter. We cruise around the office and all visitors, employees, and volunteers love to pop in and say hi to us, coo at us, and pet our super soft fur. Everyone here says if they weren't full up on furbabies they would take us home today, because we are healthy, young, beyond sweet and easy peasy to care for.
Do you have room in your family for two gorgeous, sweet and fun cats? If so, please come meet us! We love visitors! You can take us to play in the family life room and see how we interact with you and each other. Even if we're not the perfect fit for you, the shelter has so many gorgeous cats, kittens and also some really awesome dogs! Remember even if your house is full, please consider volunteering at the shelter if you have a spare hour every once in awhile. They need dog walkers, people to just sit and play with us cats and dogs in the family life room, and cat volunteers, like the amazing people who take care of us every day!
Remember, people who say money can't buy love have never paid a shelter adoption fee!
Love,
Savannah and Buddy
(As an update, Priscilla was adopted!)