Field of Dreams, Field of Friends
Starting this September, St. Patrick Presbyterian Church is providing the Collierville community with a long-needed service: special needs athletics. Their Field of Friends program provides an opportunity for special needs athletes and their families to participate in a season of baseball. 
Field of Friends, which is available to any individual with special needs ages 5 and up, allows athletes of all abilities to get their chance on the field. The program also pairs up special needs individuals with a buddy, who can assist them in batting, fielding or running the bases, although all individuals are encouraged to accomplish as much as they can by themselves.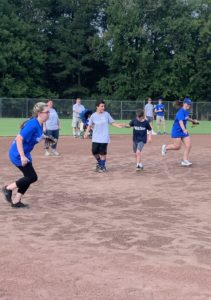 St. Patrick began their Special Friends Ministry in February 2018, inspired by core families of their church who needed a "place at the table," according to Amy Henson, St. Patrick's Director of Family Ministries. They began by reaching out to other churches who had their own ministries for those with special needs, as well as Young Life Ministry, who shared their experiences and training. "It's mostly about being able to love and serve people where they are," said Henson. 
"When we first put out to our church that we were considering a Special Friends ministry, the response was overwhelming. Over 150 people [of the nearly 350 person congregation at the time] immediately expressed interest and were excited about the idea," said Henson. Now, special needs families, with individuals of any age, can be assisted through St. Patrick's services by trained volunteers. 
Field of Friends came about in the past six months, when Rachel Reese, a speech pathologist at Bailey Station Elementary School, approached Henson about modeling a baseball league after a Field of Friends in Arlington. Now, the Collierville program has 45 special needs individuals participating, split into four different teams.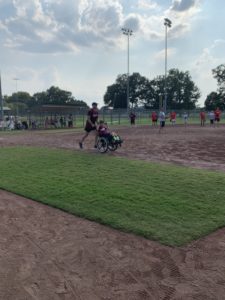 When they played their first game on September 8, Henson said that parents were so excited. "There was a mom with tears rolling down her face, and she said 'I never thought I'd be able to see my husband play sports with my kid,' who is in a wheelchair," said Henson. "One of the coaches said, "This is the best team I've ever coached,' because all the parents and kids are cheering on every single team and player."
Although registration for this Field of Friends season has ended, you can go and cheer the teams on! Games are held on Sunday afternoons in Johnson Park, from 4-5pm, and the season runs through October 6th. 
After this success, Henson hopes to introduce both a winter dance class for those with special needs, as well as a monthly parent's night out. Find out more about Field of Friends or St. Patrick's Special Friend Ministry by following the link here!
Story by | Regan Hewitt