Dear Abby
Hi, I'm Abby. In my early life the world wasn't very kind to me, so I suppose the best place to start is when I was living around an apartment complex in Collierville trying to survive on small rodents and scavenging food from the trash. To escape the heat, I would sleep under cars or a dumpster. I was constantly terrified that I would be hit by a car. This was all I knew. 
Then one day I saw two humans roaming around looking for something. I saw them spot me under the bushes where I was hiding. They called to me but I was too afraid to approach them. They left some food and water, so when the coast was clear I crawled over to eat it. Shoot! I was caught in their trap! I was so afraid. Early the next morning when they returned, I heard them say how thin, dirty, weak I was and that I wobbled like I was injured, but fortunately I wasn't doing something called "bleeding." Because my condition was so poor, they thought I was an older cat that had been dumped or left behind by a resident, so they rushed me to a vet. I surprised them when the vet shared that I was only a year old! They cleaned me up, spayed me, and gave me the food, medicine and care I needed to regain my beauty and strength. Fast forward to me now, living at CAS. I was so scared the day I was trapped, but it was the best thing that ever happened to me. The staff and volunteers here always talk about how I turned out to be such a playful, gentle, goofy and affectionate girl. I have to agree! I'm so grateful to have been rescued by them, but now that I'm healthy, I can't wait to find my forever family.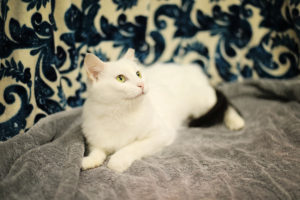 Are you looking for a startlingly pretty cat with beautiful green eyes, fluffy white fur and a show stopping black tail? A cat to chase those little stuffed mice around your house and cozy with you when you come home from work? That's me! Please hurry on in, meet me and gaze into my beautiful green eyes in person. And do me a favor, if you ever see an animal roaming or in distress, please don't drive by and hope for the best. Call the shelter and hopefully they can save another life like they saved mine.  
xoxo, 
Abby
Collierville Animal Services is located at 559 E. South Street, Collierville. Call 901-457-2670 or come by to find your perfect companion!