Collierville Summer Concert Series
    Music permeates Memphis through the strummed strings of musicians, past and present, who have come and made their mark. Living on the outskirts of 'the land of the delta blues' extends an invitation to experience raw talent that we may take for granted from time to time. The Historic Town Square, a centerpiece for this normally quiet community, transforms into a music lovers haven during the summer months, showcasing some of the MidSouth's finest talent.
    Anticipation surrounds the town as the lineup is announced, lawn chairs are dusted off, and picnic baskets are filled to attend this summer ritual we know as the Main Street Summer Concert Series. The "Gazebo" has been center stage for the last 27 years providing optimal surround sound acoustics for the entire Downtown District to enjoy. Tour Collierville did some research on the last 15+ years of the Summer Concert Series and discovered some pretty interesting facts which confirms our belief that the Square is truly a musical place in Collierville.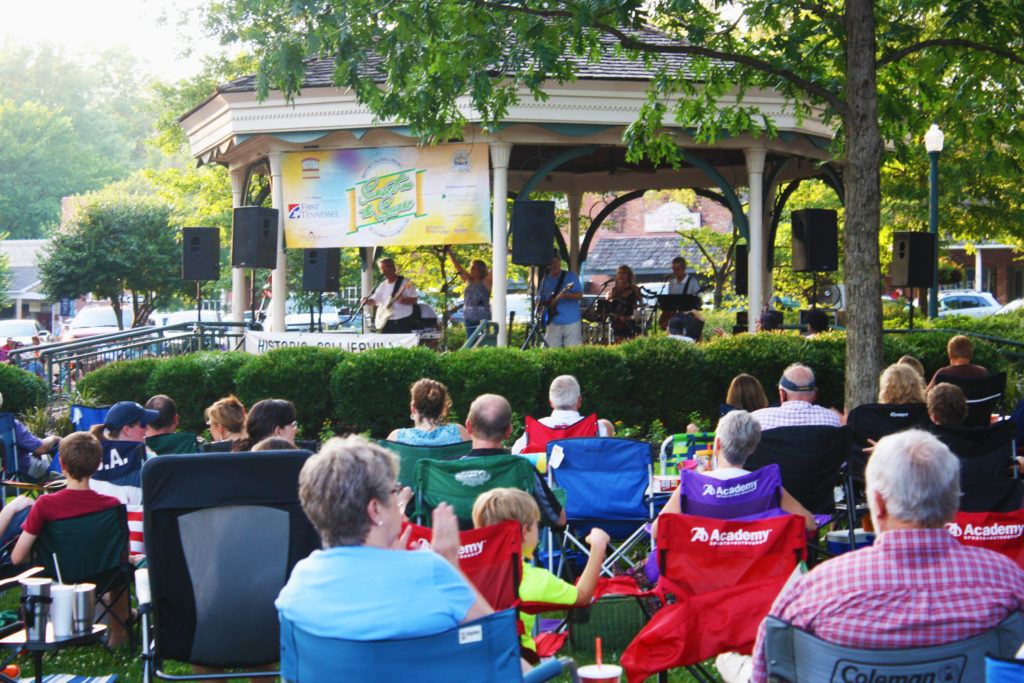 •     'The Bouffants' set the record for highest attendance in 2008 with a total of 4,216 attendees.
•     In 2006, total attendance for the entire concert series was 19,736 with an average of 2,200 per show.
•     Artists from more than 10 different genres have performed at the Summer Concert Series.
•     The band 'Legends of Rock' holds the second highest attendance record with 3,968 attendees.
•     2017 average attendance for each weekly concert ranged between 1,500 and 2,500 persons.
    Mesmerizing sounds from local artists and bands no doubt lure the Collierville and surrounding areas' audience back to the Square year after year. In year's past, you would have heard music from any one of these amazing artists or bands representing sounds across the spectrum:
    Bands previously at Concert Series:
    The Vegabonds
    Blind Mississippi Morris
    Just Say'n
    Bluff City Bandits
    Small Shack
    Young Petty Thieves
    Wolf River rednecks
    Germantown Baptist Jazz Band
    Aims Gang
    Survey Monkey
    Def Tonz
    SIX Degrees
    Bryan Hayes & the Retrievers
    Eric Hughes
    Hudson-Saleeby
    Josh Threlkeld
    Rhythm Rockets
    Sandy Carroll
    Webb Dalton
    Legends of Rock
    Delta Don Singleton & Friends
    Swingtime Explosion
    Van Gogh's Ear
    Brad Kessler
    This year's amazing lineup will cover multiple genres every Thursday evening at 7PM through the months of June and July. Main Street Collierville Executive Director, Amanda Harris, is expecting good vibes for this year's series: "Main Street Collierville hopes to bring more people to the Town Square area and showcase our Historic District businesses. We are so grateful to First Tennessee Bank, the Town of Collierville, our sponsors, and members for being the reason we can offer this free Summer Concert Series to the public. We will also have a media sponsor: Kix 106, The Max, and The Bridge, live streaming and providing some of your favorite emcees."
   
"Have you seen this year's lineup?" asks Harris. "We have brought in new and classic favorites, and they are going to be a hit! There is a wide variety of genres and local talent that will provide entertainment for all."
June 7 | Blind Mississippi Morris (Membership Night)
A native of Clarksdale, MS and blind since age 4, Blind Mississippi Morris is the embodiment of the Delta bluesman. Rated one of the ten best harmonica players in the world by Bluzharp Magazine, Morris has taken the Delta blues worldwide from his Memphis home.
June 14 | Wolf River Rednecks (Bike Night)
The Wolf River Rednecks are a cover band from Memphis. The Rednecks jam out with songs from a variety of genres ranging from Otis Redding, ZZ Top, all the way to George Strait.
June 21 | The Mighty Electric St. Jude Band (School Spirit Night)
The Mighty Electric St. Jude Band has been playing high energy music since 2002 and is a volunteer-based band made up of mostly St. Jude employees. They perform a wide range of genres, and all of their proceeds go to St. Jude Children's Research Hospital.
June 28 | Junior Year (Realtor Night)
Junior Year is an Indie band from Memphis who all love sand, waves, and sunshine. Their music will give you major island vibes and is perfect for summer time.
July 12 | Seeing Red (First Tennessee Night)
Seeing Red is a Pop/Rock band from Memphis that plays all around the city. They recently released their first EP "Stereotype" and they perform covers from artists like Paramore, Amy Winehouse, Johnny Cash, and many more.
July 19 | Under the Radar (Car Night)
Under the Radar was founded in August 2014 by its three young members and has opened for bands such as Kansas, .38 Special, and Better Than Ezra. UTR released their first studio album So Alive in 2017 and is rocking all around Memphis.
July 26 | Bluff City Bandits (Armed Forces & First Responders Night)
The Bluff City Bandits are a Country cover band from Memphis. These guys are all fun, high-energy musicians that love good times, parties, and Country music.  
    First time attending a Summer Concert Series event? Prepare for sensory overload from not only the incredible music, but from local vendors providing food that will tickle the taste buds! This year's vendors include Rapicci's, El Mero Taco Truck, Collins Concession, MemPops, Say Cheese, Fergndan's, Peggy's Concessions, and The Shake Shack. Sponsors of the Summer Concert Series are another integral part of making the series production a success! Check out Main Street's Event page for more info!