Collierville Firehouse Back in Action
Collierville's busiest firehouse is now refreshed and expanded to better serve the Collierville community!
Located at 391 Old Byhalia Road, Firehouse #2 opened in 1975, just seven years after the Collierville Fire Department (CFD) started hiring their first full-time firefighters. Previously all firefighters were volunteers. CFD continued to grow with the community. As Collierville's population rose from 3,625 in 1970 to over 50,000 in 2018, some of the older firehouses were starting to show signs of age and were close to reaching fire personnel capacity.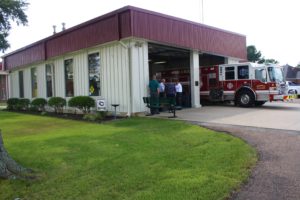 The construction process of Firehouse #2 began in December of 2018 and was completed late summer of 2019. The expansion of 1,000 square feet included an update to the sleeping quarters, two new ADA compliant bathrooms, and a dedicated laundry area. The kitchen upgrade included new appliances and countertops; the renovation project also included a paved parking area.
Thursday, September 12th, 2019 the Board of Mayor and Aldermen, Fire personnel, Police, Town Administration, and members of the project team celebrated with a ribbon cutting and tour of the Firehouse, 
"Thank you to everyone here for supporting our department and investing in the future of our community by providing a top-notch facility for our firefighters," said Fire Chief Buddy Billings.
A plaque posted outside the front door of Firehouse #2 listed everyone involved in the project as well as a quote reading "Firehouse #2 Dedicated to Excellence in Protection and Service."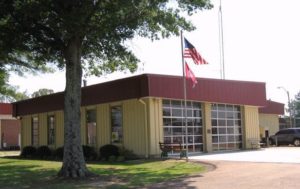 Firehouse #2 is the busiest Firehouse in Town. This location staffs round the clock shifts with four full-time firefighters and a battalion chief. Three pieces of firefighting equipment also operate from Firehouse #2 including: Engine Pumper 82, Battalion 31 and Reserve Engine Pumper 82. In 2018 to November (when the firehouse was closed for construction) crews from Firehouse #2 were dispatched over 2,491 times for service calls. Of the total calls dispatched 1,725 were Emergency Medical calls, fire service calls made up the balance of the calls. 
Tour Collierville wishes to thank the Collierville Fire Department for their many years of dedicated service!
Story by | Anna Bell
Photos provided by: Town of Collierville
Group Photo ID: Pictured L-R: Firefighter Paramedic Mike Bartlow, Lieutenant Dustin Johnson, Ben Beer representing Jaycon Development Corp, Scott Rozanski of Spirit Architecture, Town Administrator James Lewellen, Vice Mayor/Alderman Maureen Fraser, Alderman John Stamps, Fire Chief Buddy Billings, Mayor Stan Joyner, Alderman Billy Patton, Susan White of Fire Administration, Alderman John Worley, Police Chief David Tillner, General Services Director Derek Honeycutt, Battalion Chief Todd Frazier, Fire Inspector Todd Johnson, and Driver-Paramedic Herb Schocke.