Collierville Burch Library Upcoming Events
The Collierville Burch Library has several upcoming events this week that are full of useful information and fun that we know you won't want to miss! This Wednesday (5/2) from 6-7PM make sure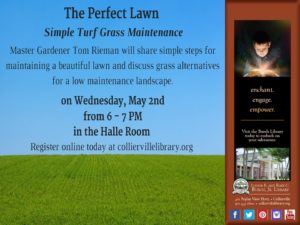 to join Master Gardener Tom Rieman at his discussion on how to have 'The Perfect Lawn' this Summer!
"We reached out to the local Master Gardener's group, and they connected us with the speaker for the Perfect Lawn event," says Adult Services Librarian Amber Halter. "We try to do at least a couple of gardening programs a year because there is demonstrated community interest in that topic." 
You're sure to learn a few tricks that will make your neighbors green with envy over your lawn this year!
Looking to make some fun memories with friends or family? This Saturday (5/5) join the Crafting for Adults class from 1-2PM at the Library!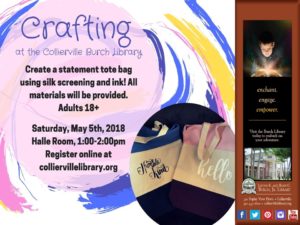 "The crafting event this Saturday is made possible by monetary donations that were made this year. Programs like this require more money than our typical adult programs (where the speakers are volunteers and there are little to no supplies required), and I wish we could do them more often!" says Halter.
The crafting program is currently full (15 seats) with a substantial wait list, "which is excellent turn out for an adult library program," says Halter. The program will run approximately 1.5 hours and the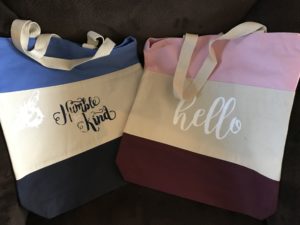 participants will leave with a canvas tote! Make sure to check in with the Library to see if seats have opened for the event!
"My staff are always so excited when they get to do something different, like the Olive Oil tasting with Bazaar or the jewelry making class we had last week! We hope to have programming in the future that appeals to a younger (mid-20s and up) adult age group than we currently reach," says Halter.
Can't make it to one of these events, but still want to participate in all the fun?? Make sure to check out the Events Page on the Library's website to stay informed on what event is coming next!