Coffee Fixes Around Town
2059 S. Houston Levee Road
Monday to Thursday: 6:30 AM to 9:30 PM
Friday: 6:30 AM to 11:00 PM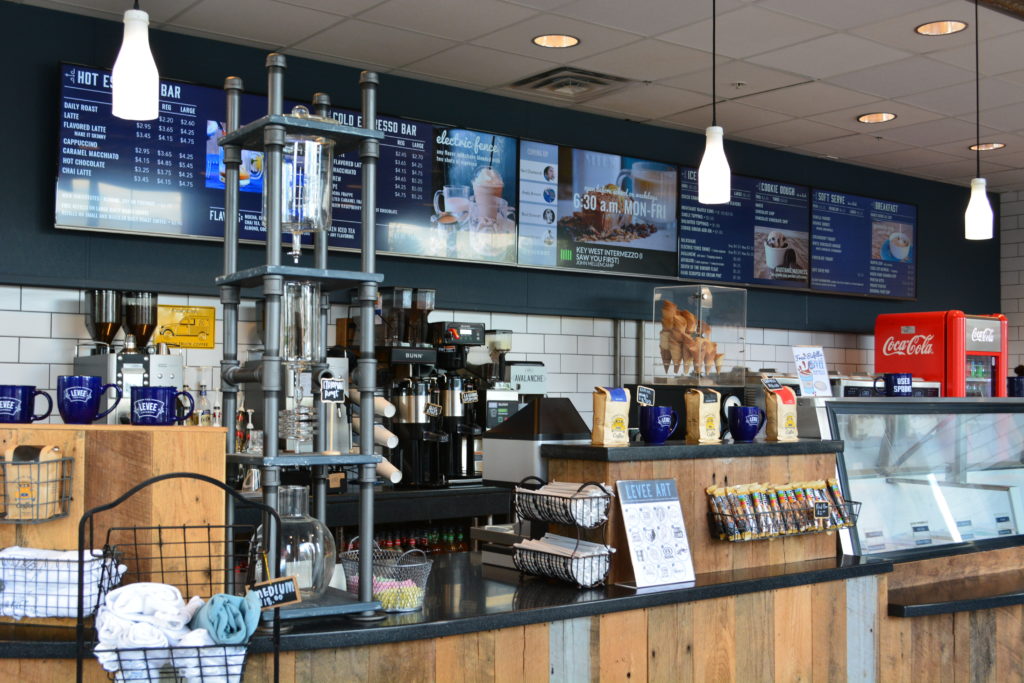 Saturday: 8:00 AM to 11:00 PM
   Sunday: 12:00 PM to 9:30 PM
Levee Creamery is an enjoyable hangout at any time of day. To start your morning, you can visit their Baristas on your way to work or school for a cup of freshly brewe drip coffee, a flavored latte, a cold brew, or even a frappe. No matter what drink you order, you'll definitely taste the quality in every sip because Levee sources their beans from the local roasters at French Truck Coffee. French Truck buys only the highest quality beans and strictly roasts each blend in small batches, so you know you're getting the optimum flavor in every cup that Levee brews. If you need a quick afternoon pick-me-up or are looking for somewhere to hold a mid-day business meeting, Levee's your place. You can treat yourself with a delicious Affogato, shots of espresso poured over a scoop of ice cream, or refresh yourself with one of their tasty shaken teas. The atmosphere at Levee also makes for an ideal place for business or study. The music's never too loud, and they have benches for large groups, single tops for solo sessions, and free WiFi. If you're looking for a treat later in the day, Levee also serves delicious homemade ice cream in an assortment of yummy flavors that you can top off with a variety of toppings or a dollop of edible cookie dough! Levee Creamery really is a one-stop shop for morning, noon, and night, and their coffee is definitely some of the best in Collierville!
103 N Center Street
Monday to Friday: 7AM to 6PM
Saturday: 8AM to 6PM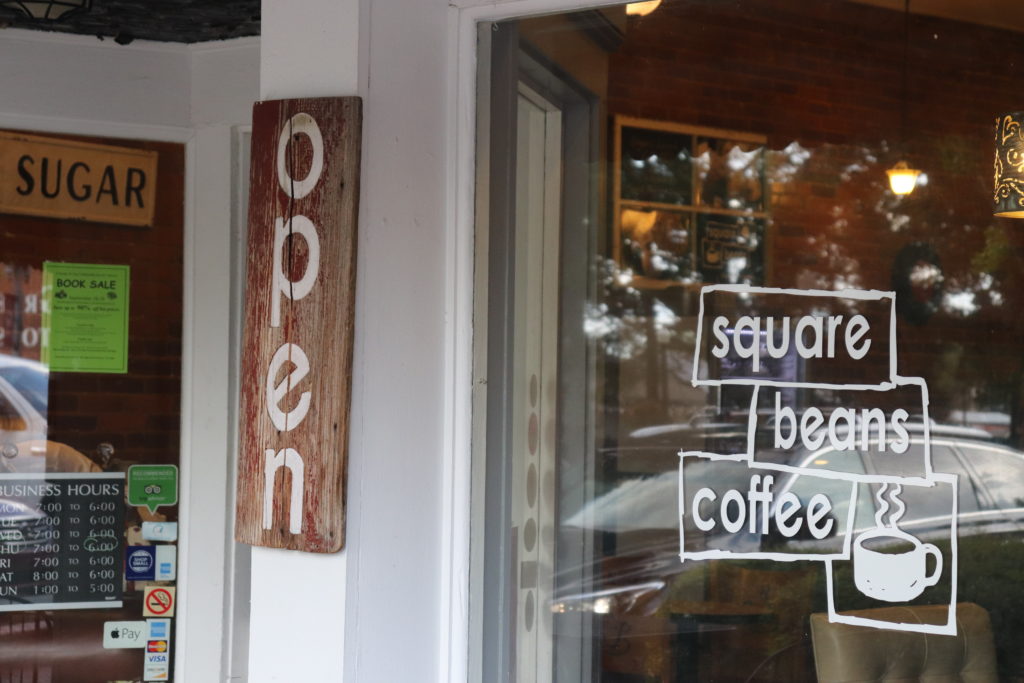 Sunday: 1PM to 5PM
If you've been to the Square, you've probably seen Square Beans nestled between Hewlett & Dunn and Dyer's Cafe. Square Beans has been a Collierville staple since they opened their doors in 2008 — and for good reason. As soon as you step through their doors, you'll feel like you've stepped right into Stars Hollow or Mayberry. The charm and warmth of their quaint cafe will immediately wrap you in comfort and make you want to curl up in one of their big leather armchairs for the rest of the day! The atmosphere of Square Beans is great for catching up on homework, working from your laptop, or just relaxing with your favorite novel. Their menu is also loaded with comforting classics like warm apple cider, a Chai tea latte, and hot cocoa which you can enjoy while snacking on any of their scrumptious pastries or a scoop of their locally-sourced gelato. Of course, Square Beans is also serving up some absolutely delicious coffee options. They have drip coffee, espresso beverages, and frappes that'll get you delightfully caffeinated at any time of the day. Square Beans is a totally one of a kind coffee shop that is a must-have in Collierville!
914 Carrington Oak Ln S
Monday: 6:30AM to 2PM
Tuesday to Friday: 6:30AM to 6PM
Saturday: 7AM to 4PM
Sunday: 8AM to 2PM
Blends Donut Cafe is delectable in every sense of the word. This family owned and operated cafe opened their doors in 2017, and this cafe has become the perfect breakfast stop. If you're on the way to work or school, you can pick up a filling breakfast sandwich made-to-order or grab one of their oatmeal bowls if you're on-the-go. Either way, you have to try some of their drip coffee, espresso drinks, or specialty beverages. They even have caffeinated protein lattes with up to 30 grams of protein! Blends sources their beans from Memphis based Micro-roaster J Brooks. J Brooks crafts each of their blends with their drinkers in mind, and after you take a sip of a Blends brew, you'll be happily surprised at the flavor notes and quality you get in each sip. Along with their highly crafted coffees, Blends is also serving up fresh specialty donuts that perfectly pair with any of their drinks. You can find an assortment of pastries, cake style donuts, and yeast donuts made daily, and your coworkers would love if you picked up a dozen on your way to the office! Aside from being a convenient morning stop, Blends also makes for a great place to pick up a light lunch with friends or business colleagues. The lunch menu features a variety of sandwiches for you to enjoy while relaxing in their unique environment.  Blends Donut Cafe has only been in Collierville for a short time, but they are one of the best cafes around!
1016 W Poplar Ave Ste 111 
Monday: 6 AM to 12 PM
Tuesday to Saturday: 5 AM to 2 PM
Sunday: 6 AM to 1 PM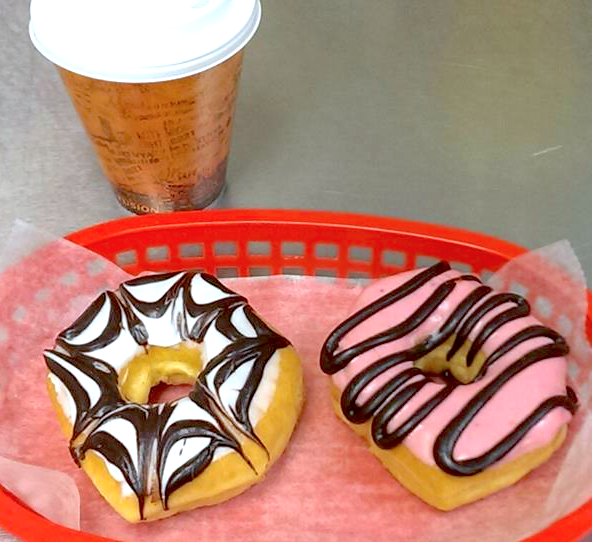 If you're searching for a fresh and friendly morning stop, Donut Hutt is perfect for you. Smiles and good vibes from all around will greet you with a warm welcome as soon as you step through the door, and the enchanting aroma of freshly baked donuts coupled with brewed coffee are sure to make your morning. The staff alone at Donut Hutt will surely brighten your day with their charismatic service! Donut Hutt's dedication to freshness shines through in every sip of their locally sourced drip coffee. Their beans come from High Point Coffee Roasters which is just north of New Albany, MS. High Point's distinctive gourmet coffees are high quality and remarkably consistent, and Donut Hutt serves up their Central American and Colombian blend daily. This bright blend pairs well with their wide variety of breakfast options too! You can munch on a warm apple fritter, a croughnut, kolaches, or any of their homemade donuts alongside your tasty coffee. Donut Hutt also serves as a great all-inclusive children's birthday venue featuring pizza, beverages, and a fun, educational donut making class! The owner and staff at Donut Hutt are truly dedicated to the Collierville community, and a visit to their shop is a perfect way to start your day!