CHS Seniors Work As Local Nurse Aids
Collierville High School is home to a Tennessee College of Applied Technology Certified Nursing Assistant [CNA] program. The program, which started just two years ago, used to be one course, where students could learn more about CNAs as a potential career. Based on the popularity of the program, the school quickly decided to expand the program, adding a class for seniors that focused on mandated CNA skills and clinical training in both acute and long term care. 
CNA Instructor Rochelle Jackson, who has worked as the full-time instructor for the program since its inception, said, "We have a progressive classroom and lab with life-sized functional manikins and equipment. Students practice skills while taking on the role of the nurse aid or the patient, or resident." Enrollment is approximately 25 students per class and is in high demand by students and their parents.
The 2020 seniors were the first group to go through both CNA classes offered by the school. These students spent 90 minutes each day doing clinical rotations at local medical facilities, practiced CNA skills, such as ambulating residents and obtaining vital signs, and received their CPR certifications. They also helped conduct physicals at the Collierville elementary schools, wore scrubs every Monday and acted as mentors to CHS freshmen. 
Many of these students were taking the class because they planned on pursuing a medical field at college, and wanted to get experience and certifications before then. "This program teaches the fundamentals of patient care, safety and demonstrates compassion. The healthcare field is not for you if you don't possess a spirit to care for others. It's hard work and demands excellence," said Jackson.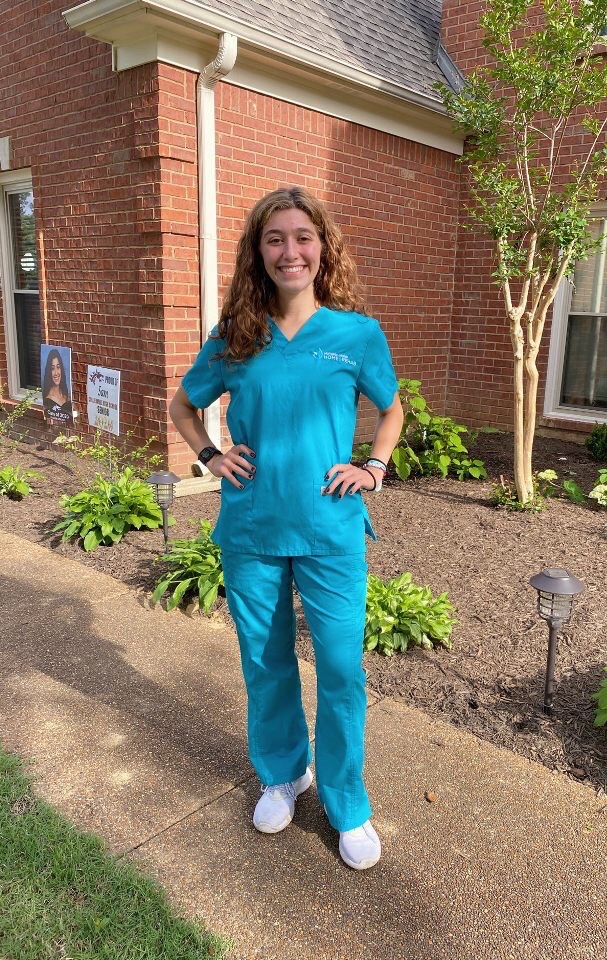 Yet, when COVID-19 struck and school was moved to remote learning, the CNA students had to move forward online with their mandatory CNA activities. Their instructors were quick to adapt to make up for lost hands-on practice time. "Along with completing assessments, the students submitted videos of nurse-aid skills. For example, they were required to develop a video of themselves performing hair care on a family member, which is one of the 27 skills. Nurse Kesia [the CNA co-instructor] critiqued the videos and offered constructive feedback," Jackson. 
While the CNA students continued online with mandatory CNA activities, Jackson and Keisa Nevels, who will become a full-time instructor for the 2020-2021 school year, found their students an online nurse aid test that they could take while remaining socially distant. The American Health Care Association [AHCA] and The National Center for Assisted Living [NCAL] offered a Temporary Nurse Aid Certification to students who had completed a two year nurse-aid program. The exam assisted medical providers during the pandemic, as it would allow graduating students to practice as a nurse's aid for a few months. 
Despite the disruption to their traditional schooling, all 19 seniors passed this online test. 
But passing the test wasn't enough for a small group of students. Ellie Vandyke, Samantha Marchionda and Ruthie Pittman decided to enter the workforce. In the fall semester, they had done their clinicals at Memphis Jewish Home and Rehab. The assisted living facility accepted the temporary nurse aid certification that they had taken at the close of the school year.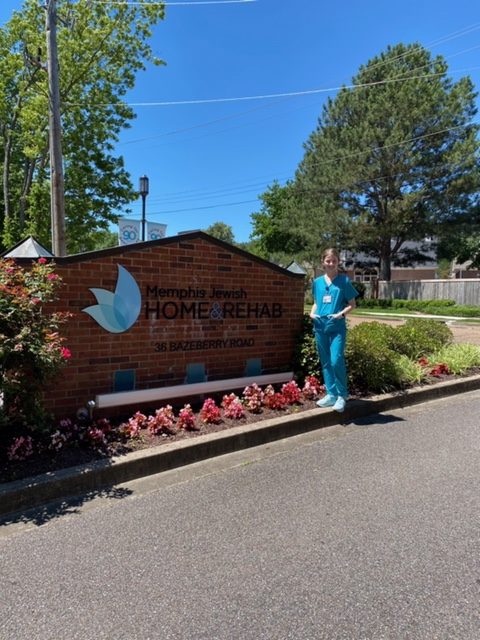 The three have been working, full-time, at Memphis Jewish Home and Rehab for the past few weeks, even before they officially graduated from high school. So what exactly are they doing? "CNA's work in nursing homes and hospitals. They do things such as change diapers, feed people who need help eating, and help those in wheelchairs get into their bed and go to the toilet," said Ellie Vandyke. Essentially, they perform the most basic levels of care for those that need their help. 
Vandyke estimates that her own schedule ensures she's working approximately 48 hours a week. During a pandemic, it also means that working those hours are slightly more stressful and inconvenient. Since elderly and ill people are higher-risk populations, Vandyke said, "Everyone has to have a COVID-19 test before they can start working there. You have to wear a mask all day – we were actually made to sign a sheet that says unless you're in your own car, you have to have a mask on. We have to have gloves on for everything. If we go into residents' rooms, or hand them a glass of water, we have to have on gloves." 
These students' determination to help others is inspired and mirrored by their instructors – both Jackson and Nevels have been committed to helping test people for COVID-19. When asked about the experience, Jackson said it was "extremely humbling." She went on to say, "We have prepared our students to care for the vulnerable community during this pandemic. Nurse Kesia and I chose to care for the community as well, by performing COVID tests on the very young to the very old. We don our PPE and focus solely on servicing the person." 
The CNA program also puts students who want to further their experience and education in the medical field leaps and bounds ahead of their peers. Vandyke, who plans to pursue a Sports Medicine & Kinesiology degree at Samford, explained that one of the heads of the Health Sciences department was impressed with her experience. 
"She said that the CNA program puts me so far ahead of so many other people in my area of study. I now have two years of experience. She even said she was going to go ahead and put me in the medical area I wanted to be in when I was doing my clinicals because I was so far ahead," said Vandyke. The three seniors all plan to work at Memphis Jewish Home and Rehab throughout the rest of the summer. 
Instructor Rochelle Jackson wanted to leave her graduating students, whom she is immensely proud of, with these words,  
"Graduates, you have shown great commitment and dedication throughout the two -year CNA program. Your hard work will provide you skills you will utilize for a lifetime as you journey into independence. Always seek employment in your area of study. This builds work experience and strengthens your knowledge of teamwork and appreciation. Remember what you've been taught. Stay within your scope of practice and never deviate from policy and procedure. Care for your patients with unbiased sincerity and passion." 
and speak to her now seniors with these, 
"To the rising seniors: Clothe yourself with earnestness and tenacity. It's time to become a nurse and apply your knowledge to care for the sick. Be prepared to become very special to an elderly resident which will pull heavily on your heart string. You have an unquenchable desire and are hungry for knowledge that will drive your compassion to assist others."
Story | Regan Hewitt
Photos provided by Rochelle Jackson