CHS Celebrates Seniors
Pamela Watkins-Strietelmeier is the chairperson for Collierville High School's Class of 2020 Project Graduation. Project Graduation began as a grassroots event to combat high school seniors severely injuring themselves on the night of graduation. "That's where Project Graduation came from," she explained. "It was a big party after graduation to keep kids together, keep them centered, substance-free. It's completely donation-driven." When school was cancelled for the rest of the year, the event not only changed, but did so dramatically. Every assumption quickly became a question, and even the most simple tasks became increasingly difficult to overcome. But that didn't stop Pamela, CHS staff, parents, students, and Collierville from celebrating Collierville High School's graduating class of 2020 on May 7, 2020.
Under normal circumstances, Collierville High School's Project Graduation usually takes place at the Town of Collierville's community center from about ten at night until two in the morning. The organization works alongside various sponsors and vendors to accommodate the night's events. This year, for example, Collierville High School's Project Graduation was supposed to feature a rock wall, bucking bull, obstacle courses, and more.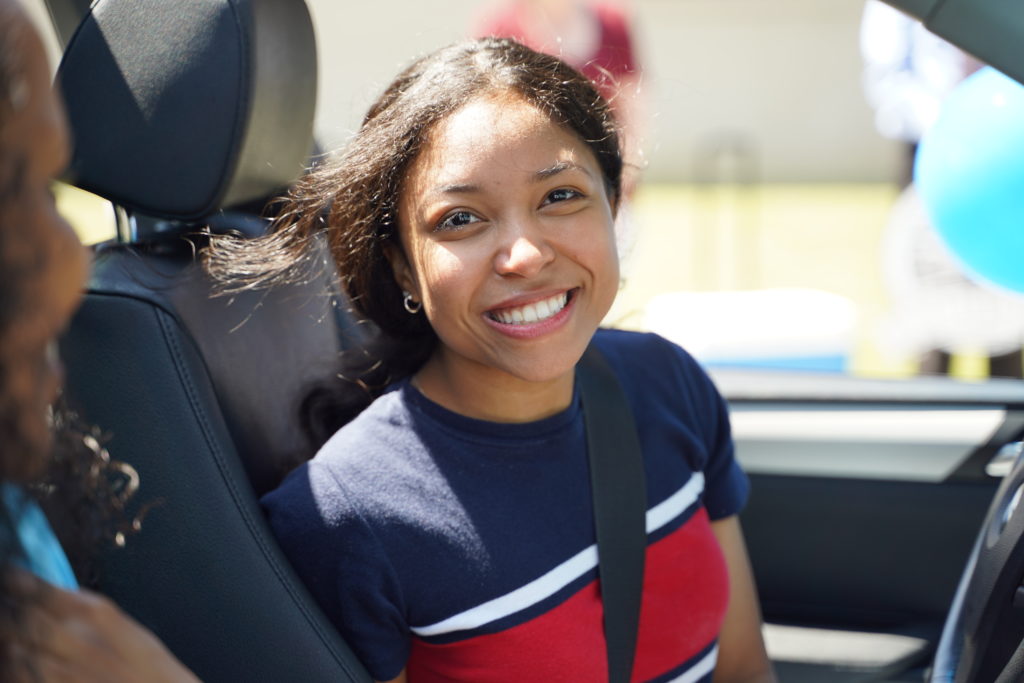 When the event was cancelled due to COVID-19, discussions stalled, until Pamela emailed Collierville High School's principal, Roger Jones, about leftover funding. The timing of the event's cancellation meant that ticket sales and other forms of donations had already been gathered and accounted for, so CHS began to consider some alternatives.
Plans were in place. We were right on schedule. Everything was looking great. And then school stopped. Here comes spring break. Nobody went back after spring break. It just dropped, and it was like, 'Okay, what are we going to do? What's going to happen?' The following week, I sent Mr. Jones an email and just reminded him, 'Hey, I've got my donations sitting here for Project Graduation. I don't know what you're planning on doing.' I wasn't sure if he knew how much was there.
– Pamela Watkins-Strietelmeier
Mr. Jones soon responded to Pamela's email with the request for a meeting. They, the PTSO, and a group of senior moms then met to discuss how to celebrate the event.
He replied to my email and said 'Hey, let's get together and talk." We wanted to do something for all the kids, so this Project Graduation adjusted. We coordinated that with the drop-off of the senior's laptops and the pick-up of their caps and gowns. We had a lot of donations locally from local people, and we were able to still recognize them as our sponsors, our vendors, all that. But we were able to go to the big folks and get what we needed.
– Pamela Watkins-Strietelmeier
What would have normally been an overnight event of 300 or so kids transformed into a sunny, drive-by celebration of 647. In one fell swoop, students dropped off their laptops, picked up their caps and gowns, received some gifts donated by local businesses, and through a random number drawing that each car was assigned upon arrived that morning. Parents, teachers, town officials, and others lined the sidewalk to cheer on each passing car.
Some kids won fantastic prizes, like television sets and refrigerators. Pamela shared a story of how two students celebrated one's prize together. One student won a really nice refrigerator, but those in the car behind him seemed more enthusiastic than he. They quickly learned that the two plan to be roommates at college and would be sharing the refrigerator, as the one boy shouted, "I'm his roommate! I'm his roommate!"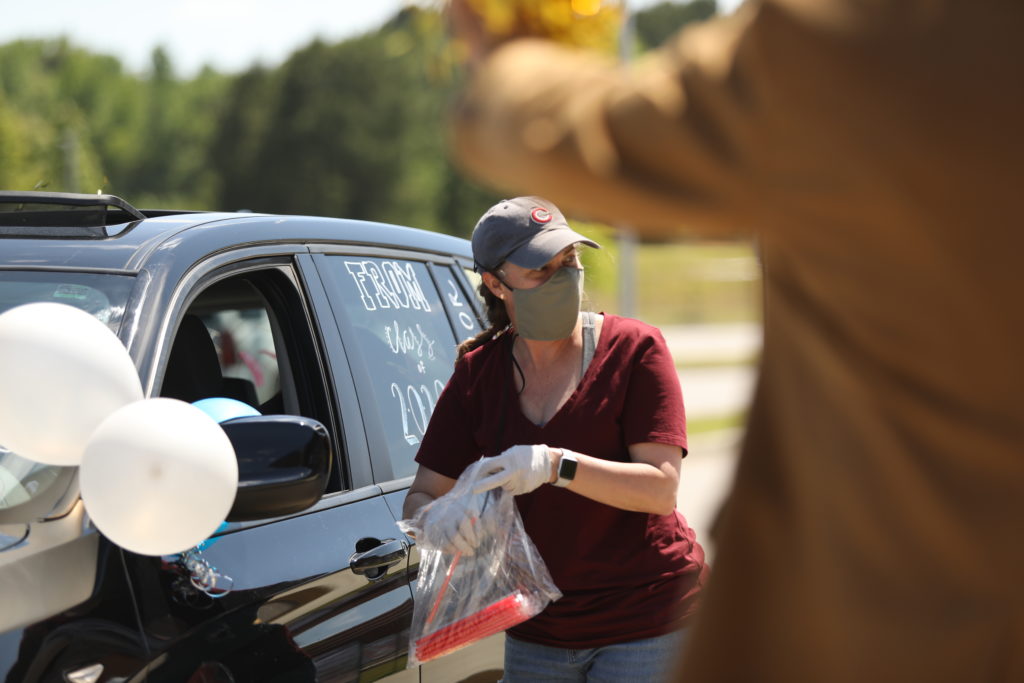 Pamela added, "Either way, [every senior] got a gift card, and STIX Restaurant had given gift cards for all the seniors so they got that, also. The Commissary donated all the food for 647 seniors, and their choice of nachos. They prepared those on site. They had all their equipment there. It was amazing."
STIX and The Commissary were just two parties that worked to make a difference. Other companies and sponsors like Helena Corporation, 5ASH, CFBC Family, and A-Team Roofing did their part. The full list of sponsors is too long to note here, but Collierville supported this event. "We invited the senior parents. We invited all of our sponsors, all of our vendors," Pamela said. "They just lined up on sidewalks and cheered them up. Churches sent out some of their youth leaders, and they volunteered to cheer them on. And the kids were surprised. You could tell by their faces that they were like, 'Wow, this is pretty great.'"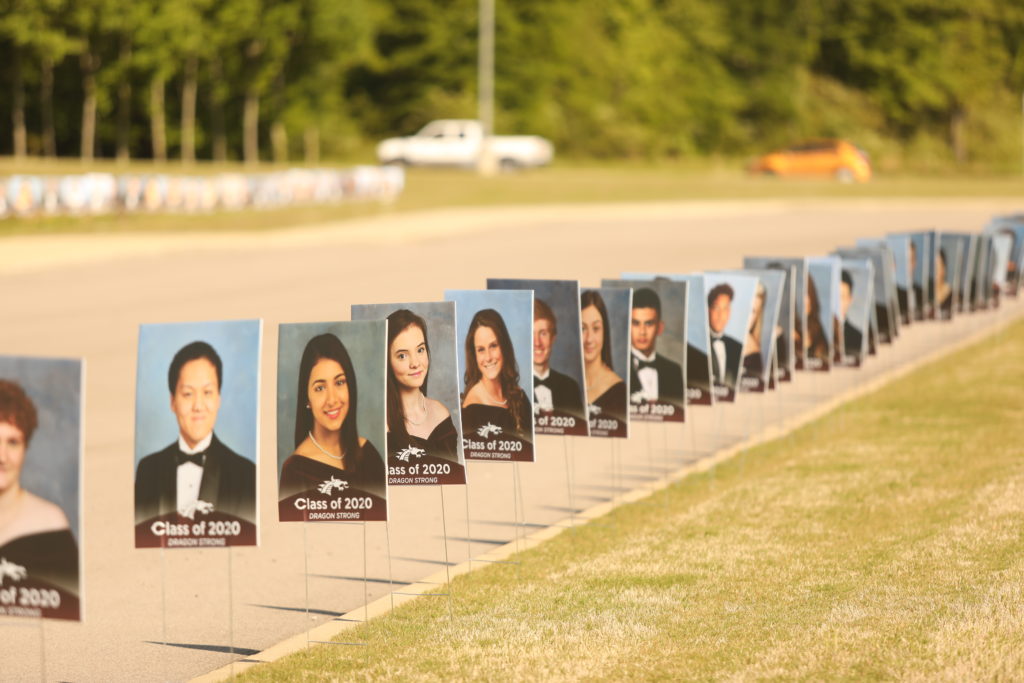 As an added surprise, the Project Graduation team planned and organized so that all of the seniors' pictures were printed on yard signs and placed along the winding route.
The school was able to take all of the senior pictures and have yard signs made out of them, and they're breathtaking. Holland Studio is who does senior pictures for the school, so the school got all 647 of the formal pictures and made yard signs for the seniors. I had seen them laying in the school, and seeing them lined up are absolutely two different things. When I pulled in that morning, it took my breath away. To see all of those, it was just unbelievable. There's usually no secrets in a high school, but they kept that one, and it was beautiful. It just made the whole event.
– Pamela Watkins-Strietelmeier
Finally, at the end of that wonderful day, Pamela walked to her son's yard sign. She was to remove it from the ground, and a few other students' whose moms asked her to collect their sons', too, but not before a special moment. She noticed the line of yard signs, each unique and smaller than the one before it. There, she remembered the smiling faces of grade school students, some perhaps eager to learn, and others hoping to spend more time at home with their mom and dad.
It was just so remarkable to look up and down that row, and those signs, and you see those kids that you knew in grade school and remember the little kids, and you just pick up those signs, and it was just a weird feeling for me: picking those signs up and throwing them in the car. We're taking those kids, we're putting them in our car, and we're driving away. This was it, and by gosh, we knocked it out of the park.
– Pamela Watkins-Strietelmeier
Finally, Pamela said, "These kids are good kids… These kids are going to do great things, they're going to save lives, they're going to make a difference… I was so happy, what we did that day… That day, it was about the community."
Story by | Nick Cotros
Photography by | Cindy B. Thymius