Chamber of Commerce Tours UTHSC's State-of-the-Art CHIPS Facility
On Tuesday, September 24th, the Collierville Chamber of Commerce hosted a visit to the University of Tennessee Center for Health Sciences CHIPS facility for their Premier Partners program. 
According to the Chamber's website, "Partner level membership conveys a company's high-level commitment to Collierville and its economic well-being." These companies can include local banks, credit unions and hospitals. 
President and CEO of the Collierville Chamber of Commerce, Mark Heuberger, sees these types of visits as a vital component for building stronger relationships with community organizations and corporations. "It's just one of the many ways we are expanding opportunities for our Premier Partners and continuing to build value for them as members," he said.   
The Chamber members began their visit with an overview of UTHSC's programs, given by Love Collins III, UTHSC's Vice Chancellor for Development and Alumni Affairs, and Gregory Harris, Senior Director of Development. Then, members toured the new $39 million Center for Healthcare Improvement and Patient Simulation, or CHIPS, facility.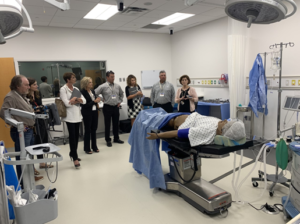 This facility allows students to practice their clinical skills more accurately. One example is through using patient simulators in the form of life-like mannequins costing up to $200,000. Students can also practice using virtual reality technology or interaction with actors posing as patients. 
All six of UTHSC's programs –– Medicine, Nursing, Dentistry, Graduate Health Sciences, Pharmacy and Health Professions –– offer students an opportunity to train in these simulation environments, often allowing them to work together in order to develop skills in team-based health care. 
Collierville Mayor Stan Joyner found the tour both intellectually interesting and valuable as a Chamber member. "I like the direction the Chamber is moving in terms of building value for members with strategic opportunities," he said. 
Chuck Thomas, Regional Director of External and Legislative Affairs for AT&T Tennessee, agreed that the visit was an outstanding opportunity. "I appreciated being included and I'm excited about the future initiatives the Collierville Chamber has planned," he said.  
Photos | Collierville Chamber of Commerce 
Sources | Collierville Chamber of Commerce