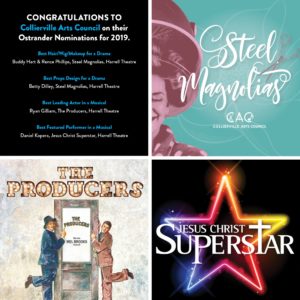 The Collierville Arts Council has recently received four Ostrander nominations for shows in the 2018/19 season. The four nominations are: 
Ryan Gilliam, Best Leading Actor in a Musical, The Producers 
Dan Kopera, Best Featured Performer in a Musical, Jesus Christ Superstar 
Betty Dilley, Best Properties Designer in a Drama, Steel Magnolias 
Buddy Hart and Rence Phillips, Best Hair/Wig/Makeup for a Drama, Steel Magnolias 
"This is a very big deal for us," says Terry Dean, CAC Executive Director. "We are thrilled about these nominations! We are so excited that each one of the shows that were judged got a nomination. This puts the Collierville Arts Council on a higher level and it helps us recruit show staff and actors to our theatre, because we are being judged." 
The 36th annual Ostrander Awards will take place on August 25th at The Orpheum Theatre honoring the best of most of Memphis theatre for the 2018/19 season. The Ostrander Awards honor the excellent talents of the Greater Memphis theatre community. Awards are given in a wide range of categories including acting, directing, and backstage contributions in the college, community, and professional divisions.
"We are nominated with all the big theatres in the area, including Playhouse on the Square, Theatre Memphis, Hatiloo, Circuit Playhouse, German Community Theatre and others," remarks Dean. "This also brings more folks from all over Shelby County and Mississippi to see our shows! It would be so exciting to win one of these awards for the recognition, but as they often say, being nominated is pretty cool!"
The Collierville Arts Council is also looking forward to the upcoming season: 
Roald Dahl's Matilda The Musical runs September 13-22 
Miracle on 34th Street December 7-15
The Complete Works of William Shakespeare (abridged) February 14-23, 2020
Mamma Mia July 10-19, 2020. 
Show times for the new season are Fridays and Saturdays at 7:30 PM and Sundays at 2:30 PM; evening start times are changing from 7 to 7:30 PM. Pay What You Can Nights continue for each show on the Thursday of the 2nd weekend at 7:30 PM.
The Collierville Arts Council was formed in 1984 as a fundraising organization to finish the Harrell Performing Arts Theatre; within three years, the council raised the funds and opened the theatre in 1987. The focus of the Council was then shifted to underwrite the productions presented at the Harrell Theatre. The council's purpose is to develop, promote, assist and coordinate the arts in the Town of Collierville and surrounding areas; to perform other charitable services for the benefit of the Town of Collierville and surrounding areas; and, to do any and all things allowable under the Tennessee Non-Profit Corporation Act. Collierville Arts Council is a not-for-profit, tax exempt organization under IRC 501(c)3; donations are tax deductible.