Building a Community
In January, I had the opportunity to travel to Israel and visit the holy sites on a Christian pilgrimage. On the first day of our trip, we visited Cana of Galilee, the site of Jesus' first miracle in which he turned water into wine for a wedding celebration at the behest of his mother. 
While we were in the basement of a church built over the spot where this miracle took place, I noticed a minister performing a ceremony for several couples who had come to Cana of Galilee to renew their wedding vows. What better place to renew your vows than the wedding site where Jesus performed his first miracle! In that moment, I was reminded of a lesson we receive from Ecclesiastes 4:9-12. Whether a couple is renewing their marriage vows, or an engaged couple is standing at the altar reciting wedding vows for the very first time, we all need to remember that marriage involves three important individuals: you, your spouse, and God.
Ecclesiastes talks about the value of a friend. Chapter 4, verse 9 reads, "Two are better than one, because they have a good reward for their toil" (NRSV). This same sentiment can be heard in the words of Lyn Collins' 1972 funk hit "Think (About It):" "It takes two to make a thing go right. It takes two to make it out of sight!" 
The Scripture goes on to say that friends help each other up, keep each other warm, and watch each other's backs in a fight. Then verse 12 ends with the words, "A threefold cord is not quickly broken." Up to this point, we've only read about two friends. So, why does a THREEfold cord suddenly appear? This is where God is reminding us that His presence is a necessary part of any relationship, including the marriage relationship. 
As we consider God's presence in the midst of our relationships, we must first acknowledge that we are made in God's image. We see this in Genesis 1:27 where it says, "So God created humankind in his image, in the image of God he created them; male and female he created them" (NRSV).
Those who practice the Christian faith believe in the Triune God. In the midst of the Trinity's mystery exists a community: God as Father, Son, and Holy Spirit. Just like our Creator, we are meant for community, and at the center of our community is God. It is God who blesses and sustains our communities. In our hearts, we know there is no life apart from the Divine Presence. Jesus demonstrates this with his own life by surrounding himself with friends and family as he begins his three year ministry in Israel. 
He healed individuals, families, and entire groups of people. Before He was arrested and ultimately sentenced to death on a cross, He taught his disciples a new commandment: "Love one another. Just as I have loved you, you also should love one another" (John 13:34).
When a couple marries, they start a new family. If they decide to have children or to adopt, then their community grows larger. God desires to live at the center of this community, to bless these relationships, to serve as a necessary strand in the threefold cord. 
Whether you're planning a wedding and preparing for a lifelong marriage this year, or you're celebrating another anniversary with your spouse, I encourage you to always put God first. Abide in God and remember that you are made in God's image. God the Father exists as community, so be mindful of the community surrounding you and your significant other. God the Son cared deeply about relationships, so remember to invest time and energy into the relationship and friendship you share with your spouse. God the Holy Spirit holds everything together, strengthening your marriage so that it will not be broken. Love each other the way Christ loves you. Treat your spouse the way Christ would treat them. And together, ask yourselves how the two of you may make a difference in your world, in your community. 
God is part of yours and your spouse's threefold cord, ready to bless you both as you tie the knot. Thanks be to God!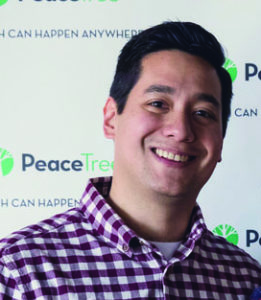 By: Rev. Kristofer Roof
Lead Pastor, Peace Tree United Methodist Church