An American Flag is Raised Atop The Collierville Water Tower
Koray Aya is a 32-year-old corporate fleet manager at Landers Ford in Collierville, TN. It goes without saying that his life has been greatly affected by the Coronavirus and the havoc that it has introduced to all of our lives in its wake. Yet, one day, he and Don Kitchens, co-owner and General Manager at Landers Ford, found themselves discussing another national tragedy that left a lasting impact.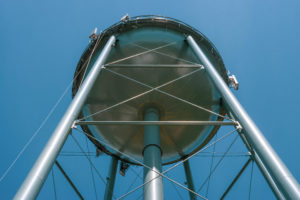 Mr. Kitchens showed Koray an old photograph and plaque in his office. It's of a giant American flag strapped around the Collierville water tower. The flag is blowing in the wind, and over it is a transparent image of the Statue of Liberty, standing tall and mighty as it always has. The photograph of the water tower was taken in 2001, and the flag was hung to honor our country and those whose lives were then taken by the tragic events of September 11th, 2001.
Koray suggested that Landers take the flag to City Hall to be raised and hung atop Collierville's water tower, as it had once before – so, they did. Koray soon spoke to the Mayor's office, who loved the idea, and the Town quickly contacted Mr. Richard Mills of Public Works to oversee the project. Bad weather inevitably delayed progress, but the flag was eventually raised on May 1, 2020 to a beautiful blue sky.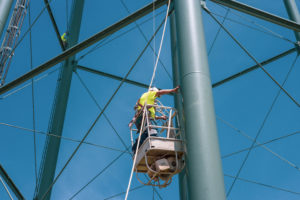 "Don and I were sitting down talking about how we could offer some more philanthropy work for the community," said Koray. "… and he took the opportunity to show me a poster we had hanging on the wall of the picture of 2001, when we hung the original flag. So, we were just talking, and I'm like, 'Well, why don't we do that again and rally the community again?' Don thought it was a great idea, and we called the City, and Mr. Mills was instantly on board, and the mayor was instantly on board, and a couple days later, here we are."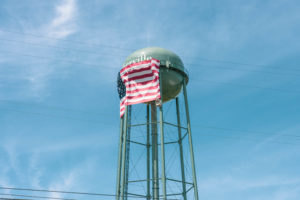 "When Lander's Ford approached us with the idea to hang the American flag on the water tower, we were inspired by the encouragement and pride that the gesture symbolized. The last time the flag was hung there, was after September 11, 2001, when our country was hurting from a tragic time in our history. Today we are hurting in a different way, but the flag still gives us hope that as Americans, we can overcome these hard times together."
– Mayor Stan Joyner, Town of Collierville
Koray said that he hopes the community looks to the American flag for hope and inspiration, as people continue to stay home and businesses open under phase 1 restrictions. "I hope it rallies the community," added Koray. "… and shows that we're all in this together, and shows just how awesome we are as a country, and pulls everybody together. That's really my ultimate goal, is to give people a little confidence to keep quarantining yourselves, and keep staying home, and keep doing the right things 'cause it is really helping, even though it seems convoluted that you're just supposed to stay home and do nothing as your solution."
"The picture is of the water tower with the flag that we donated for 9/11," commented Kitchens. "… and honestly, one of our other associates [Koray Aya] walked into my office, and we started talking about things that we could do to help the community, and that individual asked me about what we did around 9/11, and I immediately thought of the photography that was laying there behind my desk and showed him, and he said, "Well, can we do that again?" Anyway, he undertook to contact the mayor's office, and they said that they would love to have that happen, so we did. We took them another flag."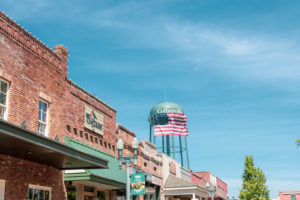 "When bad things like that happen, there's just such a feeling of patriotism and a feeling of powerlessness, that you just try to think of something you can do, so we thought that would be a gesture that might help unite people. We were more than happy to do it and thrilled that they put it on the water tower."
– Don Kitchens, Landers Ford
Richard Mills wasn't employed by the Town of Collierville nineteen years ago, nor could Mr. Kitchens remember which party introduced the idea long ago – but the sentiment remains the same, today: Collierville is one.
Story by | Nick Cotros