A New Life for Olive
Over the past year, people became creative with their transition to working from home. "Van life," as many social media influencers called it, skyrocketed all over the United States. Living in a van or renovated bus became a safer way to travel and work. However, this is far from a new concept as campers, RVs and the classic Airstream© have been around for decades. The Airstream© dates back to the 1920s and became very popular in the '40s and '50s. Today, roughly 80% of original Airstreams© are still on the road. With their compact frame, users are able to carry all of the necessities without the hassle of a giant vehicle and since the Airstream© attaches to your car, you're still able to get around town easily. It is the perfect solution to camping in style, and for avid campers Jana and Rick Redmond, it was a dream come true. 
The Redmonds grew up camping with their families. Jana and her cousins would go to the park by Lake Martin, Alabama during the summer, while Rick and his grandparents would go camping around Ohio in their own Airstream©. When the couple decided to get an Airstream© for themselves, it seemed like a no-brainer. "They're such an iconic, Americana piece of history," said Jana.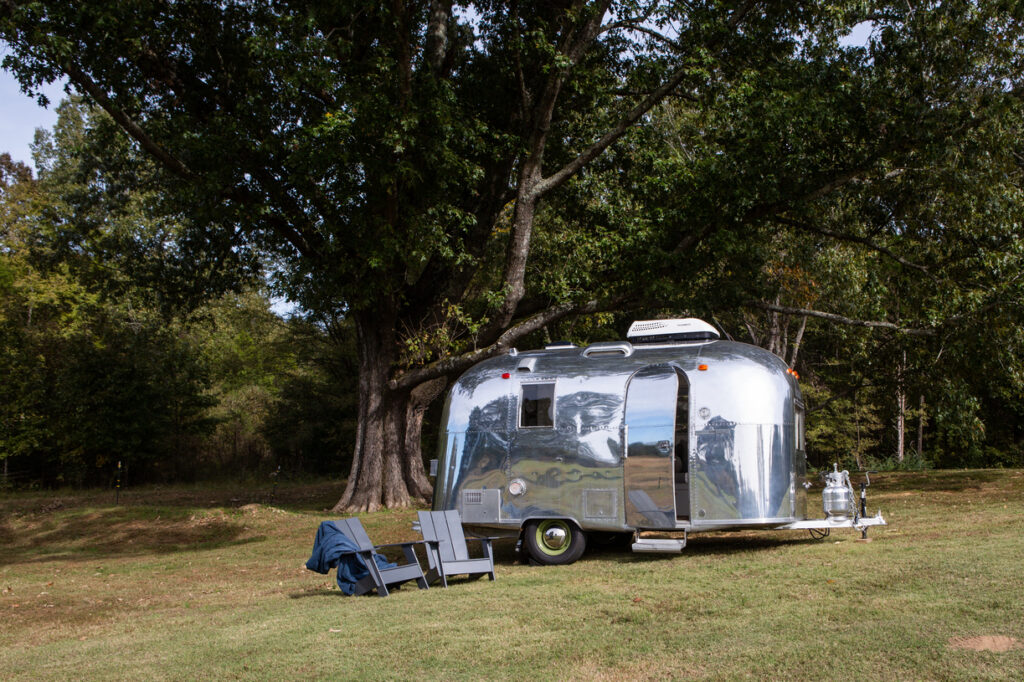 However, they wanted to make sure they found the perfect Airstream© for them. "When we decided that we wanted to look for one, we wanted an old one because we wanted to put our own spin on things," she said. Since Airstreams© have been around for almost 100 years, there are a lot of variations in sizes and styles. "We bought four Airstreams© out of people's pastures," she explained. "All different sizes, and [since] the smaller ones are the most valuable, and they're just so precious looking, we decided we were going to renovate the small one." 
Since their Airstream© is over 60 years old, there was a lot of mechanical work to take care of first, such as plumbing, replacing subfloors, getting new tanks, axles and so on. "When it was time to do the [interior] renovating, I knew exactly who to call," Jana said. Becca Gaines, of B.Gaines Interior Design, had previously worked with Jana on other home projects. "Becca just makes the best of the situation when I bring her projects," she said. 
Since the owners already had a vision for the Airstream©, now named Olive, Becca was able to bring these ideas into reality. "My vision was bright white, especially in a small space like Olive," said Jana. With only 14 square feet of space to work in, Jana wanted the Airstream© to feel bigger while still maintaining its coziness. "One thing about working with Becca is that she just gets me. I love organic and I love fabrics," she said. Some bigger pieces, such as the wooden table, helped add the organic feeling Jana wanted while also being functional. "We went to one of [Becca's] vendors and found this piece of maple, so we have a live edge maple slab as our dinette table," she explained. 
This is not the only clever design piece used in little Olive. Since Olive is so small and has to host two people comfortably, with the possibility of housing grandkids without too much strain, a foldable couch was a must. "We have what they call a Gaucho Couch, which is a couch but at night you can pull it out and two people can sleep there," explained Jana. 
"One thing about working with Becca is that she just gets me. I love organic and I love fabrics."  -Jana Redmond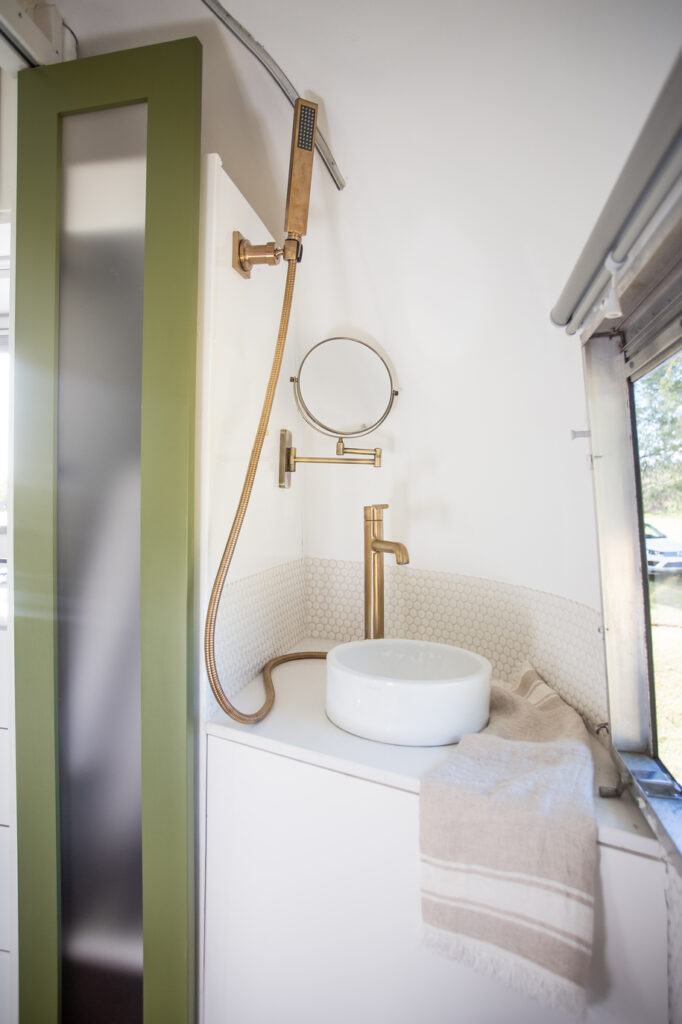 Sleeping wasn't the only concern. Storage space is crucial for long trips and, since space is limited, it's important to use all of it. Charles Kinard, from 323 Woodwork, came up with a door system to allow for privacy in the bathroom without the bulkiness of a full door. "There is a closet in the bathroom, so when you close this door system, essentially two doors come together," explained Becca. "We have some hidden ingenious touches in this camper that were brought to us when we started working with this tradesman." 
"Picking out the details was just kind of the cherry on top," said Jana. Small details were painted in an olive green color, in homage to the name, and other final touches, such as various pillows and personal items, have made Olive the perfect camper for the Redmond's upcoming adventures.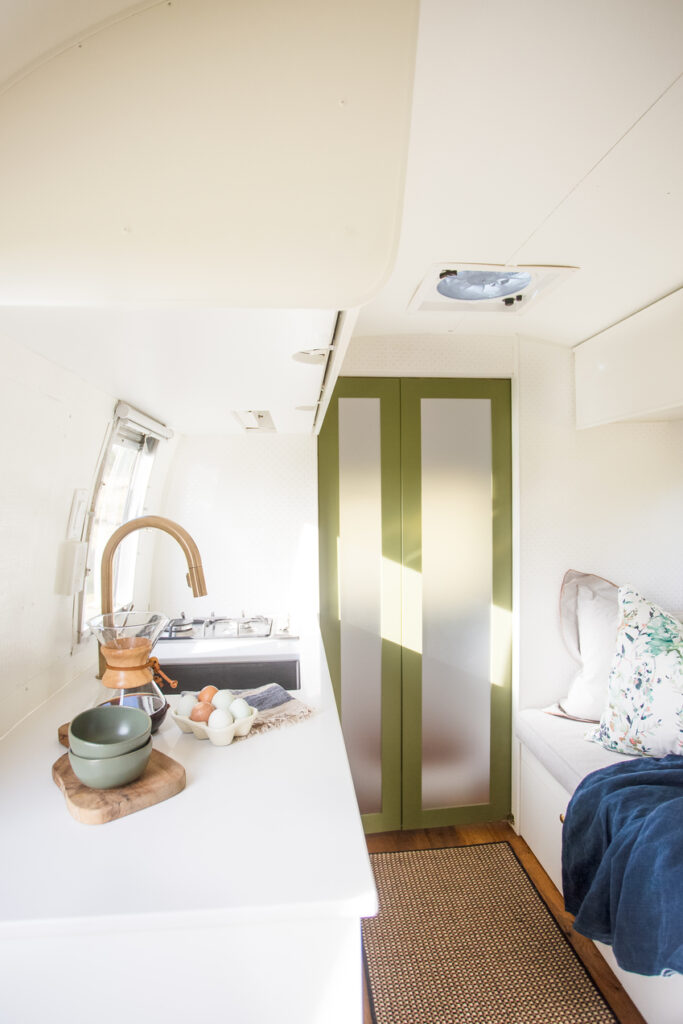 Jana and Rick enjoy camping, going to state parks across Tennessee, Alabama and Florida and tagging along on family vacations with their new Airstream©. "We love to go to the beach," said Jana. "If any of our kids are going, we will take the Airstream© down there and get a place in the park." Being able to have bonfires at night and cook outside, while the comforts of home are only a few steps away, adds to the quality time of their vacations. "You can really connect on a new level that's hard to do at home," said Jana. "It's really sweet." 
Little Olive has brought Jana and Rick together in a whole new way. "We usually go to the West Coast for vacations and we love to travel up Highway 1," said Jana. "When we retire, I want to go up the East Coast and go up all of the coastal towns." Little Olive has got a lot of miles ahead of her, and even more smiles and stories to share. 
story | AK Lewellen
photos | Selavie Photography Commercial