2019 Page Robbins Golf Classic—Thursday, October 3rd, 2019
A day filled with golf, fellowship, and fundraising— that is what players receive from a day at the Page Robbins Golf Classic presented by Patriot Bank and Patriot Bank Mortgage. For more than a decade, the Page Robbins Golf Classic is held the first Thursday in October at Windyke Country Club.
The 2019 Page Robbins Golf Classic will host 39 teams, comprised of about 155 players, at Windyke Country Club on Thursday, October 3rd. Players at the golf tournament receive breakfast provided by Chick fil A Germantown, delicious lunch provided by Outback Steakhouse, beverages provided by Half Shell, snacks provided by Collierville Funeral Home, greens fee, cart provided by Red Door Wealth Management, driving range, 2 mulligans, 1 putting contest entry sponsored by eXp Realty, a goody bag, and a chance to win a fabulous door prize.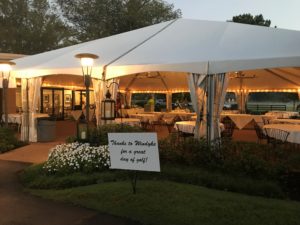 And if that isn't enough, first place winners in each flight receive Jim's Place Grille gift certificates and second place winners receive Windyke Pro Shop gift certificates. Also, all players get the chance to participate in a Hole in One contest sponsored by Roadshow BMW.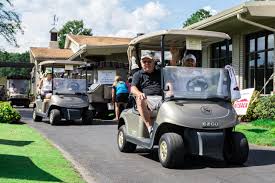 Page Robbins Adult Day Center, founded in Collierville in 1995, provides unique and uplifting daytime care for adults with memory loss, in a safe environment, while empowering and educating their caregivers and the community. Page Robbins embraces joy in the moment, focusing not on what has been lost, but on what is now.
Page Robbins is a non-profit organization and does not receive any government funding. Client families pay half of what is needed to operate the Center, and funds generated through donations must raise $710,000 each year to make up that difference. This golf tournament is one of two major fundraisers for the Center each year. Funds raised at each of these events allow Page Robbins' affordable and exceptional care to continue.
To learn more about Page Robbins services, visit their website at http://pagerobbins.org, or visit their Facebook page for more information.