Serenity Between the Sounds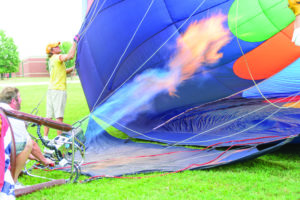 A propane burner ignites flames shooting upward, filling a massive brightly-colored balloon. The heat gently lifts the basket skyward, and all the background noise of our busy Town below fades away into silence. The delicate bursts of hot air lift you high enough to see Collierville and all its beauty in a new light, as the waning sun paints the sky in purple and pinkish hues. 
The 'Captain,' Skip Durham, communicates via radio down to his 'Crew Chief' and wife, Toni Durham. Toni hears on her walkie talkie "Balloon to Chase" before receiving further instruction from Skip as they reach an altitude of 1000 feet. Floating along between two and three miles per hour, you can take in all the flora and fauna below, sometimes drifting directly past the Water Tower and over the Town Square – quite literally wherever the wind takes you!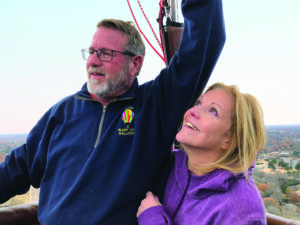 As a commercially licensed pilot, Skip took Toni on their first balloon flight in 2009 while on a date, and the two have been flying together ever since. It did take a little convincing on Toni's part, 6 months to be exact, before Skip finally agreed to their biggest adventure yet, starting Bluff City Balloons, LLC in 2012. The Durham's traded in Skip's first hot air balloon for a new model in 2015, cleverly naming it High Jinx. For seven years this duo has been in the business of giving passengers the ride of their lives, right here in Collierville. 
"There is an overwhelming sense of serenity when you're up there," remarks Toni. "Everything is so serene when you're gliding through the air. Everything gets so quiet, you can even hear the wind." Toni pauses briefly looking for the right words, finally saying "when I fly, I feel very near to God. I get to see the world from a different perspective. There is a little faith involved, that He is going to get me up and back down again, but to experience that peace, there really is just so much serenity between the sounds." 
"I get to see the world from a different perspective. There is a little faith involved, that He is going to get me up and back down again, but to experience that peace, there really is just so much serenity between the sounds."    – Skip Durham
As High Jinx takes to the sky on an unforgettable ride across Town with Skip and the passengers, Toni is the boots on the ground. The crew simultaneously navigates the roads while Toni watches the hot air balloon app for updates, and Skip charts his course. Landing a hot air balloon takes some finesse. A multitude of factors go into a graceful landing, and depending on the wind, you may end your ride in a pasture or even in a neighborhood! Toni communicates with neighbors and property owners prior to the landing, who almost always answer with an emphatic "YES!" before the balloon's arrival. Bluff City Balloons also honors the longstanding tradition of a champagne toast and Balloonist Prayer once safely on the ground!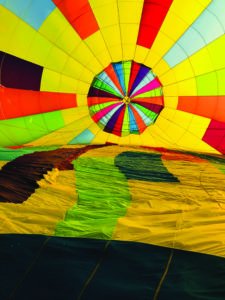 Between carrying passengers, the Durham's occasionally have the opportunity to fly together and appreciate the, pun-intended, gravity of the experience. "When it's just the two of us, we usually are quiet. It's nice to be present and in the moment, with no distractions. In that hour there aren't any problems; nothing else is going on in the world. We're just flying with the wind, appreciating the beauty of the world around us. Owning our balloon is something we don't take for granted. It is a blessing that we are so excited to share with people, whether it's their first or fortieth flight!" 
Don't let fear or disability stop you from taking this ride of a lifetime. "When people tell me they are afraid of heights," says Toni, "I tell them that you're moving at a constant horizontal rate, and your eyes are locked in on the horizon. High Jinx is uniquely designed to include a door for easy access, and a FAA approved chair is available and can be raised for a perfect view for passengers with special needs. Our business is to make this once in a lifetime experience the best it can be, so everything has to be impeccable. And if everything can't be impeccable for you, we'll reschedule it for another day. It means that much to us! Considering this is outdoor sports, our crew goes above and beyond with not only our equipment, but with the passengers who go on this adventure with us."
Some exciting news is in the works for Bluff City Balloons, LLC. The Durham's are working hard to take Collierville to the sky! "We're working on getting a Balloon Festival together for Father's Day 2020! We're looking at having 30 balloons, and the event simply has to be in Collierville. We have a vision for this to be an annual event and forty years from now, it becoming a family tradition for people to attend! And what better timing than next year being Collierville's Sesquicentennial year. We decided on the name 'The Great Bluff City Hot Air Balloon Jamboree' to encompass the carnival, live music atmosphere we're going to provide. We haven't nailed down all the specific details, but we can't wait to bring this kind of excitement to Collierville." Visit bluffcityballoons.com to schedule a true Collierville adventure!
by | Anna Bell