Time of Prayer and Meditation Proclamation
Mayor Stan Joyner has declared a dedicated time of prayer and meditation happening this Thursday, September 30th at 1:30pm.  The proclamation from Mayor Joyner reads as follows:
Whereas, collectively the entire Town of Collierville and surrounding communities are deeply saddened by the senseless tragedy that occurred on September 23, 2021; and
Whereas, we hold in our hearts those who are forever changed by this trauma and grieve with the family and friends of Olivia King whose life was taken by this act of violence; and
Whereas, we recognize our first responders who showed tremendous heroism by risking their lives for the sake of others; and
Whereas, we acknowledge and appreciate the solidarity and outpouring of support shown by the Collierville community in reaction to this tragedy.
Now therefore, I, Stan Joyner, Mayor of the Town of Collierville, Tennessee, do hereby proclaim and request regardless of religious affiliation to observe Thursday, September 30th, 2021 at 1:30 PM as a dedicated time of prayer or meditation in the Town of Collierville as a unified show of respect for Olivia King and everyone affected by the September 23rd tragedy.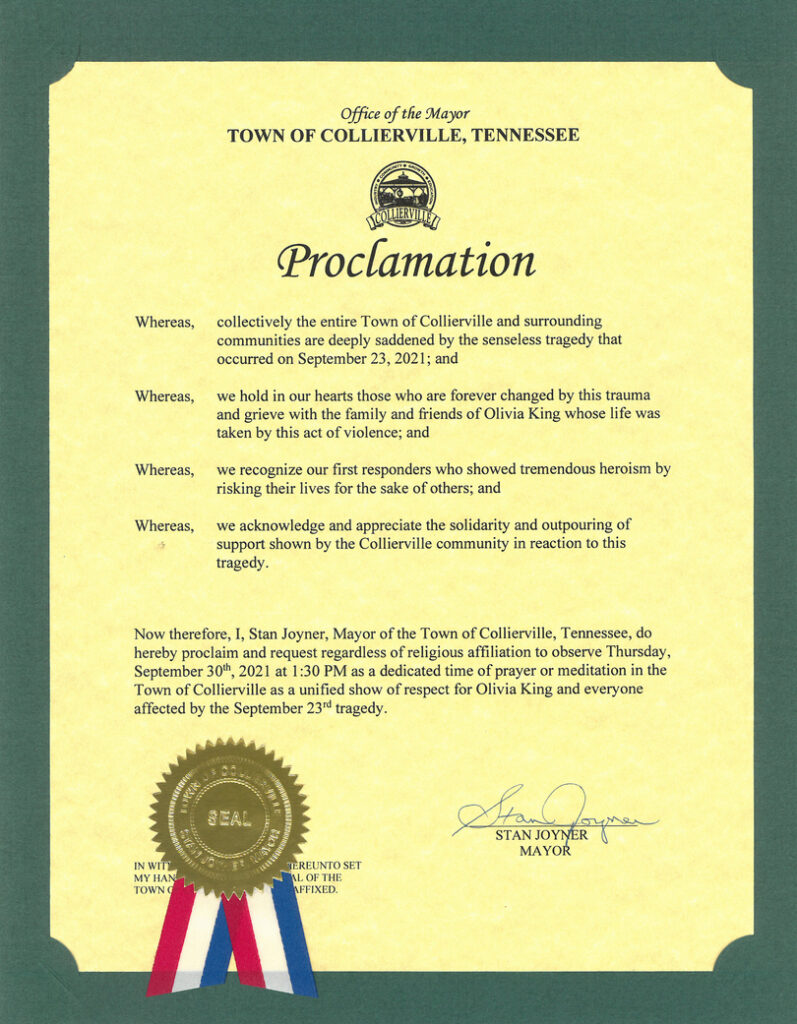 Source: The Town of Collierville