The Club: Shears & Beers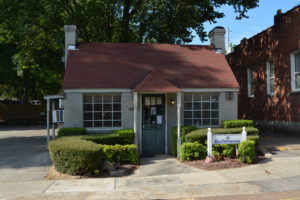 You want a cold one with that haircut? 
With a multitude of successful women's hair salons in Collierville, we finally have another barbershop to meet men's specific hair care needs right here on the Town Square. Norman and Tresa LaCaden were enjoying the Collierville Fair on the Square (like the rest of us!) earlier this year, when they noticed a 'For Sale' sign in the window of the Bank of Tennessee little house. The couple had been looking for the perfect location to open a unique man-salon since Norman graduated from cosmetology school in 2017. 
Electrician by day, retired Shelby County policeman by trade, and famed Karate World Champion – Norman is excited for this next chapter of "chopping mullets" like Bruce Lee, alongside his wife, with over 30 years experience between them. "My wife had the idea that maybe I should take a class so we could work together one day. So I did, and the first day was overwhelming because it was a room full of girls screaming like it was high school all over again," says Norman. "But I made it through and I'm excited to open a fun place where people can come together for a good time and good service."
"The Club: Shears & Beers" will feature a masculine color palette accented by vintage tool boxes at each station, brightly lit by large mirrors and fun background music. The LaCaden's plan on serving local craft beer to customers of age at the bar that will stand in the middle of the stations. They also plan to have creative touches around the "L" shaped bar with interesting barstools and color throughout, going against the black leather, old-timey barber shop theme. "I'm looking forward to meeting new people and putting my artistic side to good use," says Norman with a smile. Tresa chimes in, "The Square is so family-friendly. We're excited to be in this space. It [the new space] looks like a little gingerbread house! I've always liked everything little. I used to have a little house, a little toy poodle, a little car and a little Norman! It's perfect for us!"
The Club is scheduled to open on August 19th. Men young and old are encouraged to make an appointment during store hours, Monday-Friday 9AM to 7PM, Saturday 9AM to 5PM, or Sunday 12PM to 5PM.
Story by | Anna Bell