Sophie Pittman: So You Think You Can Dance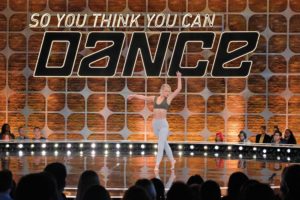 In May 2019, Sophie Pittman graduated Collierville High School with her friends and classmates. However, unlike her peers, Pittman decided not to pursue college, despite her 4.5 GPA. Instead, she auditioned for So You Think You Can Dance, the Emmy award winning competitive dance show on FOX. 
She first auditioned in Dallas, then went to Los Angeles to tape that same audition for TV in front of the four judges. She danced a contemporary routine to Little Big Town's "Girl Crush." Despite some criticism from the judges, Pittman was given a ticket to the Academy, something she's dreamed about since she was a little girl. She is now in Season 16's Top Ten dancers and will continue to compete for the title of "America's Favorite Dancer." 
Pittman started dancing at the age of three, and until recently, danced at Studio 413 in Collierville. The studio opened in 2004 and offers classes in ballet, pointe, tap, hip-hop, jazz and contemporary/lyrical. They –– and Collierville High School –– are also proudly Team Sophie, sharing updates and voting reminders on their Facebook feed. 
Pittman has said that the show has challenged her, as it was a "new experience" to perform on a 360 degree stage where you have to entertain audience members on all sides. She also said that the dancers themselves have been friendly and welcoming, despite the competitive nature of the show. 
By being one of the Top Ten dancers on the show, Pittman is automatically invited to participate in the So You Think You Can Dance Live! tour that begins in October and runs through December. The tour will cover over 40 cities –– those shows closest to Collierville will be in  Biloxi, Mississippi and Atlanta, Georgia. 
After the show is over, Pittman plans to move to Los Angeles permanently and begin working in the dance industry. For right now though, she –– and everyone in Collierville –– hopes she will make it into the Top 8. Tune in on August 19th to see the next round, and make sure to vote for Sophie Pittman by texting "SOPHIE" to 21523.
Update, Tuesday, September 3: Pittman advanced to the Top 4 on "So You Think You Can Dance."
Story by | Regan Hewitt