Searching for the One!
Greetings! My name is Grimm and I'm so excited to meet you!
 My story begins when I was a kitten and my humans took me to get neutered. During the procedure, I had a very rare reaction under anesthesia which caused me to stop breathing. The vet revived me, but soon realized that my trauma had left me blind and deaf. Given my health issues, my humans were unable to care for me. An employee from the vet kindly stepped up to foster me during my recovery. 
 After a few months, I completely regained my hearing and close-up vision, so it was time for my next step. Since I was still such a young kitten, the humans at the Collierville Animal Shelter decided it would be best for me to spend some time in a foster home. 
 So I moved in with two dogs, three cats and my wonderful foster mom. My best friend here is Idgie the dog. Even though she's blind (and my only issue is slightly blurry distance vision), we get each other and have both adapted beautifully. My foster mom actually thinks my most unique habit may have come from my earlier vision loss. When I do zoomies, instead of running around in circles, I go vertical! I approach a wall and pogo up and off and back down all while talking to my mom. She says I'm funny, full of personality and the very best company.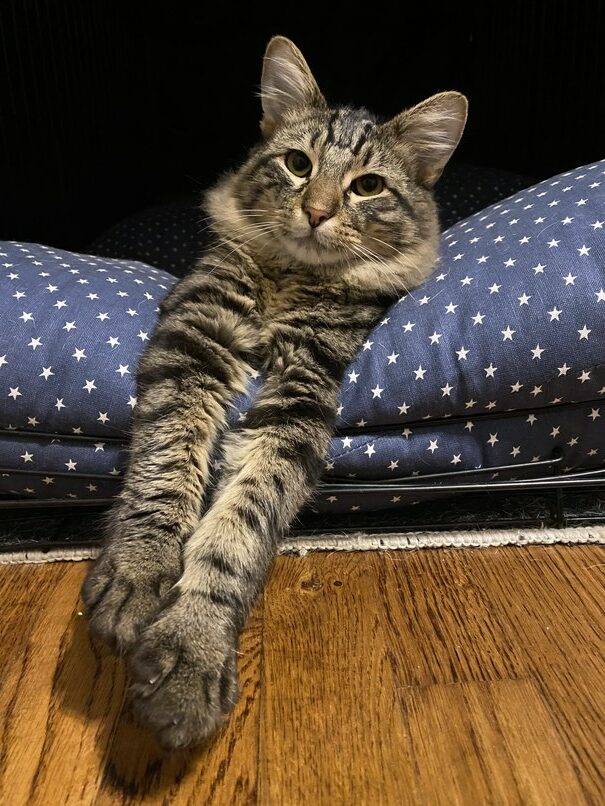 My skills and confidence have grown so much during my time here. Last night she told me that as much as she will miss me, I am finally ready for a forever home. She whispered to me that I am a GREAT cat — super sweet, cuddly and loving. I think she says that because I nap with her on the couch for hours, I love to be picked up and held, and I give her lots and lots of kisses.  
 I am a little under a year old, male, sweet and very affectionate. I have a kennel and I happily spend time there. My mom occasionally gives me baths, and when she does, she says I am the most obedient and well mannered boy. She tells me I'm gorgeous and may require a little extra commitment, but I'm 100% worth it. 
 If you're reading this, could it mean that you could be my human? If you think so, please make an appointment to come here and meet me at the Collierville Animal Shelter. I hope we discover that I am the PURRfect companion for you! 
Xoxo, Grimm
Julie Weaver. Collierville Animal Services is located at 603 E. South Street, Collierville. Call 901-457-2670 or come by to find your perfect companion!