Rehearsal Dinner Glam
Spring is the ultimate bridal season, and there are a handful of events that a bride must get ready for. One of the top nights besides the day of nuptials: the rehearsal dinner. The rehearsal is the lead up to the big day, so matching the style to your wedding is essential. Here are three ways you can set the tone and ring in the wedding bells!
Keep it Short + Sweet
An intimate, small wedding can be the best of times, and keeping it "short + sweet" allows for a breath of fresh air. Stick with the simplicity in a clean mini dress! Pair it with pearl studs and white pointed heels for a simple look or glam it up with a statement earring and clear or gold heels. Bonus: throw it in your suitcase for a sweet honeymoon look!
Color Your Way
White has been the staple uniform for brides everywhere. For the not-so-classic brides – go for a sweet color. This dress name says it all: 'Making Memories Midi Dress' with a fun printed style to dance the night away in. Encouraging color for any bride allows for a fun twist to an already exciting day. Blush, rose, Cinderella blue, lilac – all gorgeous options for the night before. Adding a simple nude lip, vintage earrings, or maybe even a glamorous brooch would be icing on the (wedding) cake. 
Steal the Night Away
Go big or go home, ladies! A full glam, floor-length gown is a way to go out with a bang. Find a dramatic element with a flowing train or a gorgeous shoulder detail that can steal the show. Create an elegant updo and find that perfect statement shoe to tie it all in. It's your day to be as fashionable as you want!
No matter how you set the stage, feeling your best the night before makes all the difference. Remember to stay true to the aesthetic of the wedding  – whether that means going for a classic white, a full length gown, a lace short romper, or a little black dress, you'll have a twinkle in everyone's eye! Celebrate it your way, your style. Congrats to all you gorgeous brides!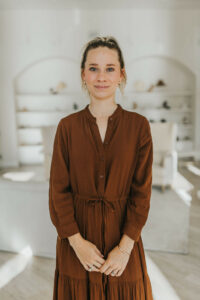 Shelby Jewel Tucker, Owner
715 S. Mendenhall Rd. Memphis, TN 38117
Clothes + photos provided by Shelby Jewel