ReAbility: Improving Quality of Life
Longtime Collierville resident Chris Myers has been working on the idea for his ReAbility platform for the last 10 years. 
"When Taylor was diagnosed in 1992, there wasn't really Internet, or any way to search for answers or information. Everything was through word-of-mouth," said Myers. He describes the first few years of his son Taylor's diagnosis as a dark place for him personally, until finally, at his wife's bidding, Myers decided to become an advocate for the special needs community, working with and sitting on the boards of several different agencies. 
Since then, Myers has worked tirelessly to ensure that his son – and others like him – can have their highest possible quality of life. "You do what you have to do as a parent, but you do also have to account for their needs in a different way than those of other children," he said.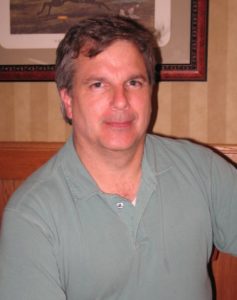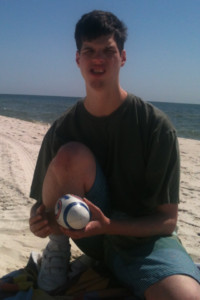 Myers has sat on the boards of several local special needs foundations and organizations, written a book about his relationship with his son Taylor and raised awareness about special needs individuals wherever he could. "I wanted to do something to help [the special needs population] every single day," said Myers. 
Yet, almost 20 years later, Myers was still seeing that special needs individuals, their families and their caretakers were struggling to find the information they needed, even with Google's help. On top of caring for a special needs individual, this lack of easily accessible information was a great cause of stress and anxiety, a feeling with which Myers greatly sympathized. 
In 2010, he came up with the idea for a special needs platform that would allow individuals to search for programs, activities and jobs – all sponsored by special needs agencies – that catered to their specific disability. This would give parents, caretakers, doctors and many others in the special needs community the ability to quickly make informed decisions without spending weeks or months bogged down in research. 
After several years of research, test groups and website development, Myers excitedly announced the launch of ReAbility in early July 2020. The name itself was the brainchild of Joe Sehwani, the Executive Director of the Dreamscape Foundation, the organization who helped finance ReAbility and make Myers' ideas come to life. It evolved from the desire to cast "disability" in a new, positive light. 

This platform allows you to create a personalized and customizable profile specific to your zip code, specific special needs and interests with keywords. For example, a special needs individual who loves sports could receive relevant information about special needs sports-related programming in their area.
Using your profile, you can find other special needs programming, activities and jobs in the Mid-South, targeting Memphis specifically, which has approximately 130,000 special needs individuals. These search results are provided by four of the largest autism-specific agencies in the area: Shelby Residential Vocational Services (SRVS), Arc of the Midsouth, Harwood Center and Madonna Learning Center.
You can upload password protected medical documents for a small fee as well, so that special needs families and caretakers can keep information all in one place. "I started thinking about how the [special needs] population has a lot of medical records. I mean, I know we have binders in my house with Taylor's records. Why couldn't we just scan them in? So, now you can. I wanted families to be able to go to one place to get all their information," said Myers. 
The platform also allows participants and their loved ones to leave testimonials about certain programs or activities, to get a better sense of the agency offering it as well as what type of special needs might benefit from the activity. 
However, this is just Phase 1 for ReAbility; there is even more in place for the future of the platform. "We need an app, I know we do and we'll work on that. It's just starting somewhere and then growing, bit by bit. I want to be able to expand this beyond Memphis, beyond the Mid-South, to go more regional, and perhaps even national, by the end of next year," said Myers. The platform is also looking to include additional special needs agencies in subsequent phases.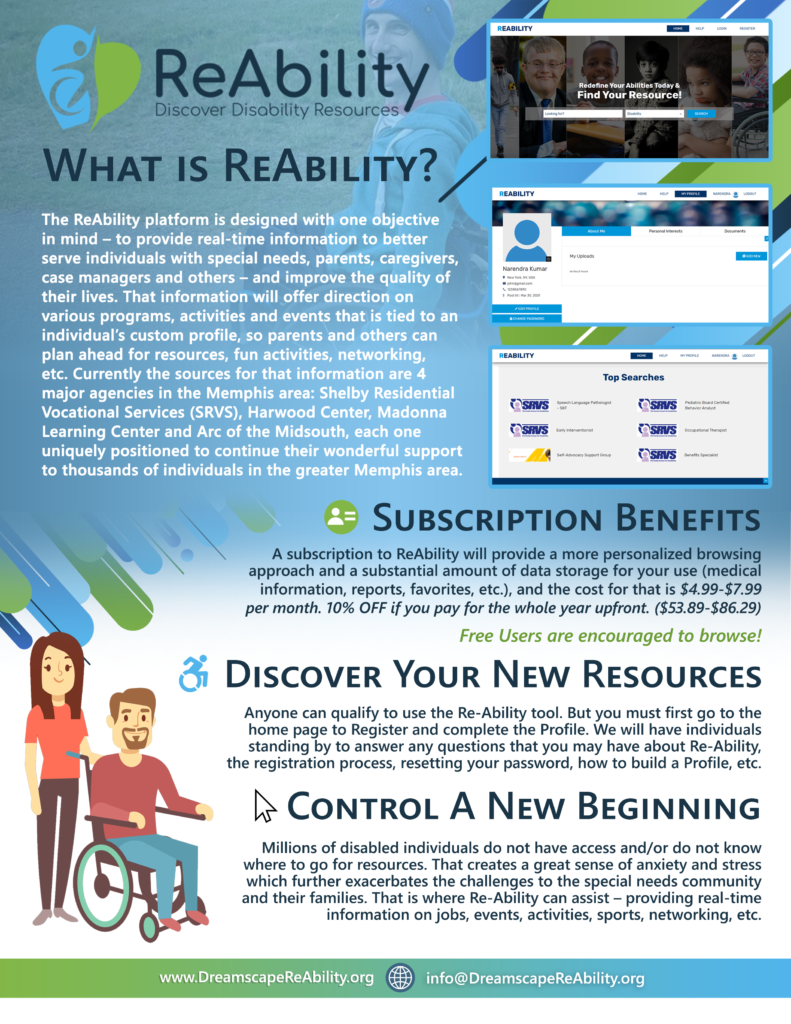 Myers hopes that the platform will bring about some sense of community and socialization among special needs individuals as well as for their families and caretakers. "The ultimate goal of the platform is to improve the quality of life," said Myers. "But another part of the goal [for the platform] is to be able to have a socialization part, to be able to know who else is on the platform, who else is in Collierville. Then, they can go and connect with other people, start having a relationship with them, and build up their self-esteem and rapport." 
"My heart goes out to these individuals and their families every day," said Myers. "All I can do is tell what I know, get the information out to those who need it, and advocate when and where I can." ReAbility will be one of his biggest moves yet. 
The first 30 days on ReAbility are free, with moderate per-month-cost or per-year-cost plans available based on what an individual needs from the platform.To find out more about ReAbility or to start your special needs search, visit http://www.dreamscapereability.org/, or you can contact Chris Myers at 901-468-8875 or at clmyers1960@gmail.com.
Story by | Anna Bell & Regan Hewitt