"One thing is for certain; it's an interesting time in Memphis… Perhaps Memphis is rising up again and using its influence to inject an old soul into a new sound… Perhaps Memphis will rock the foundation of genre once again. It's not a long stretch to think they may even come from Collierville." – Memphis Up In Here
It wasn't long ago that I wrote an article about Memphis music and the ambiguous Memphis sound. That story delved into the history, culture, and socioeconomic conditions that paved the way for the unique soul and sound that we now refer to as distinctly 'Memphis'. I was fortunate enough to be able to interview local musicians, who insisted that the city to this very day emulates the grittiness associated with the sound.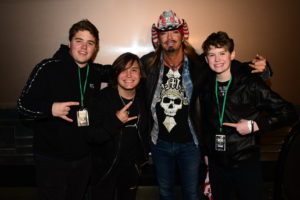 Today, we look at an up-and-coming local band that everyone in town can get behind. Zeke Yarbro, Ryan Halcomb, and Matt Ireland are Under The Radar. They've opened for bands such as .38 Special, Saliva, Kansas, Better than Ezra, and most recently, Bret Michaels of Poison. They've played on the big stage of BankPlus Amphitheater at Snowden Grove three times. While these are sizable accolades for any band, Under The Radar is just getting started. Yarbro contributes vocals that somehow rise above the raw power of his lead guitar, Ireland's heavy bass threatens whiplash, and Halcomb keeps the 'BOOM' on track behind a set of drums. The best part is that they come from Memphis suburbia. Well, actually, the best part may be that the oldest bandmate is a sophomore in high school.
While Memphis is still very much a breeding ground for new sound, that doesn't necessarily make it any easier to get noticed. There are so many talented, new bands emerging – not to mention the plethora of already successful bands that Memphis has produced. Yet, even still, Memphis is taking notice of UTR, leading me to take a closer look at who they are and how they came together. I was able to get in touch with the band and they were gracious enough to let me come by for an interview before one of their practice sessions. My ears are still ringing.
As I walked in with my leather notebook and sat down at Matt Ireland's dining room table, I realized how comfortable the band was with being interviewed. I've done quite a few interviews and it's not like I was nervous, but their comfortability had me questioning my professionalism. Here I am sitting at a dinner table with guys almost half my age, thinking, am I as prepared for this interview as they are? It was like this was their second interview of the day. I soon realized that they are just extremely confident about what they do.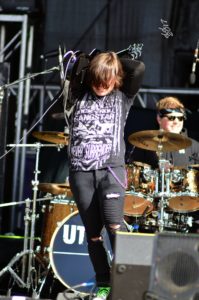 Yarbro, 14, hails from Atoka, TN and attends Munford Middle School. Given his first guitar by his grandfather, on the condition that he would learn to play, Yarbro has dreamed of hearing himself on the radio for as long as he can remember. After watching Jack Black's School of Rock, he urged his parents to get him a School of Rock Germantown membership, where he befriended Ryan Halcomb over two years ago. Halcomb, the oldest bandmate and a sophomore at Collierville High School, recalls Yarbro's dad calling the house to ask if he wanted to be in a band. Now, equipped with a lead guitarist and drummer, all they needed was a bassist.
Matt Ireland, who comes from a family of musical background, lives in Germantown and is now a freshman at CBHS. When asked about his musical start, Ireland says, "I actually hated music until the Van Halen edition of Guitar Hero. My older brother always chose the lead guitar before I could, but it worked out because I began to love playing bass." Yarbro heard about Ireland and they decided to play a couple songs together at a baseball field in Millington. They played "Enter Sandman" and "Purple Haze", which was all Yarbro needed to see. He wanted Ireland in the band.
"People started pouring into the parking lot (Café Ole). It was crazy; and that experience was a big motivator as far as getting things going." – Ryan Halcomb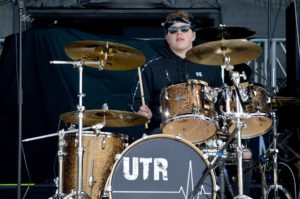 The three of them came together for a practice and had their first show ever as a complete band soon after, in the parking lot of Cafe Olé in Midtown for the 2014 Cooper Young Festival. They've been Under the Radar ever since, but now they're making waves. They posted a cover of "YYZ" by Rush in April of 2015 that has over 66,000 views on YouTube. They did a live cover of Black Sabbath's "War Pigs", also posted in April 2015, that has over 50,000 views. Another video they posted on Facebook, a cover of RHCP's "Give It Away Now", went viral with over 205,000 views and caught the attention of America's Got Talent. Check them out and keep in mind, these guys were 11 and 12 during all those performances. They may be young, but UTR is already the real deal. I knew it when I saw a 11-year-old Yarbro pointing out to the crowd between the beginning heavy riffs of "War Pigs".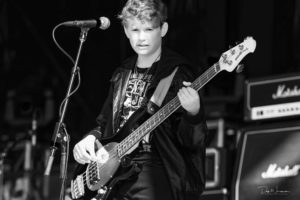 We wrapped up the interview at the dining room table and I looked up from my small leather notebook to ask the most important question of the day. "Any chance you'd play a song or two for me?" From the smiles and nods around the table, I think they were hoping I'd ask. See, right now this band really is under the radar. People are noticing them, no doubt, but you don't know it until you see it. Or feel it, is probably the better way of putting it. They rock hard and loud, packing a punch of power that'll have you looking around for something to hold onto. Luckily, they had a couch for me to sit on while they played "BOOM", the first single off their brand new, eight song album titled So Alive.
They finished playing and I could feel the big grin on my face. Now I understood why they were excited about playing something for me. Before I left, I looked around at the band and asked one last question: "How would you guys describe your sound?" They all pitched in collectively.
"Well if Metal and Hard Rock had a baby and it grew up into Blues, then had a baby with Punk, then a baby with… yeah, just lots of babies, really."                  – Under The Radar
UTR has already made themselves comfortable on the big stage and there are many more stages to come. The band is managed by Todd Poole, another Memphis rocker and founding member of bands Saliva and Roxy Blue. Under The Radar's new album, "So Alive" is out now on Spotify and iTunes. It's worth a listen – I woke up to "BOOM" this morning. I didn't even need coffee.
Stop by Newby's on Highland this Saturday night from 7:00 to 10:00 to catch Under The Radar playing their new album, So Alive.
By: Austin Essary