How Do We Love Our Neighbors?
If you love your neighbor, you will

fulfill the requirements of God's law.

(Romans 13:8)
 What would it look like if those who follow Jesus in our community became committed to loving our neighbors? Jesus was clear in John 13 that the way we love one another would be the primary evidence to the people around us of a life lived for him. So, this seems like an important goal we should all strive toward. 
 Loving our neighbors well will mean we travel down some unfavorable paths. The church I have the honor of pastoring began to ask a couple of years ago, "how do we love our neighbors well?" Attempting to answer this question has led us down some paths that weren't always favorable to some.
 Loving our neighbors would mean we would have to set our differences aside. And to be sure, the differences in our community are numerous. But none of them should be so insurmountable that we cannot love one another. If loving our neighbors well is one of the clear indicators of a life lived for Jesus, it stands over, and above any commitment we have to a tribe, political party, or social agenda. 
"…just as I have loved you, you also are to love one another. By this all people will know that you are my disciples, if you have love for one another." (John 13: 34-35).
 Loving our neighbors well would mean we love people that we may not typically love. The question we still face is the same question the inquisitive expert in the law asked Jesus in Luke 10. "Then who is my neighbor?" It's easy to love people who look like me, vote like me, and live like me. It's easy to love people just like me! Jesus proceeds to shatter the culturally accepted position most would have given to this expert's question. Jesus answers his question by elevating one of the most despised people groups not only as the main character in the parable but as the hero!  
 So, is our loving one another taking us down unfavorable paths? Is it causing us to set differences aside, even if some are major? And is loving our neighbors challenging us to love people we usually wouldn't find ourselves loving? These questions could push us out of our comfort zones, as following Jesus often does. Accepting the challenge will positively impact each of us, as following Jesus always does. Simply put, loving our town starts with loving our neighbors.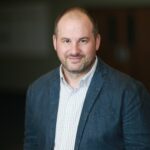 Jason Stockdale, Lead Pastor 
Grace Hill Church
www.gracehill901.com