Highway I-269 What's the Big Deal?
What connects Canada and Mexico and runs right through the southeast corner of Collierville? Which freight corridor, that touches a significant percentage of the US economy, is soon to be open through Collierville to I-55? Which significant piece of national infrastructure will influence industrial, commercial, and office development in our community?  I-69 and I-269!
I-69 is a 1600 mile federal highway project that stretches from the Michigan – Canada border to Texas' border with Mexico. Collierville is strategically located at the corridors midpoint. More specifically, the I-69 freight corridor runs from Port Huron, Michigan (Canada) through America's heartland to Brownsville, Texas (Mexico), with a significant percentage of the US economy located along this vital system. Detroit, Chicago, Indianapolis, St. Louis, Louisville, Nashville, MEMPHIS!, Little Rock, Shreveport, DFW, Houston, Austin, and San Antonio, to name a few, are all located on or near this dynamic thoroughfare. The I-69 system, known to some as the NAFTA Superhighway, is one of six strategic federal trade corridors in the U.S.
I-69 will soon be completed through Collierville as I-269, running east and west along the Tennessee / Mississippi border, connecting to I-55. Roadwork construction is expected to be finished Fall / Winter 2018. 
UPDATE: The project is ahead of schedule with most officials touting a "Fall 2018" completion to I-55 date.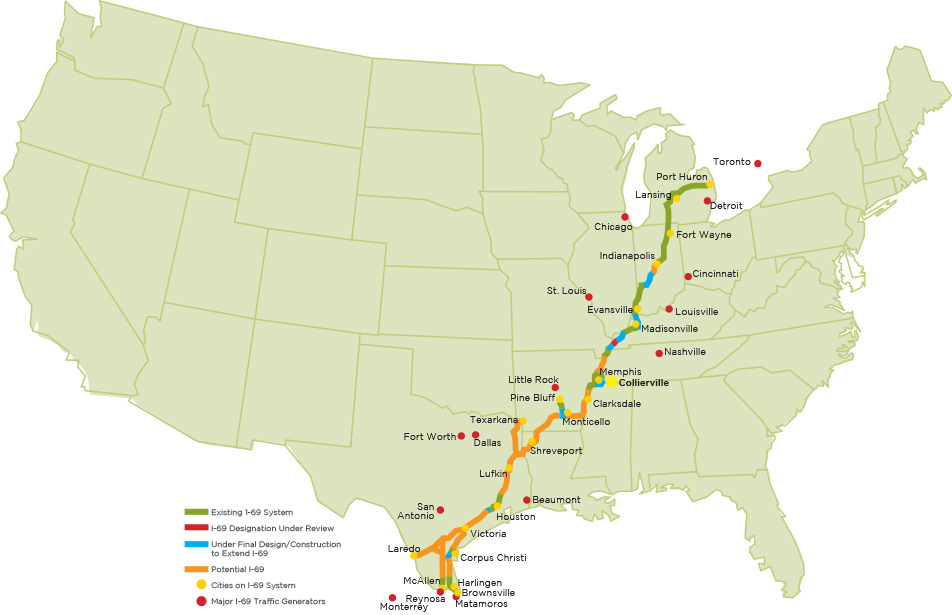 What does this mean to our community? Any organization that requires timely and cost effective access to markets, clients, assets, and prospects will look at Collierville as an ideal location for expansion and relocation. Proximity to the economic network is one of the key success drivers in today's economy. With over 1300 acres of developable land in Collierville, we are uniquely positioned for continued economic growth as I-69 / I-269 becomes fully functional. Logistics and advanced manufacturing companies will look to place facilities along the corridor, bringing short term construction jobs coupled with long term employment opportunities for our Town and region. Office development is expected to continue as companies position their Research & Development, technical, and corporate facilities in locations with access to the corridor. We also anticipate mixed use development, hotel / restaurant / retail / services, to soon blossom at the I-269 / SR-385 / US 72 crossroads.
What's the big deal?
I-69 / I-269 represents a vital component in our thriving and growing economy. The quality of assets play a key role when companies consider expansion or relocation in the highly competitive world of strategic economic development. Commerce, mobility, connectivity, and jobs are all on the horizon as the I-69 freight corridor continues work its way through our community.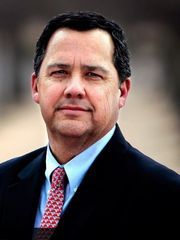 John Duncan
Director of Economic Development
www.AccessCollierville.com