Highchair Haute Cuisine
The early days of quarantine had everyone developing a hobby or two, something to keep hands and minds occupied while at home. The Dorroh family, who recently moved to Collierville, discovered one as old as time — cooking and baking — but combined it with a unique social media twist. 
Justin Dorroh had grown up around good Southern food. "I have no professional culinary training, but my mom was a caterer," he said. "I always enjoyed nice restaurants and experimenting with food." 
He wanted to introduce his one-year-old daughter, Charlotte, to new foods that would stimulate her taste buds. "It's really arts and crafts," Dorroh said. "It's part food, part play. A lot of what I make is very off the cuff, based on standing in the grocery store and seeing what's available." 
Dorroh's wife, Paige, used social media to her advantage during quarantine. She wanted something to look back on while they were spending so much time with their daughter. So, she began taking photos of Charlotte's food and posting them to an Instagram™ account called "highchair_gourmet" where "Dad & Lot" are featured. Justin referred to his wife as the "brains behind Instagram™," saying that while he cooks, his wife comes up with captions. "I just describe what I've cooked and then she turns that into a post," he explained.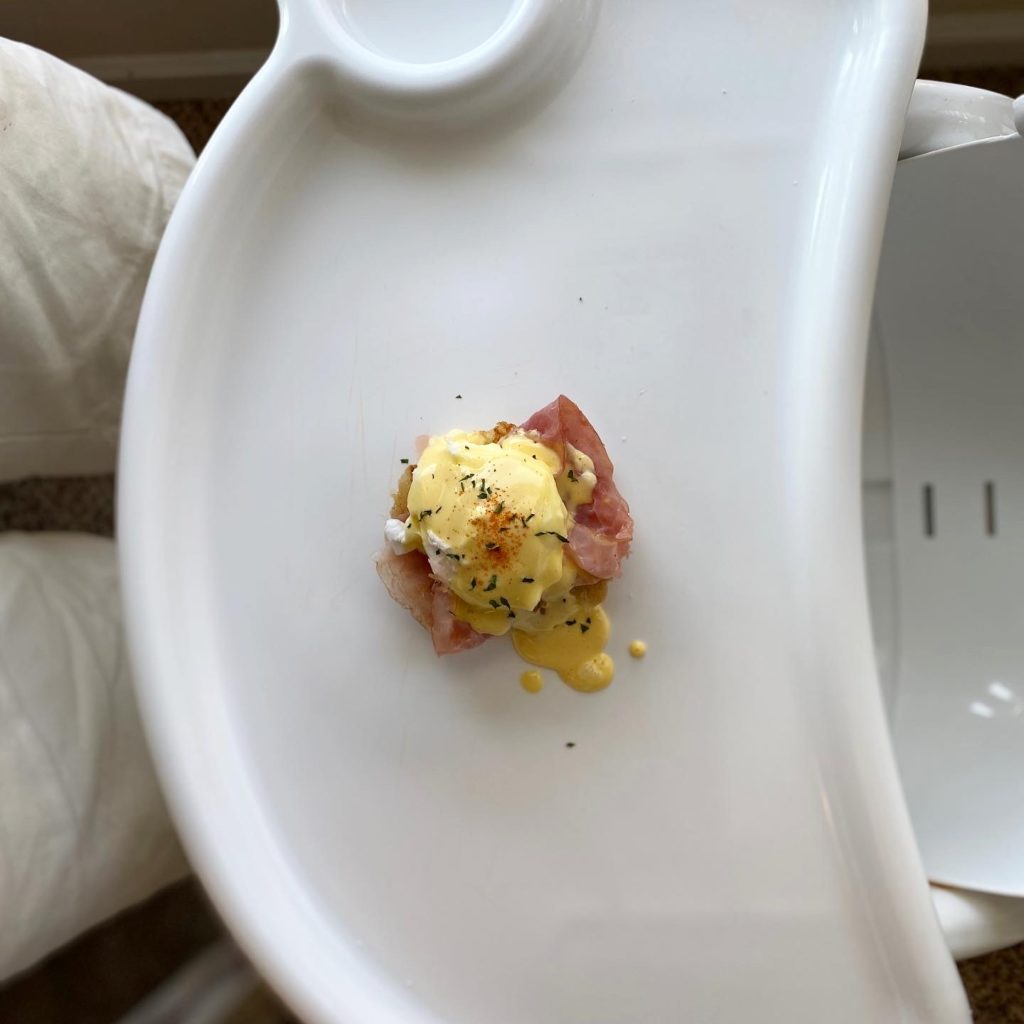 On the Instagram™ account, delicious looking meals — ranging from clementines and grilled cheese to polenta with braised beef — are beautifully plated on a highchair tray. These meals are far from typical "baby" food, even though not every meal is as fancy as it first appears. 
Dorroh explained, "I cook everyday, so it was only taking a few extra seconds to plate everything nicely. The first picture is always orderly and nice, and then the last photo is after [Charlotte's] tried it and it's completely destroyed." The best example of this enthusiastic transition would be the strawberry kiwi yogurt parfait, which ended up spread across not only the highchair tray, but also Charlotte's face. 
Luckily, Charlotte has liked most things her dad has cooked for her. "She loves eggs, so the eggs benedict was a huge hit, as was the French toast, cinnamon roll and anything sweet. She also loves tomato sauce, so the spaghetti and meatballs went over well," he said. Over the summer, the Dorrohs also welcomed a son. "He'll be getting this type of food soon," Justin laughed. 
As for turning his daughter into the exact opposite of a picky eater, Justin has some advice for other parents. "You have to start early, with a wide variety of food. Some of them will be big successes, and others will just be trys," he said. "But getting [kids] to try foods as early as possible helps." 
For the Dorroh family, stay-at-home guidelines meant more time together, time with which they were able to create some long-lasting culinary memories. Thankfully, they shared those memories with not only friends and family, but the entire Collierville community and beyond.  
story | Regan Hewitt
photos | Paige Dorroh