Crazy for Cycling
Cycling popularity has grown tremendously in the Mid-South over the past several years. Since the late 2000s, the Shelby Farms Greenline, the Wolf River Greenway and the Collierville Greenbelt Network have welcomed bikers to their paths. The Town of Collierville and the City of Memphis have also added new bike lanes to their roads, offering several options for individuals to safely exercise and explore the cities and towns in which they live.  
However, the rise of popularity in cycling during the COVID-19 pandemic has been unprecedented. COVID-19 has created a renewed urgency for individuals to make health a priority. The importance of staying active to maintain a healthy lifestyle has increased the interest in cycling and other outdoor activities. Health officials have recommended for years that 30-60 minutes of moderate activity a day can actually bolster your immune system. Cycling could be just the right activity for you! 
During the "Safer At Home" orders, telecommuting and homeschooling have played a role in finding an activity that everyone can enjoy either on their own or in small groups together. Bike clubs, such as the Memphis Hightailers Bicycle Club, have experienced an increase in memberships and bicycle shops, such as Bikes Plus, have seen tremendous growth in new bike sales as well as in demand for service labor.
This popularity is not just happening in Collierville and Memphis, but across the country. The NPD Group, a consumer and marketing research company, found that children's bike sales were up 56% from March 2019, and adult's bike sales were up by 121%. NPD's data also indicates that repair and maintenance requests were up 20% from March 2019.
Most of this new interest in cycling comes from those pursuing different ways to get outside and have fun in a time of shutdown. Cycling is a great pastime for families that want to spend time together and stay healthy. It allows parents and children to clear their heads, take a break from work-or-school-from-home situations and creates fun, long-lasting memories! 
Cycling can also give back to the community during a time of need. Among other charitable events, Bikes Plus sponsors both the Go Jim Go fundraiser, which benefits Le Bonheur Children's Hospital, and The Ride to Rosemary, which raises funds and awareness for cancer survivors, patients and their families. Bikes Plus also supports several biking clubs in the Collierville and Memphis area, and a handful of mountain bike teams at local high schools. 
At Bikes Plus, we have always been on a mission to promote health and fitness. We have been part of the Mid-South for over 30 years, and take tremendous pride in being a locally-owned family business. The cycling community is a very special group of people from all walks of life that share a common bond, and we can't wait to meet you. Keep riding and be well!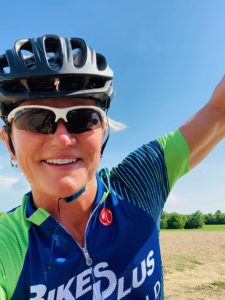 Karen Malogorski 
Owner of Bikes Plus 
Bikesplus.net
Drop by a Bikes Plus location for a personal assessment to ensure you get the right bike and experience the joys of cycling!