Collierville Cares
We know Collierville Cares, but who are they?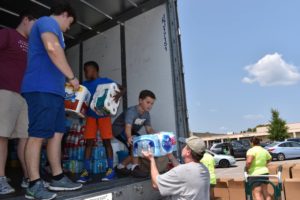 The story's been written and most of have heard the news. Collierville showed up for those affected by Hurricane Harvey and it was magnificent. The even better news – it's not the whole story. Collierville Cares is a group of friends that meets at our local Booya's to discuss ways of helping the community directly, as well as uniting our community to help other communities.
"We are excited to be able to give back to our community in a real grass-roots way." – Matt Cook, Collierville Cares
This group has a way of making things happen, and happen fast. It's amazing how communities can come together when given an avenue – and that's exactly what Collierville Cares is all about. Collierville Cares is a story nothing short of remarkable. This is a story that shows how a little effort, from a few people, can quickly multiply into an outpouring of good from an entire community. Here's how it all came together.
Matt and Alyssa Cook meet Brooke Scoggins
Early last December, Matt Cook was scrolling through his Facebook feed and came across a post of a military wife thanking Brooke Scoggins for sending Halloween candy to her husband's battalion in Afghanistan. Intrigued by how a seemingly simple gesture was excitedly received and appreciated, Matt reached out to Brooke (who he didn't know at the time). Telling her how much he liked the idea, he asked her if they could get together, brainstorm, and put something together to send overseas for Christmas. Matt and his wife, Alyssa, met with Brooke and they decided to collect donations of supplies, toiletries, and other various items over the course of two days. The group reached out to Booya's and Chili's in Collierville, who both agreed to set them up in front of their restaurants on a Thursday and Friday. Having a modest goal of filling five boxes, they spread the word through social media and created a small event on Facebook. The response was overwhelming. By the time the 2 days were over, the group was fielding dozens of messages – each asking where people could drop off supplies and if they could pick up supplies from locations. By the time the four-day weekend concluded, they had collected over 50 boxes of supplies to send overseas. And so it began.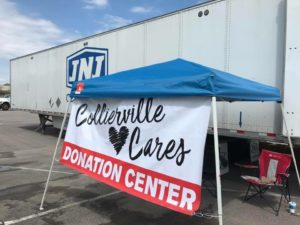 Wanting to keep the momentum, Collierville Cares (the original name for the collection event) was made official through the creation of a formal Facebook Page.
The Nethertons
Soon after, a fireman for the Collierville Fire Department passed away. Tim and Jennifer Netherton reached out to the Fire Dept. and arranged to provide a meal for the fire station where he worked, to take care of the men on his shift. Tim walked into George's BBQ, another local Collierville restaurant, and ordered enough food for six family members. Chris Walker, owner of George's BBQ, knowing this was too much food for Tim and his family of four, asked where the food was going. After Tim gave him the rundown, Chris provided the meal for six at no cost.
Feed the Fire
It didn't take long for Matt Cook and his new friends to hear about what the Nethertons did for the fire department, and subsequently invite them to Collierville Cares. Matt saw that they shared a passion for bringing the community together and began to see a bigger picture coming together. Tim is on the Collierville town planning commission, the board of Leadership Collierville, and a coordinator with the group Little Helpers, giving him many connections to help aid in organizing town events.
"My first call ever was from Matt Cook. I met him, his wife Alyssa, Brooke Scoggins, and Julie Taylor for the first meeting at Booya's." – Tim Netherton, Collierville Cares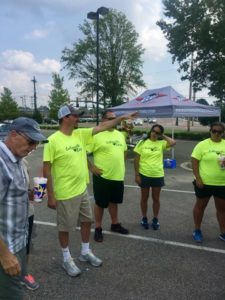 The group, including the Nethertons, set their first official Collierville Cares meeting at Booya's, and laid out a concept now known as Feed the Fire. Similar to Cop Stop, where families host dinners for local police in their home, Feed the Fire brings dinner to fire stations – fire fighters home away from home. The Feed the Fire concept was to provide a meal, once a month, for each of the five fire-stations in Collierville. They took their idea to the local Fire Chief and received approval. Realizing they needed more food (there are around 6-8 fire fighters at each fire-station), Collierville Cares began contacting other restaurants about getting involved and knew they could get some Collierville families to start cooking as well. Locals took notice and immediately wanted to get involved – especially with helping deliver. Families began helping aid in getting the food to the fire-stations and soon kids were playing on fire trucks and meeting the fire fighters. Now, many restaurants have joined the cause, including Cafe Piazza, Chili's, Booya's, and of course, George's BBQ. Feed the Fire has turned into a way of supporting the Fire Department, teaching kids the importance of supporting local community, and simply forging community relationships.
Since the core group of Collierville Cares came together, they have sponsored a high school girl's lacrosse tournament, have started and continue to do the Feed the Fire program on a monthly basis since January, and most recently completed the Hurricane Harvey collection.
Julie Taylor and Hurricane Harvey
"So, do you want to fill a pickup truck, or a semi-truck? If we're going to do something, might as well shoot for the stars." – Tim Netherton on Hurricane Harvey Relief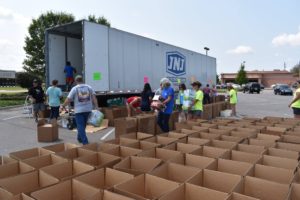 On Thursday night, August 31st, Julie Taylor made a call to Tim Netherton, who was now one of the leaders of Collierville Cares. Julie Taylor is a Houston-area native and now Collierville local. Shortly after, the full Collierville Cares group was sitting once again at Booya's, to brainstorm how to help in relief efforts in the aftermath of Hurricane Harvey. Julie Taylor's hometown was hit particularly hard by the hurricane; her high school was a donation center and one of her friends was running it, ensuring donations were making it to the right places. When Julie brought up taking up collections to send, Tim asked: "So, do you want to fill a pickup truck, or a semi-truck?"
Collierville Cares began making a few calls and by the next morning, they had a semi-truck trailer provided by JNJ Express parked in the lot of Sheffield's Antique Store. As soon as they opened the trailer at noon, hundreds of people began showing up wanting to help. People began signing up for shifts and dropping their kids off to help. A gentleman by the name of Danny worked a shift at Home Depot from 4 a.m. to 11 a.m., then came straight over to introduce himself and help load supplies in the trailer. It was an explosion of generosity that is a great example of how Collierville shows up when a need is voiced. People soon forget how tired they are, forget about that early morning work shift, and simply find a way to join the cause. Danny showed up every day, through the weekend, to help load the trailer. Soon they had ten pallets of water, ten pallets of dog food, toiletries, toothbrushes, all kinds of supplies – to the point that the trailer was filled. Another phone call – "Keep it going, I'll bring you another trailer". The Collierville town board endorsed the collection and sent out information. Collierville Schools sent out a text message to their entire school database saying they endorse Collierville Cares. The Collierville High School baseball team left school for a day to help finish loading the trailers. By the end of Labor Day weekend, Collierville Cares had coordinated a donation drive that collected over 100,000 lbs. of supplies – enough to fill three separate semi-trucks.
On behalf of TourCollierville, I'd like to personally thank the core group of Collierville Cares: Matt and Alyssa Cook, Rick and Julie Taylor, Derrick and Brooke Scoggins, and Tim and Jennifer Netherton for all they have done over the last year to help others and to help bring our community together. It is my hope in writing this article that many more will join the Collierville Cares cause.
For more info on Collierville Cares and how to get involved, go to their Facebook page and join the group. They are already gearing up to send supplies overseas.
By: Austin Essary