CLC Battle of the Books
A MARCH MADNESS BATTLE OF THE BOOKS FUNDRAISER FOR COLLIERVILLE LITERACY COUNCIL AT BARNES & NOBLE AT CARRIAGE CROSSING
It's a March Madness start for the Battle of the Books, with the Sweet Sixteen of books in a fight to see who our local citizens crown as the 2018 Winner. It's all in good fun as a fundraiser for the Collierville Literacy Council, in partnership with Barnes & Noble at Carriage Crossing Mall in Collierville.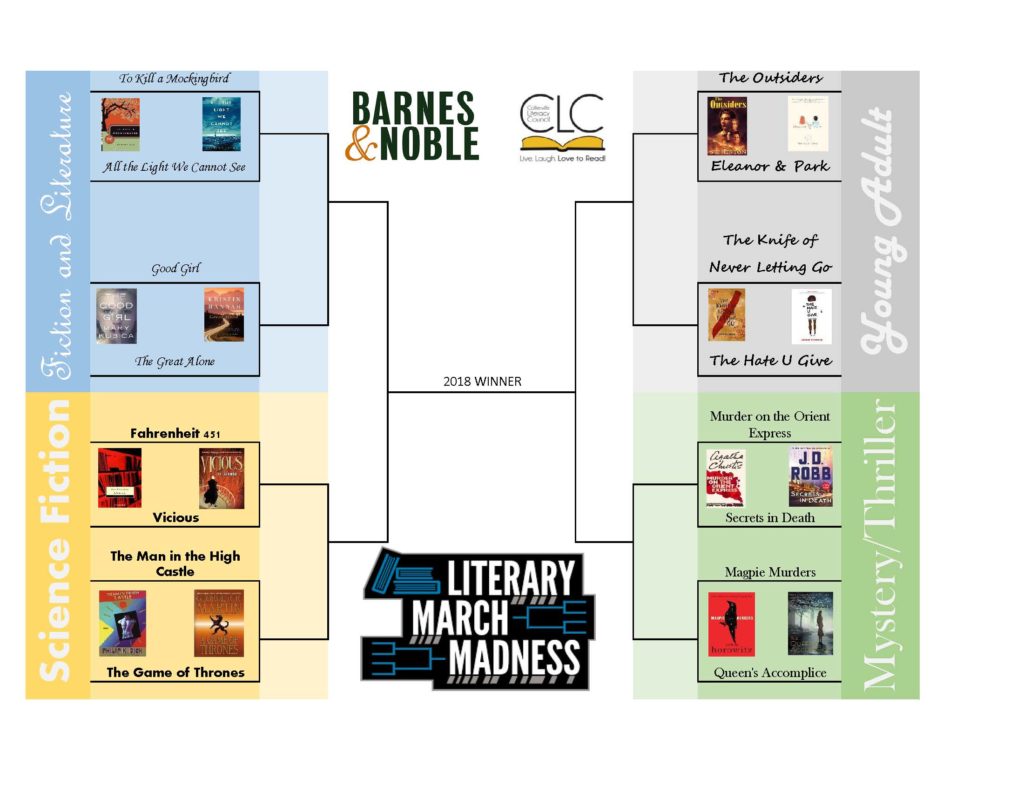 A display of the 16 books, and the bracket, is available at Barnes & Noble from March 28 through April 20. Starting on Wednesday March 28th, readers will vote on match-ups to determine which books will advance to the next round. There are four rounds total, and at the end, one book will be announced the champion. The best part? It's all determined by the voters! Each vote is $1! Knock off the number one seed by voting more than once! The more someone votes, the better the chance their favorite book wins the crown. To cast a vote, readers should text #CLCMarchMadness to 901.472.7445 and pledge their $1 with their vote in the comment. Each vote supports CLC's three programs: Adult Basic Literacy, High School Equivalency Diploma, and ESL.
"We're excited for our first annual March Madness Battle of the Books, and look forward to having a little fun while fundraising," said Angela White, Executive Director of the Collierville Literacy Council. "We appreciate working with Barnes & Noble for this event."
Voters can check the Collierville Literacy Council's social media pages on Facebook: @ColliervilleLiteracy, Instagram: @ColliervilleLiteracy, and Twitter: @LiteracyCville, and play along using the hashtag #CLCMarchMadness.
The Collierville Literacy Council provides individual tutoring, small group tutoring, workshops and conversation classes to adults in one of three programs: Adult Basic Education (generally read at 3rd grade level or lower), High School Equivalency testing and preparation, and English as a Second Language. Services are also provided in Spanish. CLC is funded through the United Way and the Town of Collierville. In 2017, more than 1,200 adult learners were served with the help of volunteers.