Back Again: The Great Backyard Bird Count
Once again it's time for the Great Backyard Bird Count [GBBC] and the Collierville Environmental Commission is encouraging your participation. It is becoming more critical for bird populations to be counted because according to the journal Science, the bird population has declined by 3 billion birds in the past 50 years in the U.S. and Canada—almost 30 percent of the bird population.
The Great Backyard Bird Count is from Friday, February 14 to Monday, February 17, 2020, and is sponsored by Audubon, The Cornell Lab of Ornithology, Bird Studies of Canada, and Wild Birds Unlimited.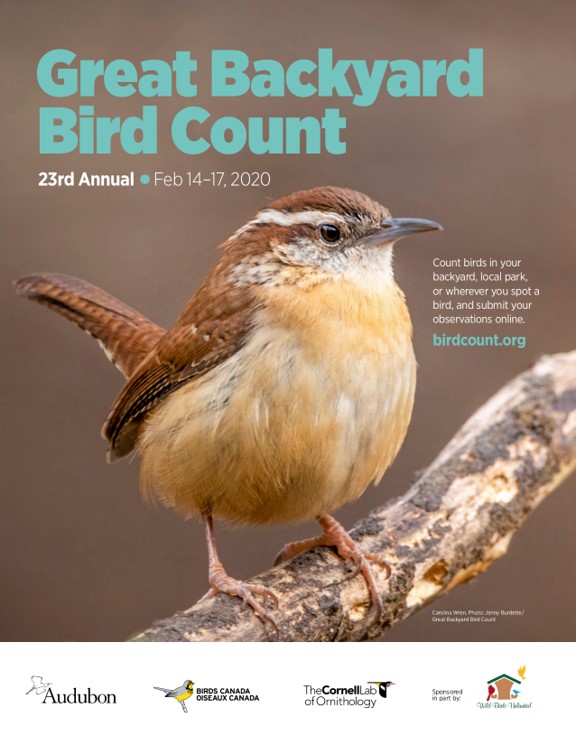 It's easy to participate, and it can take as little as 15 minutes. You can count birds wherever you are – at work, at home, at school, in your backyard, or in a park or nature center. People of all ages and all levels of bird-watching experience are welcome to participate. In past years fifty-eight species of birds have been observed by Collierville residents. Participation is as easy as 1, 2, 3:
Create a free GBBC account. Go to the website: gbbc.birdcount.org.
Count birds for at least 15 minutes on one or more days of the GBBC. Count birds in as many places and on as many days as you like—one day, two days, or all four days. Submit a separate checklist for each new day, for each new location, or for the same location if you counted at a different time of day. Estimate the number of individuals of each species you saw during your count period. You can also find help in identifying birds by clicking on the Online Guides & Tricky Bird IDs link, and there is even a list of birds that can be found in West Tennessee by clicking on Bird Lists and entering the Collierville zip code.
Enter your results on the GBBC website by clicking the "Submit Observations" tab on the home page. You may also download the free eBird Mobile app to enter data on a mobile device.
The GBBC is an example of "citizen science," a term used for projects of scientific work in which individual volunteers or networks of volunteers engage in research-related tasks such as observation, measurement, or computation. The GBBC collects information on bird populations from all over the world and uses this information to track changes in bird populations, not only in the US, but world bird populations, as well. 
Let's make this year's GBBC count! 
Source: Town of Collierville