Ch-ART-cuterie
The word "charcuterie" comes from 15th century France, where the charcutier guild produced a range of cooked or salted and dried meats, generally pork. It then evolved to represent a selection of meats and cheeses, often accompanied by crackers. Although charcuterie boards have often come in-and-out of fashion, they seem to have received a boost in the last few years, particularly on Instagram™ and Pinterest®. 
Now, charcuterie boards are elegantly put together, with an assortment of cheeses, meats, fruits, veggies and nuts in spirals, rows and other designs. Some boards are solely dedicated to desserts, while others can be composed of dog treats. They are the perfect "#foodie" photos to share on social media. "People, like myself, instantly fall in love with the colors, the endless creative designs and of course, the taste!" said Kimberly Bohannon, who started Kembeaux Charcuterie during the COVID-19 pandemic.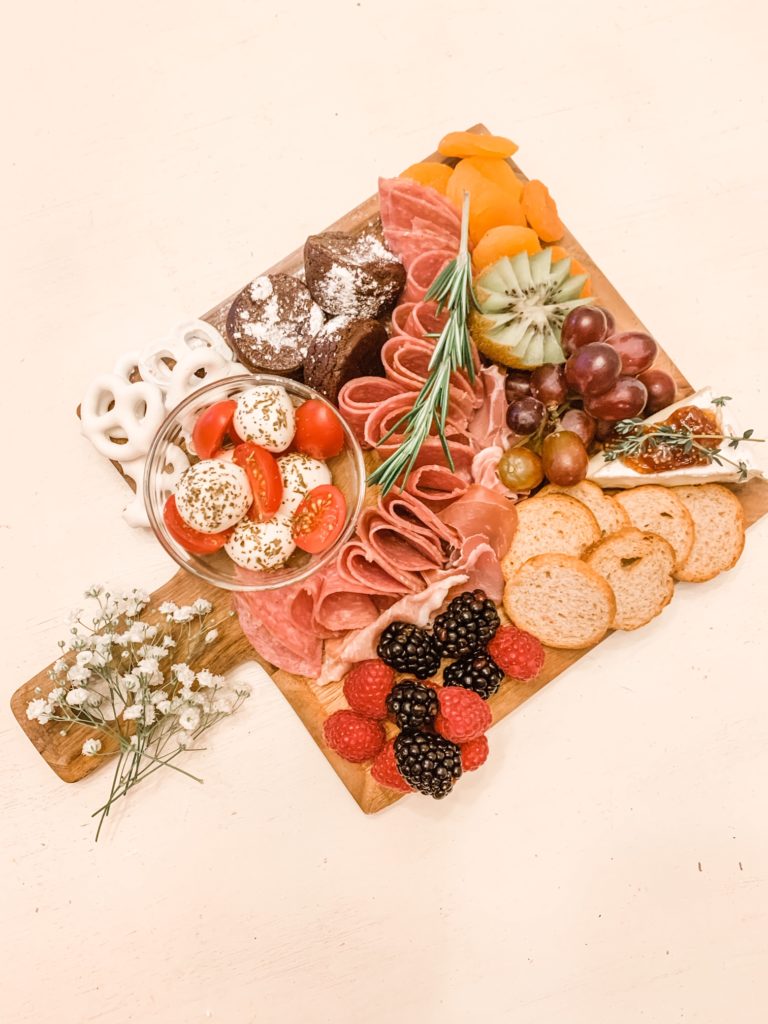 Sometimes described in internet memes as "adult Lunchables®," charcuterie boards can provide a balanced meal and a quick snack for just about everyone. "It is a fun, casual way to entertain and dine. [It] allows someone to offer many different items," said Sandy Barrios, owner of Bazaar, who began making charcuterie boards in September. 
However, not everyone is using the food to entertain. "People used to order [charcuterie boards] mostly for catering and larger events, but recently, we see people order them just to take to their own homes," said LeAnne York, the Director of Marketing and Catering for Thomas Meat and Seafood Market & Catering. 
"…while creating my first board, I immediately fell in love with the whole process." -Kelley Dennis
Most charcuterie boards are made to order so as to preserve the food's freshness, as well as to cater to a customer's preferences and dietary restrictions. "We don't pre-make ours, for example, because we don't want the crackers to get soggy sitting around all day waiting for someone to pick it up," said York. Kelley Dennis, owner of Graze901, says that although certain meats and cheeses are requested more often, she doesn't have a formula when it comes to her charcuterie board assembly. "I look at each order as a commission, almost like for a piece of art, so I try to make each one unique," she said.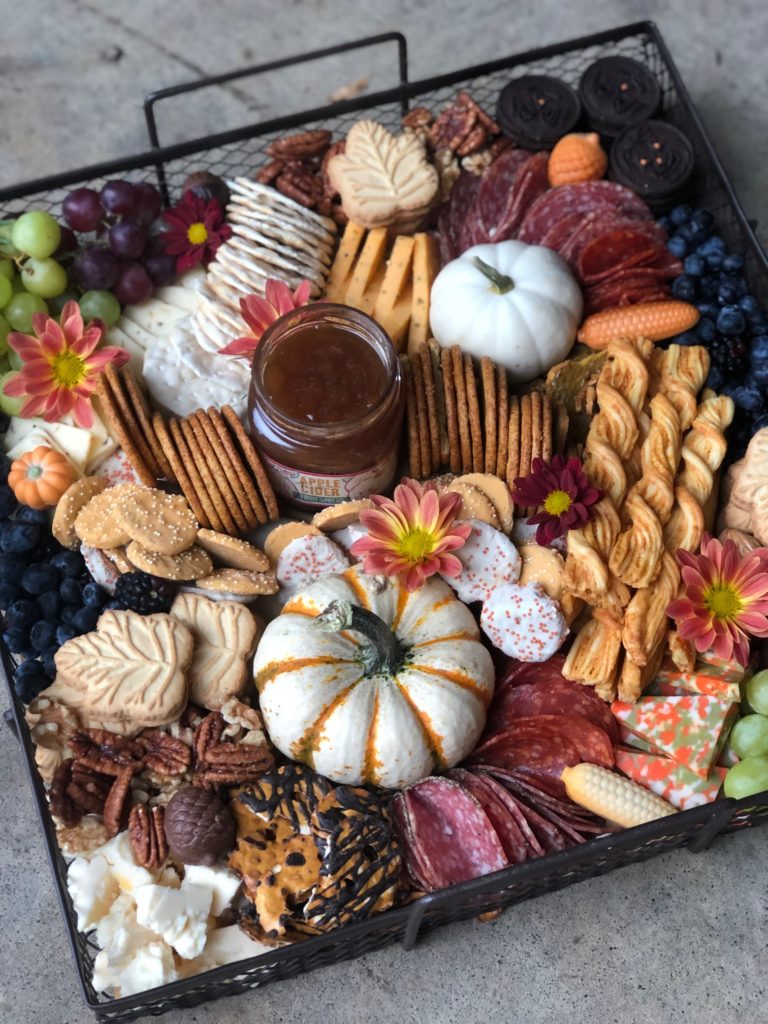 To make your own board, whether for a small gathering or as a midday snack, you just need a plan and a quick trip to your local grocery store. "You can do it! Anyone can make a board," said Dennis. Bohannon echoed this sentiment, saying, "I was nervous to get started [but]… while creating my first board, I immediately fell in love with the whole process." 
According to Dennis, a charcuterie board shopping list should include fruits and veggies, cheeses, cured meats, pickles, nuts, crackers, preserves and honey. "Try to pick a variety of textures and flavors in your cheese selections, so a soft rind like brie, semi-soft like a havarti and a hard like parmesan," she advised. 
Before you begin assembling your board, make sure that it's a food-safe surface or place parchment as a barrier between the board and the food. Then, Dennis recommended, "Place heavier items on the board that don't move around a lot [first] so cheeses, grapes on the vine, bowls of pickled items and ramekins of sauces. Then fold the meats and wind them around everything. Next, add in the crunchy items like crackers, and fill in with smaller berries, nuts and dried fruits."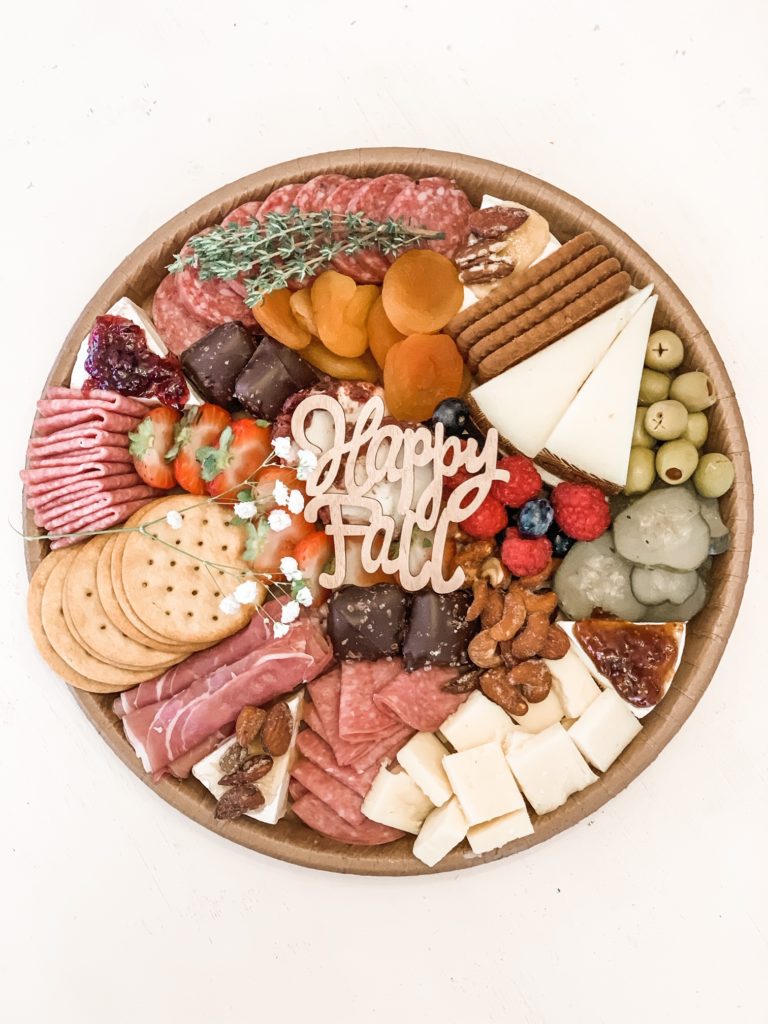 The charcuterie board is not only the perfect snack for book clubs, small gatherings and bridal showers, but can also be a fun way to express your creativity and tastes! Just make sure, as both Dennis and Bohannon advise, to finish the board with a flourish by adding some herbs and food-friendly flowers. Then all there is left to do is enjoy! 
story | Regan Hewitt
photos | Kimberly Bohannon, Kembeaux Charcuterie; Thomas Meat & Seafood Market & Catering; Kelley Dennis, Graze901